Brian Sweeney, Swilly Group Managing Director
THE Swilly Group has announced that they are accepting applications for HGV Driving Instructor and Bus Driving Instructors to work in Donegal, Cavan/Monaghan and South Dublin. The company is also looking to recruit trainers to deliver Driver CPC and other transport related training courses.
Established in 1975, the Swilly Group has grown to become one of the leading providers of training, recruitment and employment support services in Ireland. The company serves industries such as Transport, Driving, Hospitality, Tourism, Care Services and Outdoor Activities.
Managing Director Brian Sweeney, "It is a very exciting time at the company." "We have expanded our service portfolio and geographical footprint over the last 10 years to become the leading provider of Truck and Bus driver training services across Ireland. We are now looking for a number of ambitious candidates who are interested in developing a career in the driver training industry." Brian continued, "We are offering attractive employment packages and will provide the necessary Driving Instructor training to the successful candidates".
Arctic Truck and Coach Drivers with at least 3 years driving experience are invited to apply for the HGV Driving Instructor and Bus Driving Instructor positions. Candidates with experience or qualifications in Transport Management or Health and Safety are invited to apply for the trainer vacancy. All candidates must be eager to learn, confident, good with people and flexible.
To find out more about the current vacancies, contact Susan in the Swilly Group on (074) 9151212 or 1890 63 63 63, email susan@swillygroup.com or check out our website www.swillygroup.com.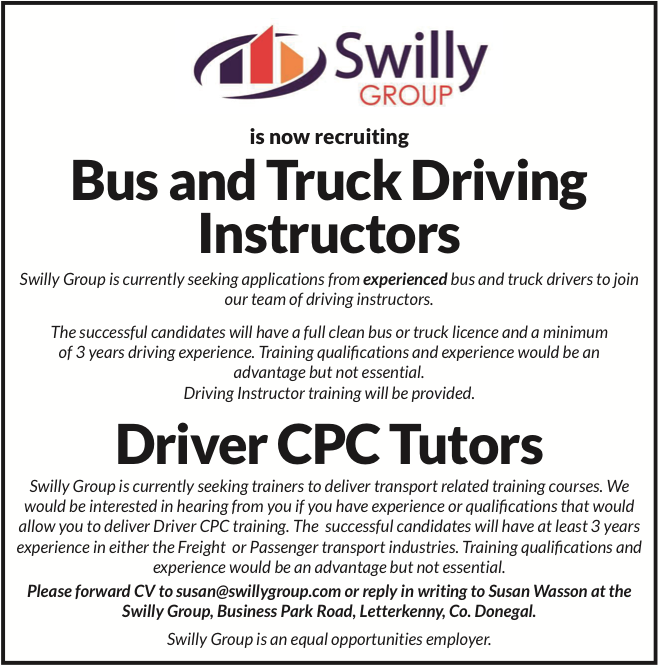 SPONSORED CONTENT BY: SWILLY GROUP
Posted: 2:00 pm December 4, 2017