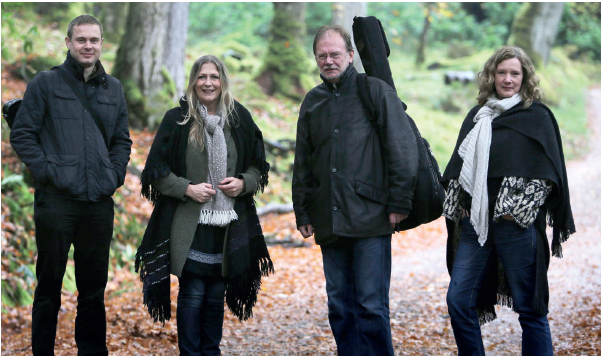 Na Mooneys traditional Irish band, who are part of the 'Babtha Ceoil' line-up at Scoil
Gheimhridh Ghaoth Dobhair 2017.
The Annual Scoil Gheimhridh Ghaoth Dobhair takes place again this year in the stunning surroundings of the northwest Donegal Gaeltacht, and is without question one of the highest of the traditional music calendar! This, being its fourth year, offers great promise! There will be numerous workshops in various traditional Irish musical instruments, as well as song and dance, from some of the most respected musicians around, including acclaimed Belfast Uilleann Piper, Robbie Hannan, Banjo player Angelina Carberry and Concertina player Cormac Begley. Other tutors include Mairéad Ní Mhaonaigh, Bríd Harper, Dan Brouder, Diane Cannon, Eilís Lavelle plus many more.
There are events for all the family, including children's art workshops – not to mention a series of concerts from Ireland's finest artists, including acclaimed seannós singer, Iarla ó Lionáird with Steve Cooney, and very special guest, Caoimhín Ó Raghallaigh. Liam Ó Maonlaí's supergroup, RÉ will also be joining us. Other members include acclaimed musicians, Cormac Begley, Maitiú Ó
Casaide, Eithne Ni Chatháin and Peter O'Toole. Scoil Gheimhridh Ghaoth Dobhair celebrates the great tradition of Donegal's Gaeltacht. "Oiche Ceoil Na gConallach" will be showcasing local singers and musicians, Diane Cannon and Manus Lunny with special guest Theresa Kavanagh. We are also delighted to have The Friel Sisters. From Glasgow, their family roots are firmly
entrenched in the Donegal Gaeltacht.
All three events will be happening in Na Doirí Beaga's newly refurbished venue, Amharclann Ghaoth Dobhair. As part of the NewYear's Eve celebrations, Scoil Gheimhirdh Ghaoth Dobhair present 'Babta Ceoil' featuring a face-off with two of Ireland's best known music dynasty's – Donegal's, Na Mooneys Vs' the west Kerry giants, Na Begleys. Led by Séamus and Méabh Begley. Support from both counties is encouraged. Other concerts include fiddlers, Danny Diamond and Conor Caldwell with special guest, Rita Gallagher; Two Hand Dance, featuring Jimmy and PeterCampbell; Singers Concert with Connie Mhary Mhicí and friends.
We are also delighted to be given the opportunity to screen "Song of Granite" by acclaimed Irish film maker, Pat Collins – which portrays the life of the great traditional singer, Joe Éinniú. The film will be followed by a Q&A with distinguished guests associated with the film. All events will take place in the Gaoth Dobhair region of Donegal: Amharclann Ghaoth Dobhair, Na Doirí Beaga; Teach Jack, Na Doirí Beaga; and Teach Hiúdaí Beag in An Bun Beag; CLG Gaoth Dobhair, An Gailearaí, Údarás Business Park. Workshops will cover Flute, Fiddle, Uilleann Pipes, Tin Whistle, Bodhrán, Harp, Banjo, Button Accordion, Seannós dancing and singing, Concertina, Bouzouki and Guitar.
Details of all events can be found on www.scoilgheimhridh.com where tickets are also available. You can also telephone 074 956 0679. Scoil Gheimhridh Ghaoth Dobhair receives annual funding from the Arts Council of Ireland.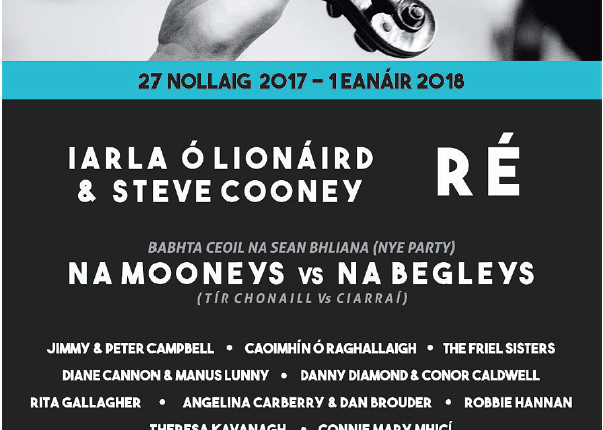 SPONSORED CONTENT BY: SCOIL GHEIMHRIDH GHAOTH DOBHAIR
Posted: 4:00 pm December 18, 2017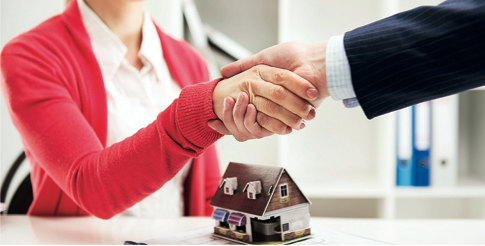 TIOCFAIDH Comhar Creidmheasa Ghaoth Dobhair le chéile le 68,800 Comhar Creidmheasa eile le Gluaiseacht Dhomhanda na gComhar Creidmheasa a...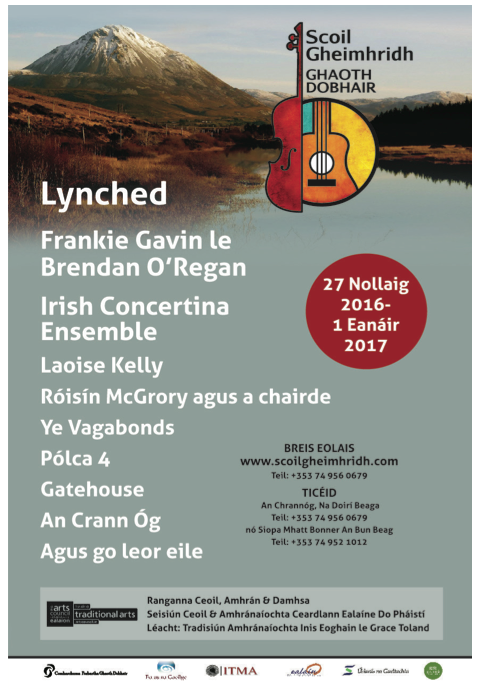 THE Annual Scoil Gheimhridh Ghaoth Dobhair happens in the stunning surroundings of the northwest Donegal Gaeltacht, and is without...