Tá Comhar Creidmheasa Ghaoth Dobhair ag tabhairt cuiridh dá chuid ball uilig bualadh isteach, nó teagmháil a dhéanamh leo, agus fiosrú faoi 'Cruinniú leis an Chomhar Creidmheasa' mar pháirt d'fheachtas úrnua fá iasachtaí. Beidh iasachtaí úra ar fáil do dhaoine le haghaidh: Nollaig, carr úr agus feabhsúcháin tí. Cuirfear i gcuimhne don phobal go bhfuil réimse seirbhísí agus iasachtaí
ar fáil ón Chomhar Creidmheasa cheana féin.
Tá Comhar Creidmheasa Ghaoth Dobhair ag cur tús leis an fheachtas úr mar pháirt dá thiomantas do sheirbhísí agus tháirgí a chur in oiriúint do shainriachtanais a chuid ball. Tá an feachtas ag tarlú go gairid i ndiaidh do Chomhar Creidmheasa Ghaoth Dobhair an chéad duais a bhaint ag Gradaim Náisiúnta 2017 d'Eispéireas an Chustaiméara, in éineacht le níos mó ná 270 dá chomhchomhair chreidmheasa. Tá Comhair Chreidmheasa sa chéad áit ó thaobh eispéireas an chustaiméara don tríú bliain as a chéile i dtuarascáil CXi Éireann ar Eispéireas an Chustaiméara. Is eiseamláir iad na comhair chreidmheasa sa mhéid is go bhfuil siad iomlán dáiríre faoin deachleachtas; léiríonn siad ionracas, dáimh agus tiomantas do sheirbhísí a chur ar fáil de réir riachtanais
na mball.
Commenting on the new campaign, Dara Uí Dhuibhir, Manager of Comhar Creidmheasa Ghaoth Dobhair said: "We are very excited to invite all our members to come in and see us, or pick up the phone and call us, about their Credit Union. We are looking forward to reconnecting with those we have not seen in a while, and chatting to those members we know well, to tell them about the great suite of loans we have, and to show them the quality of customer experience we offer here, which has been officially endorsed as being the best in Ireland."
Dara Uí Dhuibhir continued "We want to ensure that all of our valued members, including those who have not been active with us for a while, are aware of the fact that all of our loans are straightforward, with 93.5% of loan applications were approved in 2016. There are no penalties for paying a loan back early, nor are there any hidden fees or charges on our loans. As we make decisions locally, we are happy to take the time to get to know the individual circumstances of all of our members.
For example, our car loan, which comes with an affordable APR rate of 6.98%*, has clear and transparent terms and conditions, and comes without the red tape and the balloon payments of a PCP agreement. So drop into us today at of Comhar Creidmheasa Ghaoth Dobhair and we can have a catch-up, and see what you want from your Credit Union."
For further information, please contact Comhar Creidmheasa Ghaoth Dobhair on 0749531279. For a €10,000, 3 year variable interest rate loan with 36 monthly repayments of €307.63, an interest Rate of 6.75%, a representative APR of 6.98%, the total amount payable by the member is €11,069.22. Information correct as at 1st December 2017.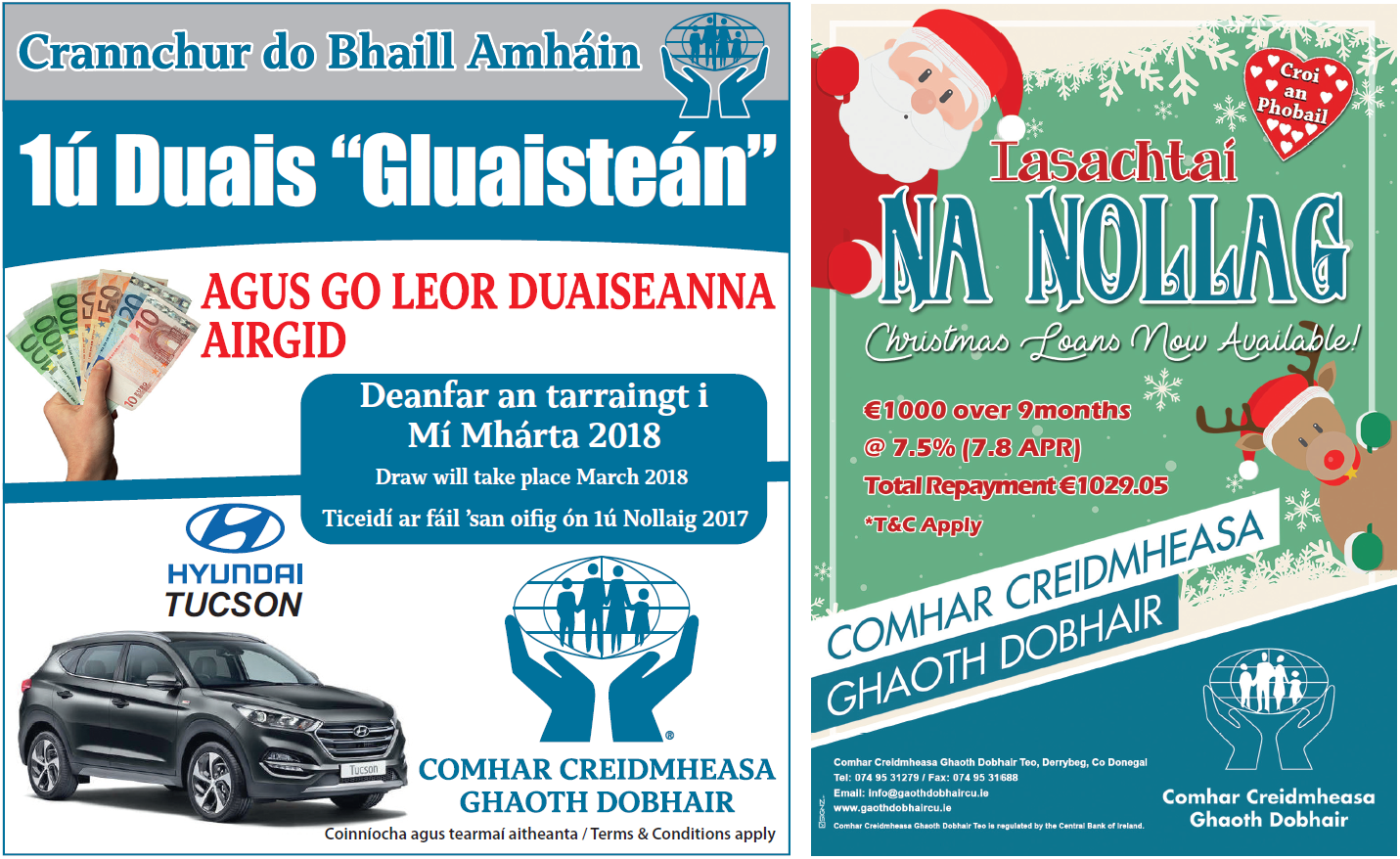 SPONSORED CONTENT BY: GHAOTH DOBHAIR COMHAR CREIDMHEASA
Posted: 12:18 pm December 18, 2017