BUSINESSES and schools in the North West are being encouraged to install a defibrillator, a machine that has the ability to save someone's life.
Kilcar's Martin Cunningham, who is based in Letterkenny, a territory manager with 'First Aid Supplies', is hoping to raise awareness about the importance of having a defibrillator in your workplace or school.
It is estimated that sudden cardiac arrest kills 5,000 people in Ireland every year.
"An AED (Automated External Defibrillator) is a device that checks the heart's rhythm and can send an electric shock to the heart to restore a normal rhythm," said Martin.
"Effective CPR and defibrillation is the only treatment for Sudden Cardiac Arrest.
"Sudden Cardiac arrest can affect anyone of any age and fitness at any time.
"If CPR commences and a defibrillator is used within 3.5 minutes of a sudden cardiac arrest, survival chances increase from six per-cent to 75 per-cent."
Every minute that passes without CPR and defibrillation the chance of survival decreases by 10 per-cent.
The importance of having a defibrillator close to a school community was made clear back in September when a principal of a primary school in Dublin saved the life of a nine year old boy who collapsed when he suffered a cardiac arrest.
The boy was saved because a defibrillator was close by and his principal had the skills to perform CPR.
As seen in this case defibrillator training is also an important part of the process.
CPR and AED training is available locally through Safetech Consultancy and Training which is based in Unit 1A Riverside Retail Park, Neil T Blaney Road, Letterkenny.
Free defibrillator audits, to check that your machine is functioning properly can also be undertaken by Martin who can be contacted on 087-9491398.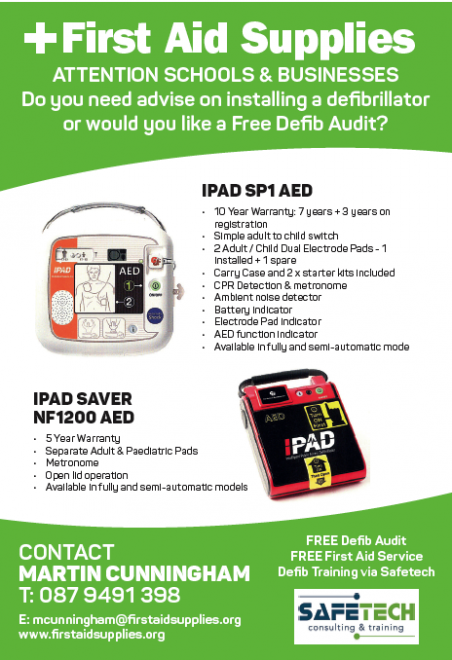 Posted: 1:02 pm November 10, 2017