Grab your keys its time to get down to the Furniture Liquidator, Pearse Road, Letterkenny for the largest stock disposal event of the year. With over 10 containers packed to the roof with furniture, EVERYTHING MUST GO!!!!
Absolutely everything must be sold Friday 27th, Saturday 28th, Sunday 29th and Bank Holiday Monday 30th October. Everything is dramatically reduced to clear immediately, with no stocks being held back. Everything is strictly on a first come, first serve basis, and Massive crowds are expected, at what is now a event marked on everyone's diary.
100's of sofas of every colour and size, Corner Groups from €499.00 3& 2 grey fabric sofas for just €550-00 All Sofas REDUCED, All Recliners REDUCED, All Fabric Suites REDUCED, All Beds of every size REDUCED, Solid Oak Ranges
of Bedroom Furniture CLEARING AT NEVER SEEN BEFORE PRICES, Single Beds, Double Beds 4ft Beds and King Size Beds, Everything will be sold this Weekend. Dining chairs, Tables, coffee tables, Nests, Clearance MATTRESSES, WITH KNOCK DOWN PRICES, and Lots of quirky pieces just to finish off your room. Kids bikes now 60 euros or 2 for €99-00, this Weekend ONLY!
If you're buying your home, we can store free of charge. If you need delivery that's no problem, or if you just fancy something nice to finish a room, this Stock Disposal Event is not to be missed this Friday, Saturday, Sunday and Bank Holiday Monday at the MARQUEE AT THE FURNITURE LIQUIDATOR LETTERKENNY. Come early to beat the massive crowds expected!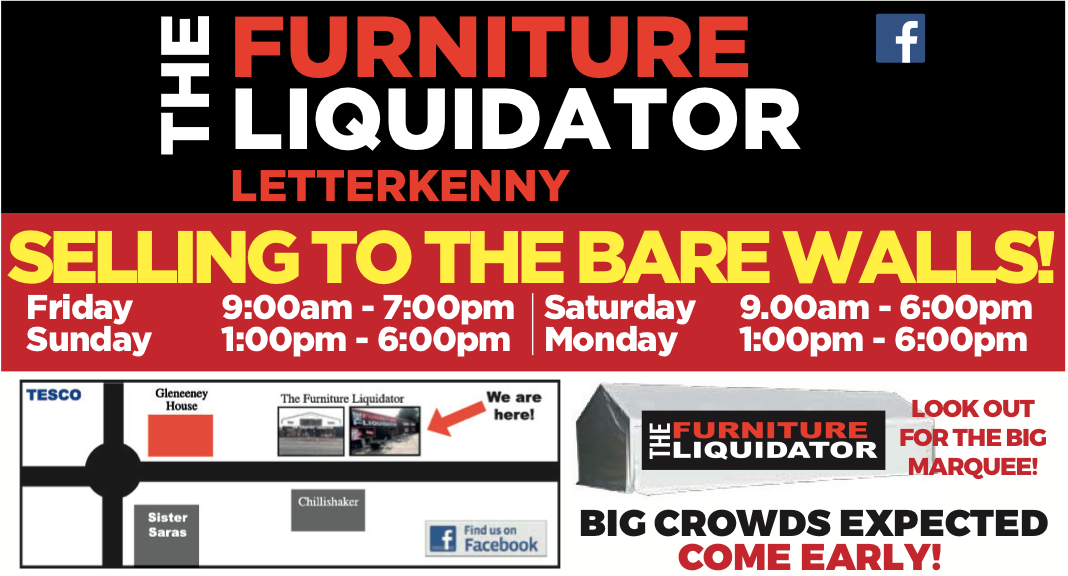 SPONSORED CONTENT BY: THE FURNITURE LIQUIDATOR
Posted: 9:38 am October 27, 2017

SPONSORED CONTENT BY: THE FURNITURE LIQUIDATOR

The Furniture Liquidator, Pearse Road Letterkenny The Furniture liquidator is the retail store for several of Ireland's and U.K.'s...