It is certainly a case of double delight for new father, Martin Johnston, from Donegal Town, who, on 24th September just gone, became a dad for the first time to baby Katelyn.
However, little did he know seven days later his name would be pulled out of the Winning Streak drum to appear on the gameshow!
Coach driver Martin (31) wasn't watching Winning Streak when his name was pulled out last weekend as he was otherwise engaged with looking after his newborn baby daughter.
He and his wife, Ciara, have been on cloud nine since and Martin's appearance on Winning Streak really is the icing on the cake. He met Ciara in Australia in 2011 (in a city in New South Wales called Dubbo) while both were travelling. The couple quickly fell in love and married in April 2016 in Ciara's home county, Tipperary.
Martin has an entourage coming from Donegal and from Tipperary to join him in the audience for Winning Streak. Among them is Martin's mum and dad, Kathleen and Tony and his sisters, Fiona and Regina and brother Thomas. In his spare time, Martin is a keen dart thrower, playing for the Coach House Bar team in Donegal town, who are in the Donegal Dart league. Regardless of how he gets on Martin considers himself to be the lucky with his new arrival and will use any winnings to giving her "a good start in life".
The third episode of the new series of Winning Streak will be broadcast this Saturday evening (7th October) at 8:15pm on RTÉ One, where presenters Marty Whelan and Sinead Kennedy will guide five players through the iconic show, which gives them the chance to win cash, cars and luxury holidays. One will get the once-in-a-lifetime chance to spin the Grand Prize Wheel with a maximum prize of €500,000. 
The other four players chosen to participate in the third episode of this series are:
Catherine Bogue from Clogher, Co Tyrone
Ann Hart from Ballincollig, Co Cork
Caroline Tierney from Tullow, Co Carlow
Mary Keogh from Tullow, Co Carlow
The popular gameshow first appeared on our screens way back in September 1990 and since then a massive 5,840 people have taken part, winning in excess of €165 million in prizes. Almost €2.5 million alone was won in prizes on the past season of Winning Streak.
Winning Streak will feature games such as; Fantastic Five, High Low Share, Wheel Reveal and the Grand Prize Wheel, giving one lucky player a chance to win up to €500,000. In addition a lucky stub player will be drawn as the winner of a Luxury Cruise for two valued at €5,000 on each week of the show.
Winning Streak Scratch Cards are on sale in over 5,000 National Lottery agent stores nationwide priced at €3. They now have better chances of winning a prize. An amazing 1 in 1.86 tickets have a cash or 3-star prize. A 3-star prize gives players the opportunity to enter a draw to appear on the gameshow.
For the chance to appear on the gameshow, players must reveal three stars on their Winning Streak Scratch Card and submit it to the National Lottery in a Winning Streak envelope, available at National Lottery retail sales agents.  Five players will be drawn from all 3-star entries received to appear on the Winning Streak TV Gameshow and have the chance to spin the grand prize wheel to win up to €500,000.
To enter the draw to win a Luxury Cruise for two, collect the 3 letters S-E-A from the stub portion of your scratch card and send them into the National Lottery in the special grey stub envelope available at National Lottery retail agents.
Approximately 30 cent in every €1 spent on National Lottery games go back to Good Causes in the areas of sport, youth, health, welfare, education, arts and heritage. In total more than €5 Billion has been raised for Good Causes since the National Lottery was established 30 years ago. In 2016 alone, the National Lottery raised over €210 million for such good causes.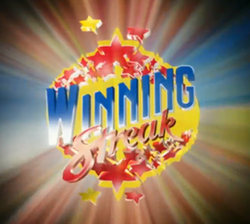 Posted: 5:30 pm October 3, 2017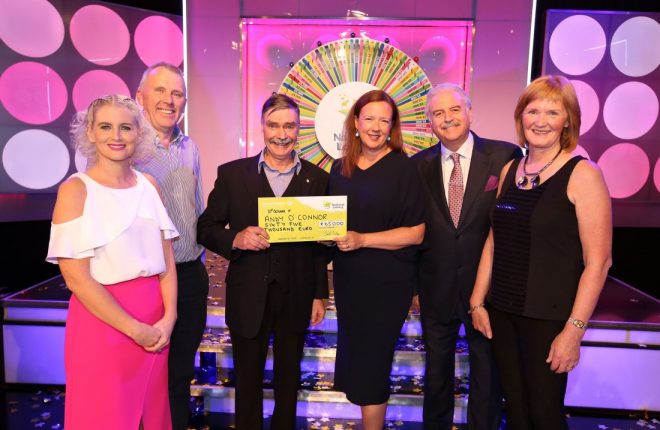 TWO Donegal men came home with €102,000 between them after appearing on Winning Streak on Saturday.  Kieran Clarke and...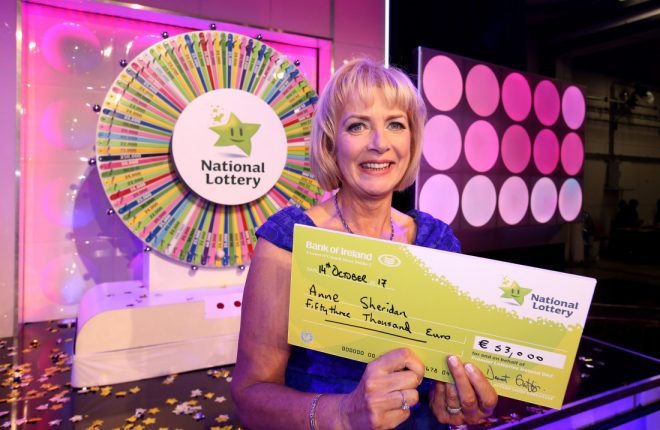 Donegal's incredible luck on the iconic RTE Winning Streak Game Show continues with two people from the...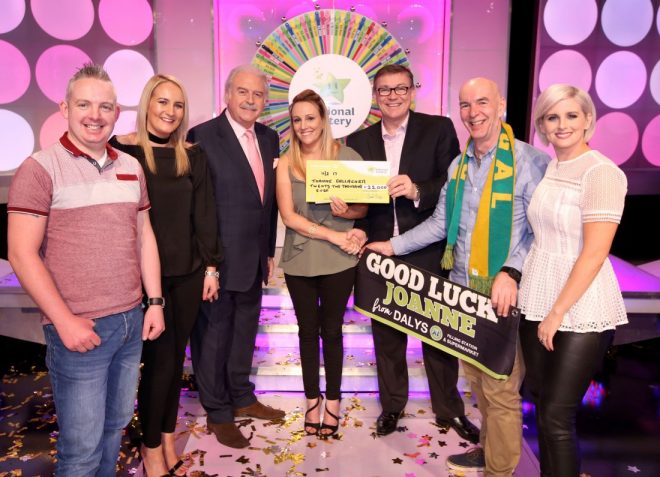 JOANNE Gallagher from Lifford picked up a cool €22,000 on last Saturday night's Winning Streak gameshow on RTE.