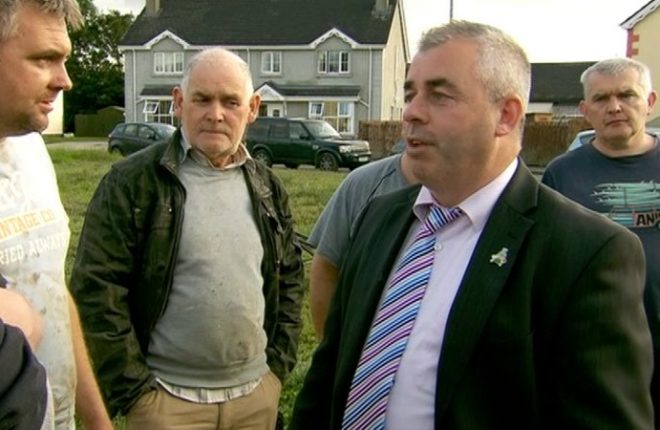 Sinn Féin Finance Spokesperson Deputy Pearse Doherty has welcomed confirmation he's received from the Minister of State with special responsibility for the Office of Public Works and Flood Relief, Kevin 'Boxer' Moran that he will come to Donegal next week to visit areas hit by recent flooding and to meet with various groups, including coastal communities, to discuss local flood prevention measures and coastal erosion.
It's understood that the visit, which is expected will take place on Monday and Tuesday next, comes following an invite from Deputy Doherty in which it was requested that the Minister meets with community groups throughout the county to discuss a number of projects, including coastal erosion at Maghery and Magheraroarty and flood control in the Finn Valley.
Welcoming the Minister's acceptance of his invite, Deputy Doherty said:
"I very much welcome the Minister's confirmation received by me today that he intends to make an official visit to Donegal next week to meet with various community groups, local residents and businesses to discuss local projects which have been identified as being required in order to prevent future flooding and coastal erosion in those communities.
"The Minister's decision follows a commitment which he made to me some time ago whereby he pledged to come to the county to engage with a number of local communities with the view to progress important projects in areas throughout the county.
"These include the the issue of coastal erosion at Maghery and Magheraroarty, as well as flood prevention measures which have been mooted for the Finn Valley region, such as in Castelfinn and Lifford.
"I understand that the Minister will also visit Killybegs next week as part of his visit to the county and I, along with other Deputies, will also be accompanying the Minister during his visit.
"I am pleased that Minister 'Boxer' Moran has accepted my invitation and to fulfill his commitment which he previously made to me to come to the county and meet with these various groups in order to hopefully bring these much needed projects forward.
"I now very much look forward to welcoming the Minister to the county next Monday and Tuesday, and I intend to continue to work closely alongside all of the various community groups and stakeholders in an effort to ensure that these communities receive the support and investment which they need in order to safeguard them from future floods and adverse weather going forward."
Posted: 11:00 am October 20, 2017