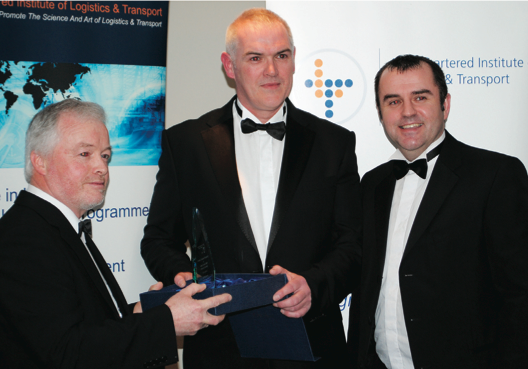 (L to R) Chris Callaghan, Chairperson of the Education Committee at the Chartered Institute of Logistics & Transport (CILT), presents Bernard McEleney of Buncrana, Co Donegal with the CILT award for highest marks in Ireland in the Transport Manager CPC exams. Bernard is employed by the Swilly Group as a Training Manager. Also in picture is Brian Sweeney, MD of The Swilly Group.
THE Swilly Group is now recruiting for the next Transport Managers' CPC course begins on Monday 9th October 2017. The Transport Managers CPC is a qualification required by persons nominated as a Transport Manager of a a passenger or freight transport company.
Donegal's leading transport training company continues to lead the way nationally with their learners achieving national awards on the Transport Managers CPC course. Since 2011, learners on the Swilly Group Transport Manages Course have collected the national award for highest marks in the CPC exams on no fewer than three occasions. Learners completing the Swilly Group course has achieved an extremely high pass rate consistently over the last 10 years.
"We have been delighted with the results our learners have been achieving", said Brian Sweeney, Managing Director of the Swilly Group. "The quality of training that we provide has been second to none and the results our students have achieved has shown this". "This is primarily due to the diligent work and the endless hours of tuition our CPC tutors provide". Brian says, "With other training providers the learners receive the minimum amount of classroom tuition and left to study themselves. On the Swilly Group course we provide the learners with whatever amount of classroom tuition they need to pass the exams."
Any licensed Haulier or Bus Operator must hold, or employ someone who holds, the Transport Manager CPC qualification. With the RSA now responsible for policing of commercial haulage and bus operations and many prosecutions now going through the courts, it has become vital that companies, not alone remain compliant, but also that they have staff who are up to date on the most current legislation. The next Transport Manager CPC course is scheduled to start in Letterkenny on Monday 9th September 2017 with the CILT exams scheduled for Friday 24th November 2017.
For more details check out the Swilly Group website www.swillygroup.com or call (074)9151212.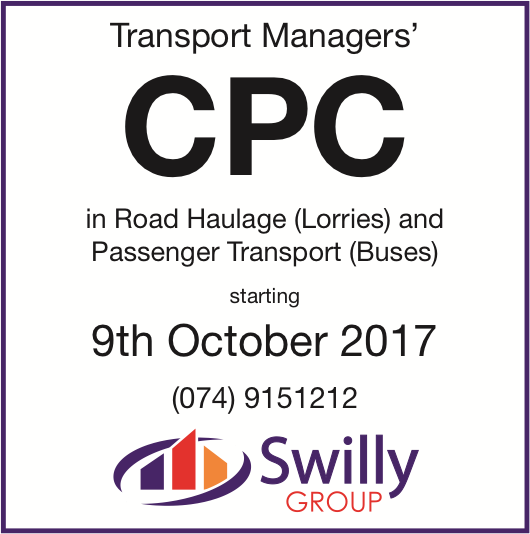 SPONSORED CONTENT BY: SWILLY GROUP
Posted: 12:00 pm September 23, 2017