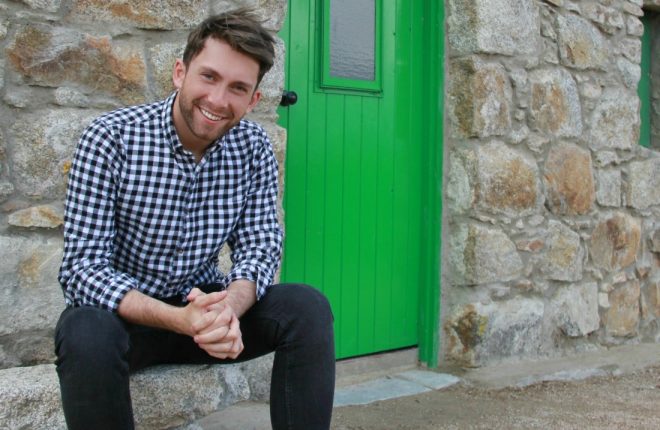 A WEST Donegal actor has been recognised for his contribution to the Irish language within mainstream media, as he is nominated for an award at the upcoming Irish Language Media Awards. Seán Ó Baoill, a native of Loch an Iúir, has been nominated for 'Réalta óg na bliana' (Young rising star) at 'Gradaim Chumarsáide an Oireachtais 2017', the annual Irish language Media Awards.
You would think Seán Ó Baoill Ros na Rún's bad boy, Adam Mac Donncha, on TG4's popular Irish language soap would Seán Ó Baoill this 28-year-old busy but he has so much more going on. Seán presents the series 'An tochailt staire' on BBC Radio Ulster during the summer months, and fronted a new TV current affairs series, called 'An Focal Scoir' for BBC 2 NI.  He also works on the production side of TV, as a shooting/director on a new documentary for TG4 during the summer and on TV programmes such as 'Club na mban' and 'Cleas act' this year as well.
He can also be seen on screen in the film 'Murdair Mhám Trasna' later on this year on TG4.
"I'm a self confessed workaholic, but I love it. It can be difficult at times juggling all the various projects, but I wouldn't have it any other way. I love what I do, I love the diversity of my work, and I am lucky enough to work along side such great people.
"The Irish language is a very important part of life, not only in terms of work, but on a personal level. I am very proud that I am a native Irish speaker. Irish is a part of our culture and identity, it's a vibrant language, and I use it outside of work as much as I do when working."
It has been 'brilliant' to be nominated in the Young Rising Star category at this year's awards, he said. Nominated along him are his best friend, TG4's Weather and continuity presenter, Caitlín Nic Aoidh, originally from Falcarragh, his good friend and colleague, Caoimhe Ní Chathail, who also works on MeonEile.ie, and works for Nuacht TG4 and Raidió na Gaeltachta. And, well known actor, Art Parkinson, also from Co. Donegal.
"It's an honour to be even nominated in this category, I have such respect for all the  nominees, some of which are really close friends of mine. We all have so much to be proud of and whoever wins on the night will be deserving of the award.
"The awards are very important. In the media world we all work so hard and are always working to deadlines or to the next project, so it's nice to gather together for one night to celebrate and to be proud of what we have all achieved within the year. "The standard of work being produced in the Irish language is extremely high and is on par if not better than that being produced in English or other languages."
The Irish language comes naturally to Sean as he was brought up surrounded by it in the Gaeltacht area. The love and respect for it has been passed down through generations and he speaks passionately on how important it still is.
"When I was younger, and thinking about a career, it seemed at the time that the only option, with regards to the Irish language, was teaching.
"I always wanted to be an actor, but my parents encouraged me to do a college degree, so that I would have something to fall back on if anything went wrong.
"So I went off and did my teaching degree, but it was at college that I learned so much more about the language and how many different places it can take you."
Seán went on to say working within the Irish language is 'so special' and said it is 'alive' in the industry at the minute.
"There is a future for it, and a want. I am so proud to be apart of it all. Having the language is definitley an advantage when it comes to auditioning for acting roles.
"When I would have auditioned for an English speaking role, there would have been double the number of people auditioning, with people coming from London and further."
He spoke passionately about encouraging the younger generation into learning the language, and how important it is to keep it alive in the Gaeltacht areas. "An attitude change has to happen I think. Young people don't watch TV anymore, and they don't really buy books or newspapers, everything is online.
"So it's about producing that content for online, so they will see it and we can encourage them to keep it going.
"It's still so important to encourage the language at home and in the Gaeltacht areas. It's growing in other places like Dublin and Belfast, so we need to keep the buzz at home too."
Dividing his working week between Dublin, Belfast and Galway, Seán still makes every bit the effort to come home to Donegal as well, especially now he has a new family member. "I'm moving to Galway now shortly, as Ros Na Run is filmed there, so I'll be based there for a while. I still make time to come to Donegal though, we just got a new niece in the family, so it's always nice to go home."
To vote for Sean, text GRADAM106 to 57003. Texts cost €1 and you can vote as many times as you like.
Receive quality journalism wherever you are, on any device. Keep up to date from the comfort of your own home with a digital subscription.
Any time | Any place | Anywhere
Posted: 11:30 am September 26, 2017