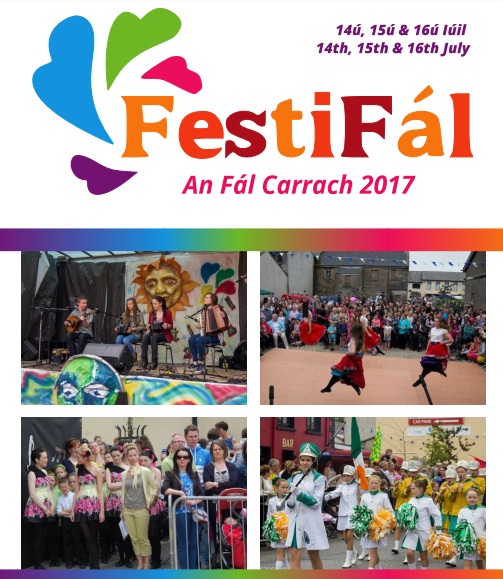 Residents and visitors alike are set to be spoilt for choice at the sixth annual Falcarragh Festival. Organisers have put together another fantastic and inclusive line up full of home-grown talent as well as international acts.
Friday sees a jam packed timetable of things to see and do taking you from 11am until the wee hours of the morning. Raidio Na Gaeltachta and Highland Radio will be doing live broadcasts from the event, which means if you're missing out on the day's craic, you can still tune in and listen live.
This year's festival will see the first Gerry Flynn Memorial 5K, organised by Joe Ruddy, Special Days and Sandra McGivney, Bank of Ireland. All proceeds from the run will go to the charities nominated by the Flynn family.
The party really starts on Friday night, with the official opening hosted by the festival's own Denis Doohan as MC, followed by the Ceili at the Crossroads with the Duntally Ceili Band. If you are in need of a laugh or two, you can also visit Paul Bonar's Comedy Night at An tSean Bheairic at 8pm.
Kicking off the cobwebs bright and early on Saturday morning, get down to the Festival Parkrun Breakfast at 9:30am, which will see a spread put on by various local traders. From 10am you can browse local crafts at the Fair Day in Town, where there will be street markets and stalls, with all car booters welcome.
If crafting is your thing, you can attend various workshops throughout the afternoon. You can learn how to make your own quilted baby blanket in Green Acres Quilts, or visit the Glasshouses where you can be involved in a three hour salad preparation workshop. Casual clothing is advised as you will be picking the ingredients from the greenhouses yourself.
Keeping the kids entertained all weekend long is made easy with the various family friendly events on offer, including Clowning Around with On Cue on Saturday afternoon. Nora Kavanagh and Gwenyth Doherty will give you and your little ones a chance to learn some easy circus skills. Put on your red nose and have some fun at Flynn's site at 12:30pm. From early afternoon, there will be plenty of singing and dancing on stage including Josie Cannon, Maureen Byrne School of Dancing, Chealsea Evans and her Granda Manus Ferry, and Katleen Diver.
Depending on how late you danced to Martin Duggan, you can regain your inner zen with an early morning yoga class at Drumnatinney Beach at 7am on Sunday. You can take the children back to Flynn's site on Sunday for a kids afternoon, with a fancy dress disco and a glamorous granny competition with Mr Majestic.
The weekend will go out with a bang at the Big Band Night with the David Craig Band playing from 7:30pm on Sunday evening. The committee are delighted to have the David Craig Band as part of this year's festival, playing a great mix of country, Irish and folk rock.
The band will be joined by Megan O'Rodaigh Dance Group, which will see Megan and her jiving kids will be showing some of their amazing jiving routines and getting the crowd on their feet.
Aine Quigg is part of the committee organising the Festival, and she said they are all really looking forward to this years event. "As a committee, we have really tried to have a broad range of activities in place to suit everyone, and we really wanted to focus on family friendly events. We have loads on offer to suit parents and kids, as well as adult entertainment running into the night. We have heard of families coming home from across the water for the weekend, as they didn't want to miss out," she said.
Aine went on to talk about the importance of crafts and local traders in this year's festival: "We are lucky in Falcarragh to have so many local crafts and independent businesses, so we wanted to showcase their talents. The workshop at the Glasshouses on Saturday will be very interesting, people will be able to learn everything from what seeds to plant in what soils, to picking their own organic ingredients and then putting them together in a tasty salad.
"There is also the Cluain na dTor Garden Walk, which is part of the Wild Atlantic Way, where there will be a guided tour around the gardens showing plants and shrubs that only grow along the coast. "There really is something for everyone and the committee are really looking forward to creating that community atmosphere in Falcarragh again."
You can look over the programme at www.falcarragh.ie or see www.facebook.com/festi-fal2017. 
Posted: 11:20 am July 14, 2017