THE end of school brings around a host of opportunities and possibilities for young people.
Some will go straight into work, or decide on a trade to pursue. Others will opt to go to college.
There are students who will be keen to stay close to home, others will head for Dublin or Galway, and plenty of youngsters hop across the Irish Sea to either England or Scotland.
There aren't too many that decide to move to America, but that's the direction the young Letterkenny woman Arlene Crossan is taking
An exciting prospect in the world of athletics, Arlene's sporting credentials have often been documented on these pages.
After completing her Leaving Certificate last week, she will now swap the Loreto Convent in Letterkenny for the University of New Mexico in Albuquerque.
Arlene will continue with her education, while also pursuing her sporting career, which she hopes will lead to a bright future.
"I always said that I wanted to go to America for college," said Arlene, when she spoke to the Donegal News.
"Then at the start of sixth year, I was having second thoughts. I was on and off for a while.
"But then a few months ago, I decided I would go and I'm really looking forward to it now.
"It will be good for me academically and from a sporting sense too. The warm weather training will definitely bring me on."
Her dad Sean enlisted the help of David Flynn, who sent her profile to a number of different colleges and she wasn't short on offers.
After weighing up her options, Arlene decided that the Univeristy of New Mexico was the correct fit for her.
"I could have went to a few different colleges. I looked them up online, and was skyping people over there to help with the decision.
"I wanted to get as much information on what they offered and about their facilities as I could to help make the best decision.
"New Mexico really sold themselves to me. They sent me over their running programme, and some gear and things like that, and I'm happy to be going over there."
Arlene has already represented her country with distinction and last year, was part of Team Ireland at the European Youth Championships in Tbilisi, Georgia.
She has a busy summer planned before heading for the States on August 17, the day after she picks up her Leaving results.
"It will be weird not going to school again after six years there, but I can't wait to move over at the same time.
"New Mexico is way over on the west side of America, so I will be a long way from home.
"I'll probably be home at Christmas, but I don't know if I'll come back in the summer.
"The warm weather will help my training so it will probably be better to stay out there.
"I don't think I'll be too homesick, but my wee sisters Laura and Demi will probably miss me."
Arlene has impressed in the 400 metre hurdles, despite only taking up the discipline last year.
However, her hard work and dedication has paid off, even though she had to juggle training with her studies in 2017.
"I train four or five days a week with my coach Shauna Carlin.
"During the week I work on endurance and speed, and then either on Saturday or Sunday morning, we focus on the hurdles.
"I used to do the long-jump and only took up the 4 hurdles, a couple of years ago, but I love it now."
While Arlene will be moving to pastures new, she's not the first local girl to make the big trip across the Atlantic.
She is very grateful for the support she has already received throughout her young career, and is looking to push on to another level in the states.
"I have two friends over there at the minute. Sarah Doherty's parents are American, and they have moved over there with her, and that has probably made it easier, but she really likes it.
"There's another girl called Shannon McLaughlin, who I trained with last year, and she really enjoys it too.
"I'm really looking forward to it now, and it's the next step for me. Finn Valley have helped me a lot, especially Patsy McGonagle and my coach Shauna.
"Adam Speer and Tommy Gallagher have also helped me a lot, and Nora Friel and everyone up at the Convent.
"I've had a lot of sponsors too like Carpet Interiors, Eddie Tinney, Extreme Adventure, Clanree Hotel, Voodoo, the Station House Hotel, and Arena 7."
The 18-year-old is very committed to her chosen sport, and knows what is required if she wants to make it to the top.
She has set the bar high, and is aiming to make it to the Olympic Games one day. However, she knows she must keep improving and performing if she is going to turn that goal into a reality.
"My aim is to make it to the Olympics in the 400 metres and hopefully going to New Mexico will help.
"I'm hoping to go to the World Juniors next year and keep improving.
"I'm 18 now, so maybe the Tokyo Olympics will come a bit soon, but I'm definitely looking at 2024.
"I'm very focused. Last week, when my friends finished their exams, they all went out.
"But I didn't bother because I knew I was going to France, and wanted to make sure I got my time for the European Juniors."
The decision certainly paid off as Arlene recorded a time of 61.2 seconds in France, which was 0.2 seconds inside the standard for qualification for the European Junior Championships next month.
Arlene will travel to Grosseto in Italy to compete in the Championships in late July.
After that, she will gear up for New Mexico, and the start of a whole new adventure.
Posted: 12:00 pm July 2, 2017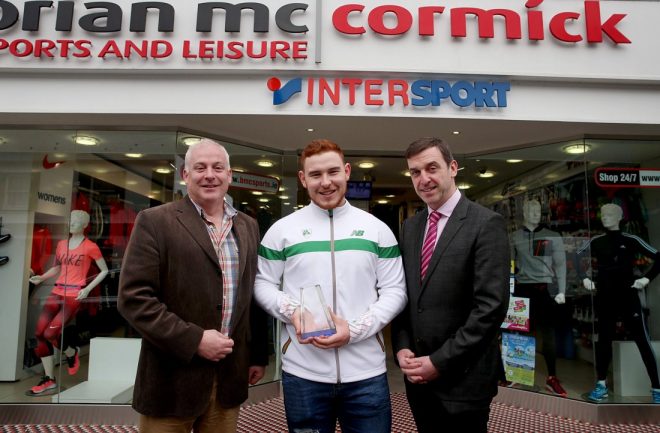 John Kelly his sights set on first Irish Senior Outdoor title, while he hopes to secure European U23 standard...