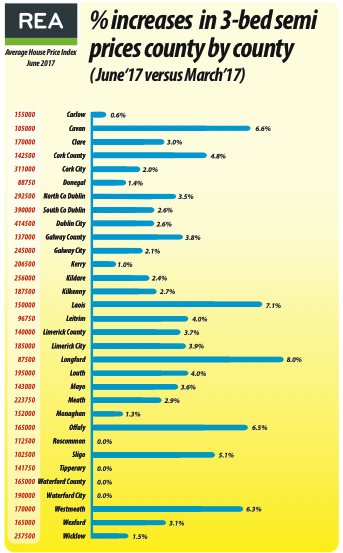 The price of the average three-bed semi in Co Donegal has risen 1.4% to €88,750 in the last three months, according to a national survey carried out by Real Estate Alliance.
The REA Average House Price Survey concentrates on the actual sale price of Ireland's typical stock home, the three-bed semi, giving an up-to-date picture of the property market in towns and cities countrywide.
Prices for three bed semis have remained at €85,000 in South Donegal for the past three quarters, but this masks a huge drop off in business from the North according to REA McElhinney in Bundoran.
"There is an overall hit to confidence and to people's willingness to make a major financial commitment to property while there is uncertainty over the border," said Michael McElhinney.
"On the upside, we are seeing a definite increase in dollar interest, and the market for second homes has started to spark again with families with children relocating from the Dublin market.
"We have seen a definite increase in people working remotely – living and operating in Donegal, North Leitrim and Sligo and maybe commuting twice monthly to Dublin."
There is good demand for semi-detached properties in the main towns and any properties that are put on the market attract good interest, according to Paul McElhinney from REA McElhinney in Milford, where prices have risen by 2.8% to €92,500 in the past quarter.
"A continued lack of supply is still driving this demand although prices are not rising to sufficient levels yet to encourage new builds."  The average semi-detached house nationally now costs €215,269, the Q2 REA Average House Price Survey has found – a rise of 2.5% on the Q1 figure of €209,944.
Overall, the average house price across the country has risen by 11.2% over the past 12 months – in contrast to the 4.5% increase registered to the full year to June 2016. While new building is still in its infancy, new developments on sale in small pockets of the country have had an impact on the price and demand for second-hand properties locally.
"Agents have been reporting that where there are new homes available, the price of second-hand properties has been under pressure," said REA spokesperson Healy Hynes. "Most of our national housing stock is over a decade old, and house purchasers – especially first-time buyers – will opt for new builds at a higher spec, even if there is a marked difference in price.  
"Our agents are also reporting that both purchasers and three-bed semi vendors are looking for larger homes, which is having an adverse effect on the supply chain, with the result that time taken to sell is now four weeks on average in Dublin and the major cities, and as low as three in some parts of the capital."
Posted: 11:37 am June 26, 2017