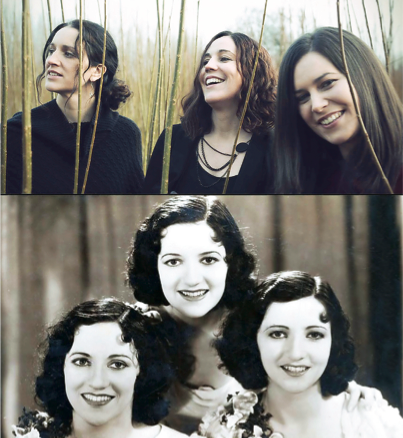 Donegal's finest folk export, The Henry Girls will present 'The Boswell Tea Party' as part of this year's Earagail Arts Festival. The Boswell Tea Party takes place on Thursday, 6th July at 8pm on the Village Green, Malin Town. Photo: Simon Alleyne
The 29th Earagail Arts Festival opens this Tuesday, with an extended 20-day programme of events taking place across Donegal. This year's festival is celebration of music, theatre, visual arts, film, literature, circus, comedy and dance. The festival runs from Tuesday, 4th – Sunday 23rd July and is one of the flagship Donegal events along the Wild Atlantic Way. This year's programme has something for everyone, from family and outdoor events to theatre, workshops and music from all corners of the world.
THE HENRY GIRLS PRESENT THE BOSWELL TEA PARTY
Donegal's finest folk export, The Henry Girls will present 'The Boswell Tea Party'. Accompanied by a 7-piece ensemble, Malin's own harmonizing, sorority trio perform a tribute to the 20's swing of New Orleans' The Boswell Sisters. The Boswell Tea Party takes place on Thursday, 6th July at 8pm on the Village Green, Malin Town. Tickets cost €15/€12 and are available via www.eaf.ie or through the box office at An Grianán Theatre, Letterkenny or by calling +353 (0) 74 9120777.
SILENT
Silent by Fishamble: The New Play Company, is winner of The Olivier Award 2016 for Outstanding Achievement in an Affiliate Theatre. A touching and challenging story of homeless McGoldrig, who once had splendid things. But he has lost it all – including his mind. He now dives into the wonderful wounds of his past through the romantic world of Rudolph Valentino.
Pat Kinevane's previous plays for Fishamble include The Nun's Wood and The Plains of Enna. He has worked as an actor in theatre, film, radio and television for the past seventeen years. Credits include Black Day at Blackrock, A Mother's Love's A Blessing, King Arthur, Ballykissangel, I Keano and The Late Late Show Murder Mystery. Silent takes place on Monday 10th July at 8pm in An Grianán Theatre, Letterkenny and on Tuesday 11th July at 8pm in the Holy Trinity Parish Hall, Dunfanaghy. Tickets €15/€12. To book tickets visit www.eaf.ie.
HOPE HUNT
Hope Hunt lies between the lines of physical theatre, social proclamation and dance. A thumping black Golf, headlights on, sits in waiting. Music thumping from its metal shield. A man who is many men leaks in and out of the metal beat, his story, it is a hunt for hope.
Through speech, movement, and sound we are twisted and contorted through ideas of masculinity, morality and nostalgia. Through wet forgotten roads of memory, the hunter takes the audience with him. He hits and swerves at extreme stereotypes of cultural and social class, teetering on the fine lines between comedy and tragedy, to find the importance of self- belief; no matter where you are from, what class you are placed. There are essential needs of love ingrained in all of us. Removing the masks of ego and cultural affectations we find a common ground of truth and hope.
Hope Hunt takes place at 8pm on Tuesday 18th July in An Grianán Theatre, Letterkenny. Tickets cost €12/€10 and the show is followed by a free after show gig at 10pm in The Cottage Bar by Derry based 4- piece Strength NIA. For more details visit www.eaf.ie.
WILD ATLANTIC WEEKEND
Earagail Arts Festival in association with Malin Development Committee presents a world of Irish street art, circus and spectacle in Ireland's northern-most village on the Wild Atlantic Way. For two days, on Saturday 8th and Sunday 9th July, the Village Green will play host to some of the most imaginative theatre, street and circus performers from across the island of Ireland.
Not-to-be-missed family events during Wild Atlantic Weekend include LUXe's Wild Atlantic Gallery, Circus Raj, Unsuitable, Unsuitable and Danny Carmo's Mathematical Mysteries. There's also once in a life time opportunities to see musical acts with worldwide acclaim in McGrory's of Culdaff.
FEMI KUTI & THE POSITIVE FORCE
As part of the festival's Wild Atlantic Weekend, one of the hottest artists in the universe comes to the coolest place on the planet. This rare and intimate show with the legendary Afrobeat musician is not-to-be-missed.
Those who have followed his career and have experienced his music understand that Femi Kuti never felt satisfied with being the king's heir. He freed himself from his father's legacy in '85 by putting together his own band, The Positive Force, and thereby working to find his own voice. During the '90s he became a renowned artist in his own right – a superstar with a worldwide following. His performance promises to be one of the highlights of the festival's opening week and takes place in McGrory's of Culdaff on Sunday, 9th July at 8pm. Tickets costs €25.
Other highlights of this year's Earagail Arts Festival include Blackadder Goes Forth which brilliantly blends light comedy with gallows humour while delivering a poignant message on the futility of war, Dan Gordon celebrates the comedic legend, Frank Carson in A Rebel Without a Pause and Ceol na Coille Summer School of Irish Traditional Music.
For full details on the Earagail Arts programme and to book tickets visit www.eaf.ie. Earagail Arts Festival is funded by The Arts Council of Ireland, Fáilte Ireland and Donegal County Council.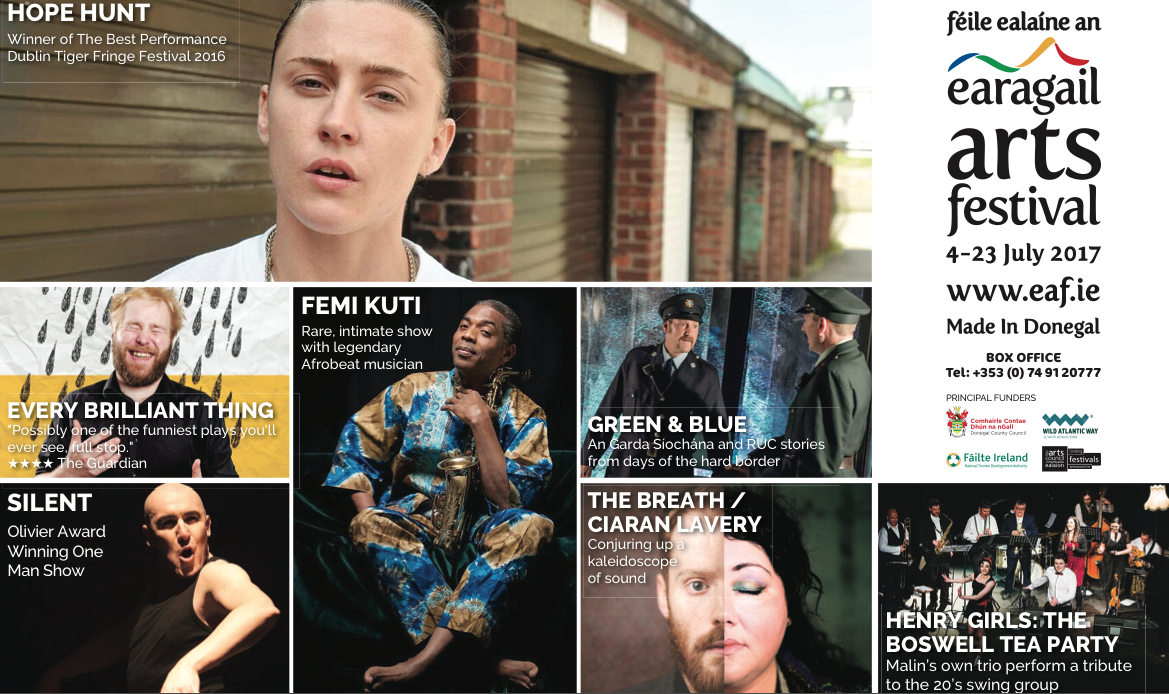 SPONSORED CONTENT BY: EARAGAIL ARTS FESTIVAL
Posted: 7:00 pm June 30, 2017