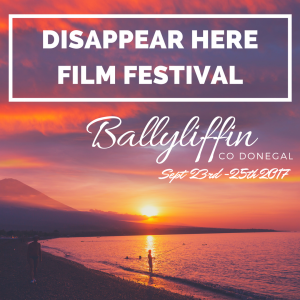 The Disappear Here International Film Festival is a first of its kind in Donegal. The inaugural DHFF is a 3 day festival taking place in Ballyliffin, Co Donegal from (Culture Night) Friday 22nd September 2017.
The Disappear Here Film Festival will take place in a series of unique locations in and around the picturesque village of Ballyliffin. From short animated films for kids, to scary midnight movies for the young at heart – The Disappear Here Film Festival promises you a weekend of entertainment utterly unmissable and unforgettable.
The Festival will have a high concentration of shorts but includes an outstanding mix of features and documentaries. In the digital age, as society is bombarded with micro-media via the internet and attention spans are dwindling, we are offering a format tailored for the YouTube generation.
Over the weekend films will be screened in a specially constructed 150-cinema in the Ballyliffin Hotel, an inflatable cinema in the car park, and a secret cinema in a magical venue, to be continued.
Our versatile programme will include screenings, talks, educational workshops and a host of entertainment events through which we plan to provide a unique festival experience.
We also plan to partner with the local food providers in the area, to provide a sea-fish inspired menu in each of the venues.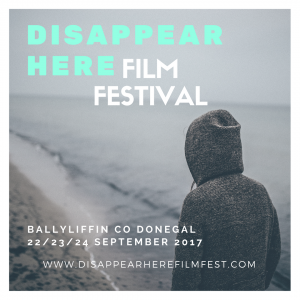 Posted: 11:07 am June 30, 2017