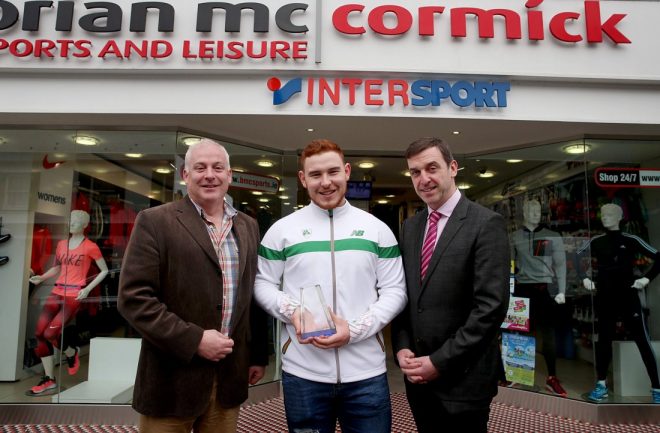 JOHN Kelly (21), a third-year computing student at Letterkenny Institute of Technology, has been chosen as the Donegal News Sports Personality of the Month for February.
It was a month which saw the Finn Valley athlete break the Donegal shot put record with a throw of 17.49m at Santry – a distance which is also a European B qualification standard. He then set a new colleges record when winning the Irish Universities title at Athlone IT with 16.97, before the young St Johnston man won his first senior indoor Irish title with a throw of 17.02 metres.
The 2017 season has already seen the benefits of Kelly's determination and the current Irish Universities shot put champion travelled to Cork IT yesterday, Thursday, looking to add the Irish outdoor title to the indoor one he won in Athlone back in February.
He also has his sights set on a first Irish Senior Outdoor title, while he hopes to secure the European U23 standard and represent Ireland at two European meets.
Kelly has already worn the Irish vest with distinction at both World and European U20 level, while he's just back from Gran Canaria where he finished 11th at the European Winter Throws event.
Kelly is from a family of throwers – dad John (javelin) and younger brother James (Shot put) – with numerous county and national school records and under-age championships among them.
He is coached by his father and the pair have already had to re-evaluate their goals for 2017.
"I'm ahead of where I thought I would be so I'm trying to construct a new plan for the season. I would like to push towards eighteen metres and possibly reach the Commonwealth Games standard (18.10) – the games are in the Gold Coast, Australia next year.
"My personal best is 17 metres 49 centimetres so I've a bit of a way to go yet while the World University Games standard (18.25) for Taipei may be a little out of my reach just yet," he said.
The son of John and Jackie Kelly, Carrickmore, St Johnston, John has a younger brother James and sister Sarah. He has held the Donegal record since 2014 and he is currently the number one ranked thrower in the country at both senior and U23 level.
A member of Finn Valley AC since he was twelve, John has only started to focus all of his concentration on throwing in more recent years.
"I enjoyed soccer, GAA and karate when I was younger but I'm more into the throwing now. It's great craic," he said.
The shot put was an event that, initially, he just happened upon by chance.
"Yeah. I found an old shot put up in the attic one day and I just kept torturing dad until he allowed me to throw it. Dad dabbled in a lot of events himself, but mainly the javelin, and he then started to coach me.
"Each year I managed to throw it a little bit further. It's a technical event and it requires a lot of time in the gym as well as running. I would train twice a day and it's about trying to get the balance right. It's good fun and it's a nice hobby," he said.
That hobby has since taken on a much more serious role in his life as he continues to break national records.
"Records are there to be broken and it's a nice thing to chase, but I'm more concerned about standards than records to be honest," he said.
John's younger brother James (17) is also a talented shot putter and he's already broken some of those records set by his brother.
"James is excellent and he's already taken most of my records – but not them all – as he comes up through the ranks. I'm looking forward to competing against him when we're both seniors in a few years time and we'll see who comes out tops then," he smiled.
The two brothers train in a purpose built gym adjacent to their home in St Johnston.
"Dad and mum have been the driving force behind me and now I'm finding James pulling at my coat tail. He's just seventeen and still very young in the world of shot put," he added.
Indeed, shot putters tend to get better with age.
"We're like a good wine and peak in our late twenties, early thirties, so there's plenty of life in me yet – I hope," he said.
While the University Championship title is the immediate goal this weekend, John is hoping to achieve the qualifying standard for the European Senior Championships in Glasgow in 2019 and, further down the line, the Olympic Games.
"It would be nice to make the 2020 Olympic Games but 2024 is probably a more realistic option," he said.
Academically, John hopes to spend another year at LYIT before possibly moving to Sweden.
"One of the world's best coaches is Swedish. He's currently training the world number one discus thrower and, ideally, I would love to join his group and I feel that they would help to push me onto the next level.
"It would be a dream come true but I suppose there's nothing wrong with dreaming," he smiled.
Posted: 5:40 pm April 6, 2017