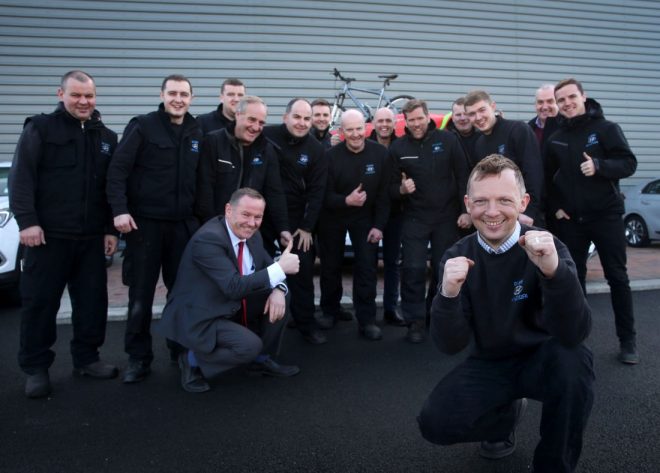 I DIDN'T get enough hugs when I was a wain..
That was the quip offered up by well-known Letterkenny man Gerard Callaghan when asked why he was allowing his body to endure the torture that is 'The Race' this coming weekend.
Described as being Ireland's toughest endurance race, competitors have to complete 15km of kayaking, 166km of cycling, 5km of mountain running and 64km of road and trail running – all within 24 hours – across Donegal.
The concept behind The Race was to create an event that tested competitors to their limits and where finishing wasn't guaranteed. Now in its fourth year, The Race is up there as one of the top ten of its kind in the world.
Indeed, should Gerard successfully make his way across the finish line at Gartan Outdoor centre he will become the first and only competitor to have completed all four events.
A talented cyclist in his teens, Gerard (43) put the lycra gear to one side at seventeen in pursuit of his love for rallying. His father, Jim, is a founding member of the Donegal Motor Club, and Gerard took part in his first Donegal International Rally in 1994.
He competed in the event as both a driver and co-driver over the intervening year but it has been sitting alongside Conor Harvey where he has enjoyed his greatest success – finishing second in the National Rally in 2014.
A married father of four, Gerard operated his own panel-beating business for fifteen years before the recession led to him closing the doors. Today he works as workshop foreman in Diver's Hyundai garage, Canal Road.
"When the recession hit, the bike was the only thing I knew so I went back to it to help clear the head," he explained.
"I had an old bike that I used to race on in the eighties lying about the house. I blew the dust off it and pumped up the tyres one Sunday morning and went out on a spin for an hour or so. I used to always get a great feeling when I was out on the bike and that morning took me back to my youth," he said.
As a former member of the Tir Chonaill Wheelers Cycling Club, it wasn't too long before Gerard was spotted back out on the bike.
"Mark Ponsonby and Mickey Russell are to blame here," he laughed.
"They saw me out on the bike one day and got me back into the cycling with the Four Masters Club – formally Tir Chonaill Wheelers," he said.
Gerard then decided to take part in the 2012 Coastal Cancer Challenge for a dare. He was 38 years old.
"One of the lads dared to me do it. They had been training for six months and I had done two or three weeks and I beat them by about an hour," he smiled.
The following year he met up with David Burns, creator of The Race, who spoke about his plans to bring the event to Donegal.
"I thought abut doing it for a month or two but I felt it would have been impossible for me to do, if I'm being really honest. The more I thought about it though the more I wanted to give it a go," he said.
In 2014, Gerard was one of 54 people who took to the starting line of the inaugural 'The Race' – finishing in a time of 19 hours 20 minutes.
Twelve months later he was back – crossing the finish line in 20 hours, 10 minutes. The kayak section of the event was cancelled that year though due to 100kph gusts which led to the athletes running an extra eight miles! The overall winner was Letterkenny athlete Sean McFadden.
"I'm not a runner. I had never run a step in my life until I was 38. I hate running and the extra running didn't help that year," he said.
Last year, Gerard completed the event in 19 hours 50 minutes – a fine time given that he had also taken part in the Race Around Ireland the previous September.
"I wasn't going to do it and then I thought about the three-in-a-row and here we are talking about a fourth," he said.
While the winner is expected to cross the finish line in a little over 15 hours, Gerard has set himself a target of dipping under the 18-hour mark.
To achieve that he's up at 6am for a run before going to the gym. His weekends are taken up with long bike rides and kayaking on Gartan lake.
"I bought my first kayak after the first Race and it's become one of the things that we really enjoy doing now as a family. It's similar to riding a bike. It's all about balance and you steer with the hips," he said.
Gerard's wife Jacqui has also caught the competitive bug and the pair have signed up for the Donegal Atlantic Way Ultra Cycle in June.
"We're taking part in the two-person team event and we hope to do the 555km distance in about twenty hours or so. I think Jacqui's adopted the line if you can't beat them, join them," he laughed.
This weekend however Jacqui (nee Whyte), their children Emma, Aaron, Rory and Jamie and stepson Daniel will all be out cheering on Gerard.
"It's great to be able to do it when you have your health. Jacqui lost her younger sister Louise (McElhinney) to cancer two years ago and it's at times like this that you should be thankful for what you have and that you're fit enough to try such an event," he said.
'The Race' takes place this weekend with its headquarters at the Gartan Outdoor centre. Competitors must run a half marathon, cycle 175 km, paddle 15 km and climb 800 vertical metres before finishing with a full marathon through the night and all of this having to be completed in just 24 hours. Once again large crowds are expected with many overseas competitors participating in the event.
The Race is a not-for-profit event with all proceeds going towards the work of Gorta-Self Help Africa.
Receive quality journalism wherever you are, on any device. Keep up to date from the comfort of your own home with a digital subscription.
Any time | Any place | Anywhere
Posted: 5:30 pm March 10, 2017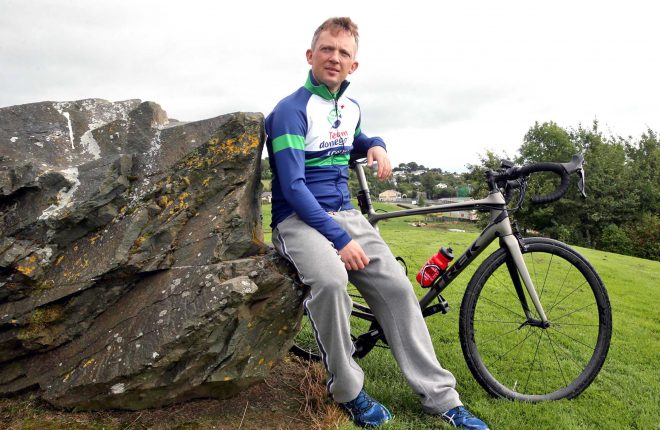 Gerard, who turns 45 in December, is full of praise for those on the northern side of 40 and...