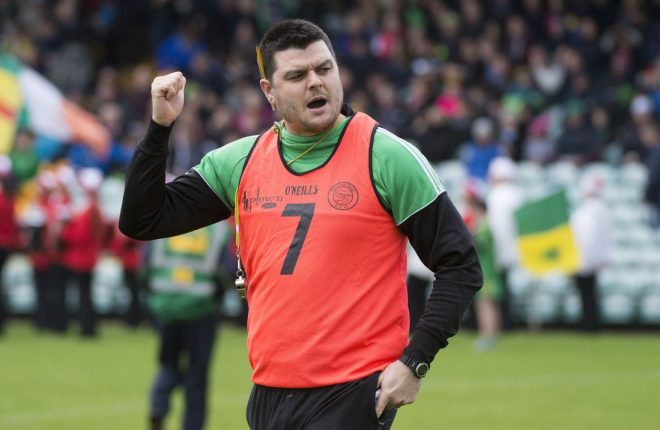 There has been a lot of talk about the formation of a Club Players Association in recent years, and it looks like the concept will now finally happen.
The CPA is being driven by former Clontibret manager Declan Brennan, who is well known throughout the country, after being involved with DCU.
The intercounty players are represented by the GPA (Gaelic Players Association) and they look after the interest of the elite men in the GAA.
However, they only make up a small percentage of the people who play our national sport.
I remember back to when I was playing and there have always been issues for the club footballer, who was treated as a second-class citizen in comparison with his intercounty counterpart, and it's even worst now.
We've seen on our own doorstep how badly club players are being treated when Burt were forced to play two games in two days, and a team from Roscommon found themselves in a similar position last weekend.
The Dublin quarter-finals were played last week on Wednesday and Thursday night, and the semi-finals are midweek games as well.
That kind of thing has to end because players are investing too much time and energy to have their season rushed to a conclusion.
I think it's great that the club player will now be represented and hopefully the CPA can make some progress, although it will be difficult.
There are so many competitions to try and fit in that isn't easy to schedule fixtures, and there is the obvious problem that there isn't enough football being played in the summer months when the intercounty season is in full swing.
I do think that the Donegal CCC and their secretary Declan Martin deserve some credit for the way they have run off the All-Couny League this season.
Going into the final weekend of October, there is only one round of fixtures left in Division 1 and 2, while the fourth tier action is concluded.
Division 3 is the only one the league that has been held up, and that is mainly due to the fact that a dual club Burt did well in both codes this year.
That is an improvement on previous years, but they still haven't formed the perfect formula.
Clubs that exited the championship early were waiting a month to play crucial league games and it's hard to keep it together with that kind of lay-off.
I believe one thing we have to try and do is get the leagues finished up before the championship starts.
I was involved with St Michael's this year and it's tough on players and coaches because you nearly have two seasons in one.
For the last couple of years, we've had one championship game in either May or June, and the rest of the competition after Donegal's season is completed.
You're trying to get men in good condition for early in the season, but it's very hard to keep them motivated when they know they won't play championship again for another three months.
I feel we would be better playing the leagues to a conclusion and then starting the championship.
I would introduce a seeding system in the Senior Championship where the top four teams in Division 1 are the top seeds for every group, and the next four are second seeds, and so on.
That may be harsh on clubs who would be competing in Division 2 or 3, but it would be an incentive for them to push hard in the league and climb up the ladder.
Some clubs may suggest that their league standing would suffer as they might not have their county men, but so be it. There has to be compromises somewhere.
Nationally, it's a no-brainer that the intercounty season has to be condensed and it needs to finish at least a month earlier to allow more time for club football.
We have talked about this for a long time and various people have suggestions, and at least now, it will be debated within the CPA, and I hope they can make strides forward.
Posted: 8:30 am October 30, 2016