What better this Christmas than curling up in front of the first with one of your favourite cocktails. From Cosmopolitans to the non-alcoholic version of the famous Bloody Mary, a Virgin Mary, this is our guide to happy cocktailing this Yuletide.
VIRGIN MARY
INGREDIENTS
200ml tomato passata
2 spring onions
finely chopped
1 lemon, juiced
half tsp Tabasco sauce
half tsp Worcestershire sauce
couple of ice cubes
1 tbsp chives, chopped
METHOD
In a blender, mix the passata, spring onions, lemon juice, Worcestershire sauce, Tabasco sauce and ice cubes. Blend for two minutes, or until smooth.Top with chopped chives.
---
COSMOPOLITAN
INGREDIENTS
35ml vodka
15ml Cointreau
Squeeze fresh lemon juice
25ml cranberry juice.
METHOD
Pour the vodka, orange liqueur, lime juice and cranberry juice into a cocktail shaker and fill with ice. Shake hard and then strain into a coupe glass or small Martini glass.
---
APPLE TIZER
INGREDIENTS
1 part apple vodka
1 part apple juice
3 parts sparkling wine
frozen raspberries
METHOD
Combine the apple vodka and juice in a glass.mTop up with sparkling wine and garnish with the frozen
raspberries.
---
SNOWBALLS
INGREDIENTS
1 lemon, juice and zest
3 tsp golden caster sugar
1 small free-range egg
50ml whisky, gingerale or lemonade
METHOD
Mix together the lemon juice and zest and caster sugar in a small bowl. See aside for at least half an hour. To make the cocktail, place the egg, whisky and one tablespoon of the lemon mixture into a cocktail shaker. Top up with ice cubes and shake well. Strain into a a glass and top up with ginger ale.
---
FIRESTARTER
INGREDIENTS
pinch cayenne pepper
pinch freshly ground black pepper
2 dashes Tabasco
3 dashes Worcestershire sauce
1 dash soy sauce
50ml whisky
1 tbsp freshly squeezed orange juice
splash tomato juice warmed through
METHOD
Pour everything apart from the tomato juice into a heatproof glass or mug and stir well. Top up with the hot tomato juice
---
PISCO SOUR
INGREDIENTS
50ml pisco
50ml lime juice
25ml sugar syrup
1 dash bitters
half a free-range egg white
1 cherry, stem attached
METHOD
Place all of the ingredients except the cherry a into a cocktail shaker and shake. Strain into a rocs glass and garnish with a fresh cherry on the stem
Save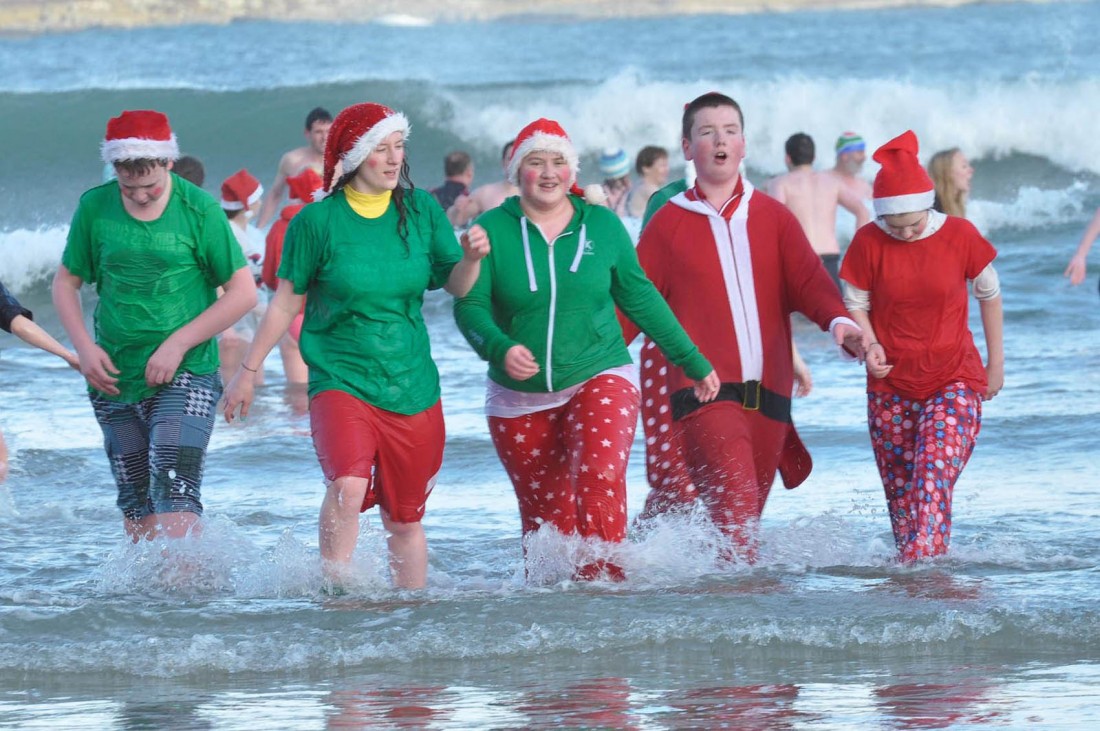 The Christmas season is a time when people take part in sponsored swims in support of many charitable...