JULY was a fantastic month for the Donegal Minor team and their super sweeper Peadar Mogan. Shaun Paul Barrett's minor select became only the seventh crop from Donegal to win the Ulster Minor Championship title when they got the better of Derry.
That was an impressive win and they followed it up with an All- Ireland quarter-final win over Cork. A striking image in both of those games was of Donegal's number 13 racing out of defence in his bright orange boots. That man is Peadar Mogan, who has established himself as one of the leaders of the team.
"It was a great month," said the Abbey Vocational School student. "It kicked off with winning the Ulster Final and then to get a run out in Croke Park against Cork was brilliant too."
Donegal went into the Ulster Final with Derry as favourites, but the Oak Leaf county were very well prepared and they posed plenty of questions of Mogan and his teammates. "We expected a very tight game against Derry and that's what we got.
"In the semi-final, we started very well against Monaghan, but the second half wasn't so good. "We knew that Derry would really put it up to us and they did. Going out to the pitch again in the second half, we had to kick on and thankfully we did that, and we got the result."
Donegal prevailed by two points much to the delight of the players, and they collected the Fr Murray Cup for only the seventh team. With Donegal also in the senior final, the minor side got a great reception as they did their lap-of-honour after the match.
"It was unbelievable and we can't credit the support enough – they really pushed us over the line. "And running around afterwards in the lap of honour, and picking out Donegal jerseys in the crowd, and people that had come up to support you, that was great. "A packed Clones is something else. It's what dreams are made of and it's locked in the memory now, and you'll never forget something like that."
Donegal were boosted a few days after their provincial triumph when they got the word that their quarter-final with Cork would take place at Croke Park. Mogan had longed to represent his county at Headquarters since he was a young child kicking ball for his club St Naul's, and he was delighted to hear the game would take place there.
"That was massive, and everyone was buzzing when we found out that. It's the home of football. "I had never played in Croke Park before and it took us a while to adapt to it. "The big thing about it is the surroundings. It wasn't full the last day, but you're looking up from the pitch, and everything just looks different. It's very different to playing in Clones, where everyone is condensed in, but Croke Park is a big open arena."
Donegal overcame Cork, but as has been the case in all their games this year, they didn't have it easy. A slow start to the game saw them trail by four points at the break, but they produced an excellent second half display to run out comfortable winners in the end.
It was good to get over the line, but they will need to improve if they are to make the All-Ireland final. "We were very disappointed with that to be honest.
It was a big day in Croke Park and we were a bit nervous," Mogan admitted. "It took us a long time to get a few scores on the board, and we knew we had to go for it at halftime because it was all or nothing.
"We were four points down and we were out if we lost the match.  The second half against Cork was probably the best we have played all year, but we know we won't get away with that against Galway. We're going to have to play for the full match, not just one half. The nerves should be gone now. Everyone has played in Croke Park so the novelty won't be there this time."
Mogan has been inundated with well wishes and while he acknowledges that the hopes of the county now rest on their shoulders since the seniors were eliminated, he says they are not feeling any pressure.
"Everyone has been great. Family members and friends and everyone around the club have been wishing me well. "You're meeting people from all around the county, and they're stopping you for a chat and things like that. We're carrying the flag now, but we'll not worry about that, we'll just see how far we can go."
Mogan is still underage again next year, but he wants to make the most of 2016. He feels that he and the rest of the panel have really progressed since the start of the journey and he believes they can reach the All-Ireland Minor Final.
"I was hoping to try and make it, and I was lucky that we had a new manager and everyone was given a clean slate at the start of the year. It was up to yourself to push as hard as you can and show SP that you deserve a spot in the team. Everyone has come on leaps and bounds since the start of the year. In the league, we were just showing glimpses of what we could do, but now we're jelling together.  It's brilliant to be able to walk out onto Croke Park with 30 boys that you have been through thick and thin with. We're a very tight unit and everyone gets on the best and we're confident that we can get the result we need."
Save
Save
Posted: 3:38 pm August 19, 2016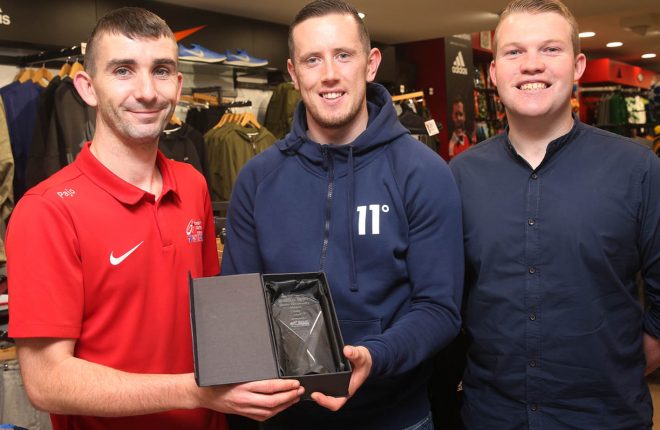 Gallagher was awarded the Donegal News Sports Personality of the Month award for July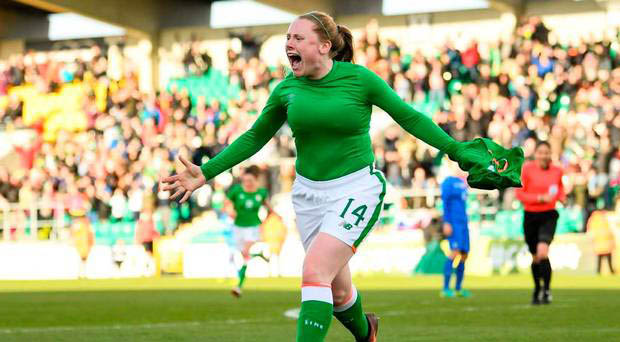 A talented Donegal GAA player, Amber Barrett took the decision to concentrate on the Ireland Women's football team last...