Peggy the bicycle and myself are alive and well in Utah, where the temperatures yesterday reached 110.5 degrees Fahrenheit!
Obviously the heat put paid to the hopes of cycling any further, and I am taking refuse for a few days. My little rest period is doubly beneficial; I am staying out of the sun for a couple of days and replenishing fluids and salt to stave off dehydration, and this is also giving me the chance to catch up on communications with home.
There is no other way of describing my experiences in Nevada other than exhausting, yet heart-warming and amazing. I have survived US highway 50, which is also known as 'The Loneliest Road in America'. The experience was phenomenal. There were times when I was 80 miles from the nearest town or even house, and with such high temperatures that could have been an issue, but thankfully I emerged unscathed at the stateliness with Utah. Nevada is surprisingly high, and mountainous; a beautiful, yet lonely and inhospitable place due to remoteness and the elements. It is upland desert, ranging from 4,200 feet to almost 8,000 feet in elevation. Just how they managed to pan for gold here 150 years ago is beyond me. The lengths they went to in the hopes of raising money were extreme – maybe Trans Atlantic Cycle is the same! There are valleys here so big that you cannot see the the road at the far side. One particular valley had a road that stretched out for 26 miles without a hill or a turn. To put it in perspective, that is roughly the distance from Letterkenny to Gortahork via Kilmacrennan, Glenveagh and Falcarragh.
Thankfully I had a sweeper for most of the way through the desert. In cycling terms, a sweeper is a vehicle traveling somewhere behind you, which will come and provide support if needed. That sweeper was a motor home driven by M and Liz, twin ladies who are retired, and who approached me at a grocery store just as I was leaving civilization in Dayton, Nevada. When they heard I was cycling across America and Ireland for The Irish Cancer Society, they went home, loaded the motor home and followed me out into the desert. They passed me and waited at a lay-by with cold drinks, and encouragement. They insisted on sweeping behind me all the way across Nevada. M lost her husband to prostate cancer two years ago, and wanted to help. I named these twin ladies The Desert Angels, and as it transpired, I really needed their help. It is one of those magically random yet heart warming encounters that life throws up. M will now almost certainly visit Donegal later this year (hopefully to coincide with my cycle from Letterkenny to Dublin).
Sinead, a Donegal girl, now living in San Francisco also wanted to contribute to a cancer charity for personal reasons, and she hooked me up with hospitality in Minden, near Carson City. Cheri and Jim treated me like a king; opening up their home, taking me out to dinner, and Jim even let me drive his 1965 Mustang GT! In eastern Nevada, at 6,600 feet, just when I was bordering on desperation due to the effects of altitude and the heat, Grace and Bob came to my rescue. They got me out of the remainder of the desert just as the heatwave was arriving, by giving me a lift in their motor home. Grace, as fate would have it, is a cancer survivor.
Again, because of the bond formed out on America's Loneliest Highway, this couple, who have no Irish links, now plan to visit Donegal.
The help that I have described is very moving. To think that strangers, so far from home, are willing to go above and beyond to help a lone Irish cyclist, is a little overwhelming, yet greatly appreciated. It calls to mind the theory, that certain people are put in your path for a reason.
Despite the many hurdles and roadblocks in The Wild West, Trans Atlantic Cycle is still moving slowly across America. Irish American connections (mostly via Relay for Life) are waiting to offer help east of The Rockies. Getting there is the problem. My next leg will take me over a 9,000 foot mountain pass and down into my first Colorado valley, where I will stand beneath Monarch Pass, which towers to over 11,300 feet. For now though, I am resting in Utah, and trying to build myself up, and come to appreciate just how amazing those random acts of kindness were in Nevada. I would also like to take this chance to thank everyone back home for their constant support and encouragement. Every little message helps to give me some much needed energy.
To support Trans Atlantic Cycle you can make a donation to the Irish Cancer Society, by visiting www.gofundme.com/TransAtlanticCycle. Sponsorship cards are also available at Manorcunningham Post Office, and at Cafe Blend, High Road, Letterkenny. You can follow my progress online by using the hashtag #TransAtlanticCycle, which will show content from Facebook, Twitter, Instagram and YouTube. I am also making entries on my blog at www.theparismethod,com
Onwards and upwards – one day at a time.
Posted: 1:33 pm July 5, 2016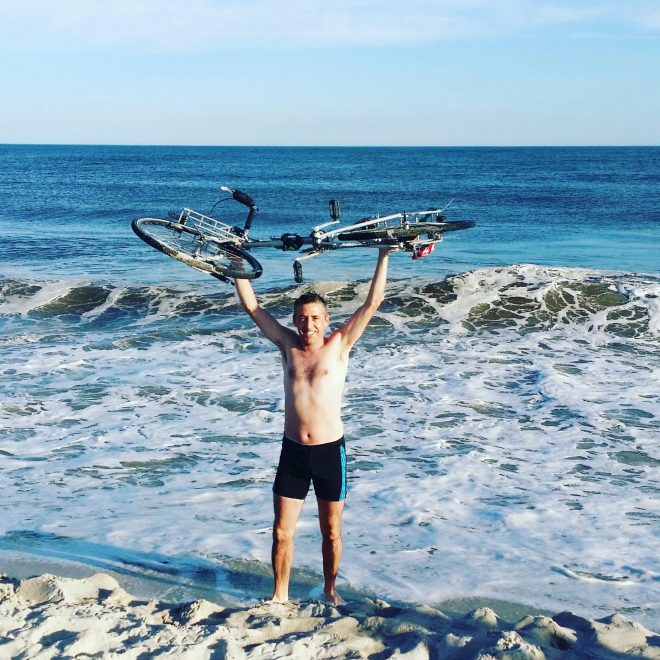 ON Sunday afternoon last, Letterkenny man Roger Holmes arrived back home in Drumardagh after spending the summer travelling alone...
Roger Holmes (43) has set himself a sixty day target to complete his fund-raising cycle from San Francisco to...