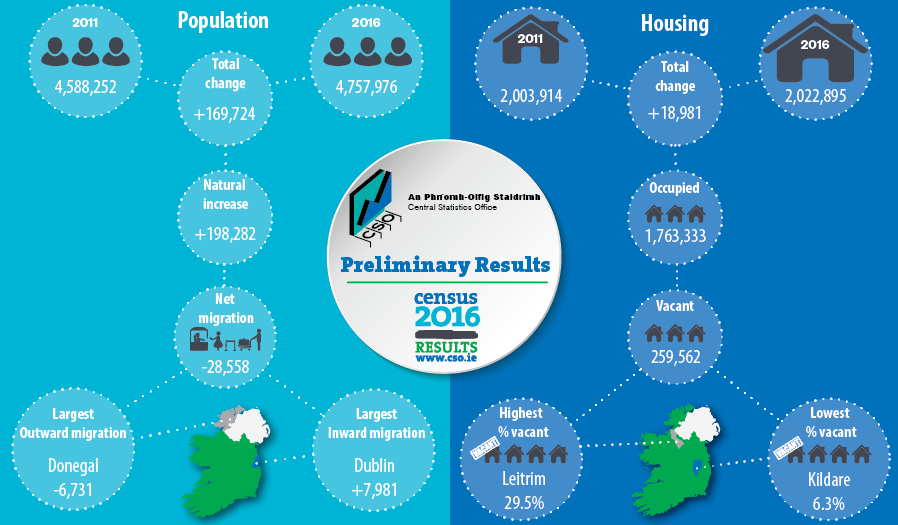 DONEGAL has been the county hardest-hit by emigration since 2011, according to preliminary results from this year's census.
 The first results of the 2016 census, held just 12 weeks ago, were released yesterday (Thursday) by the Central Statistics Office (CSO). The data provides a fascinating insight into changes and developments in Donegal in the period since the last census.                 
The county has seen total migration estimated at 6,731 people over the past five years. This, in turn, has contributed to the fact that Donegal has also experienced the largest decrease in population over the past five years. The population of the county has decreased by 1.5 per cent to 158,755. In April 2011 Donegal had a population of 161,137.  Initial head counts also reveal there are currently 987 males per 1,000 females in the county.     
This goes against the national trend which has seen that Ireland's population continues to grow, albeit more slowly than between the 2006 and 2011 censuses. The total population of Ireland, enumerated on census night, April 24, was 4,757,976 – an increase of 169,724 (3.7 per cent) on the 2011 census.
The CSO explained that the estimated net migration figure is arrived at by deducting the natural increase in the population at county level from the corresponding population change. The figure also includes the movement of people from Donegal between counties within Ireland and abroad.  
Donegal is also one of only four electoral divisions which saw a decrease in population and there is now 30,068 people to each of the county's TDs.
Nationally there has been a substantial decrease in the number of vacant dwellings since 2011 – 13 per cent or nearly 30,000 fewer vacant dwellings.  In Donegal, however, figures show the total of 23,899 vacant dwellings remains on a par with 2011, and a vacancy rate of 28.2 per cent, more than double the national average. This is largely due to the proliferation of holiday homes in many coastal areas of the county and preliminary results reveal that than 25 per cent of homes around the Donegal coast are vacant.
Mr Brendan Murphy, Statistician at the Central Statistics Office (CSO), explained: "The preliminary count is based on a clerical summary of each enumeration area compiled by the 4,663 enumerators. These counts have been returned to the CSO in advance of the census forms and the results published today are based on this information. The enumerators did an excellent job getting their summaries back to us, which allows us to prepare these early results of the census.
 "We like to publish these preliminary figures while the thought of completing the census form is fresh in people's minds. Additionally this data is available to immediately assist with public planning", he concluded.
Census 2016 was the 27th census. The first was carried out in 1821. 
Posted: 2:05 pm July 14, 2016