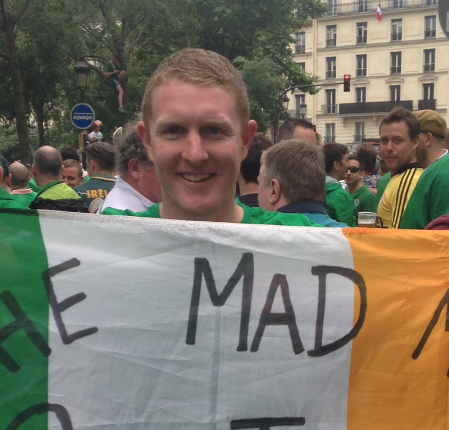 Name: Darren O'Leary
Age: 27
Occupation: Painter
Team: Cappry Rovers

If you were throwing a party and you could invite anyone in the world, dead or alive, who would you ask around? Was going to say Paddy Long but he would wreck the house on me… Joe Dunnion for his singing and dance moves and Benny as long as he was on the beer

Where do you like to go out to celebrate after a big victory? Villa Rose Hotel … (Be killed if I didn't say that) 

What's the worst pitch you've ever played on?  Castlefin

Which character in any film are you most like? Coco (Run of the Country)
Any odd items in your kit bag?  Don't think so.

What's your preferred brand of gear? None really, whatever I get that's it.

Who's the biggest joker in the team you play for? Tough one, quite a few on the team are better jokers than footballers sometimes!

Which team mate has the best looking other half? Don't look at the other halves and plus most of them don't have any women – they all still live at home!
Who is the worst trainer? Barney Lafferty always something wrong, worse than a woman.

Who spends most time in front of the mirror in the dressing room? Barney again always checking himself out. Even has his own mother's hairbrush to fix the hair, it's embarrassing.

Who's the best/worst person to sit beside on the team bus? Best is Benny McLaughlin or Paddy Long they are always good crack (after a few drinks). Worst is Alan Patton never stops complaining about everything.
Who has the best and who has the worst diet on the team, and what does it include? 
Best is probably the manager Darby, he's wild about salads and smoothies…Worst has to be Darren McGowan or Barney.
Toughest opponent you have faced? There are that many but one that stands out is Seamus Coleman when he played with St. Catherine's – a great player.

Best or worst quote you've heard, either from a manager, player, opponent? "We have them rattled now." (Marty Patton Ballybofey Utd). I think we were 3-0 up that day with two minutes left.
Best manager you've ever played under? I have to say (Darby) Seamus Doherty or I'll get the sack but Niall Patton without a doubt. 🙂
Best ever performance? 
Cockhill last year in the Knockalla Cup even though we were beaten 1-0. They are the kingpins of Donegal in soccer and we put in a great performance that day. They were hanging on in the end.
One to forget?  All of last season!
Sporting ambition?  Get promoted back to the Premier Division and to win it..

When you were playing in the back garden, who did you pretend to be? Zack Anderson or Billy Quigley – former Cappry player. Great players 
If you were in charge of transfers, who'd be in and who'd be out of the team? I was going to say Barney Laffery but he's gone now the turncoat, so it has to be Darren McGowan – a nightmare to play with at centre half. Wouldn't know what he would do next! And I would take in Rosco Doherty, he has a deadly left foot and can play ball – not like Darren.
Posted: 12:10 pm July 14, 2016