DONEGAL'S Local Enterprise Office is encouraging local businesses and aspiring entrepreneurs to take time out of their busy schedules to participate in Donegal Business Week. Running from Monday, 7th    to Friday, 11th March, Donegal Business Week has something for everyone doing business in Donegal, from those thinking of starting a business in the county, to start-ups, growing SMEs and established businesses.
This week-long series of talks, seminars and workshops showcases the wide range of supports available to Donegal's small business community. A number of key speakers will visit the county to participate in the event, including Padraig O'Ceidigh, the Connemara man synonymous with Aer Arann, Alastair Dobson from A Taste of Arran in Scotland and multi-award winning marketing speaker, Geoff Ramm.
Raising finance for business is one of the main focuses of Donegal Business Week.
On Tuesday, 8th March, a series of presentations from organisations and agencies that help raise finance for businesses will take place in An Grianan Hotel, Burt. Guest speakers include Michael Johnson, CEO of  Micro Finance Ireland. Under his leadership, MFI has grown from lending €2 million a year in 2013 to almost €6 million in 2015. This lending, primarily delivered in partnership with Local Enterprise Offices, is now supporting 1,900 jobs.
Other speakers include Ian Brannigan of The Western Development Commission and Aidan Gough of IntertradeIreland. This event also gives attendees the opportunity to have a one-to-one appointment with a key advisor. Registration is at 8.30am and the event runs until 12.30pm.
Later that evening, a workshop entitled Looking After Your Money will take place in the LEO office, Ballyraine, Letterkenny. Key speakers include Joe Coyle, Joe Coyle Financial Consultants, Mary Farrell, Tax Advice Services and Joseph Doherty, Simpy Inish who will discuss his goals for the business, which has trebled output from its facility since 2009. Registration is at 6.30pm and the event runs until 9.00pm
Thursday 10th March focuses on 'Wellness at Work' and takes place in Kees Hotel, Stranorlar. Guest speakers include nutritionist Paula Mee, fitness expert Pat Divilly, Declan Thomas, IBEC, Leeanne Mimnagh, Pramerica and David O'Neill, co-founder of Uppiddee, a software solution for improving wellbeing in businesses, colleges and professional sports' teams. Registration is at 9.00am and the event runs until 12.45pm
Encouraging businesses to get involved, Ursula Donnelly of Donegal's LEO said: "Donegal Business Week is a great opportunity for Donegal businesses, or those considering setting up a business, to learn from, listen to and network with leaders in their field. This year's event covers a wide range of topics, from mentoring and training to advice on encouraging wellness in the workplace and raising finance for your business. We've already had a great response from the local business community and I would encourage anyone considering attending to check out the range of events on offer and book in advance, as places are filling up fast.'
Taking place on Thursday, 10th March, Connecting Your Creative Talent is an interactive workshop designed to help participants share experiences and learn from other creative businesses, as well as offering advice on the latest supports available under the EU project – My Creative Edge.
The workshop will be followed by the launch of the Creative Coast Network and the new Creative Business Development and Investment Programme. Guest speakers include Jonathan Ball, Glass and Metal Artist, Javier Burón Garcia, Director of Limerick Fab Lab, Gary Reddin, Illustrator and Designer and Pauline White, Policy Analyst Western Development Commission. The event takes place at the Centre Building, Justice Walsh Road, Letterkenny, (beside the Scally Practice and HSE Outpatients). Registration is at 2.00pm and the event runs until 5.00pm.
Donegal Business Week culminates with the 20th Donegal Business Awards, which take place on Friday, 11th March at 12.30pm in the Villa Rose Hotel, Ballybofey. This event is open to the public and guest speaker is serial entrepreneur, Padraig O'Ceidigh.
Places at the week's events are strictly limited, so check out the range of events and register now at www.localenterprise.ie/donegal or contact LEO on 074 91 60735.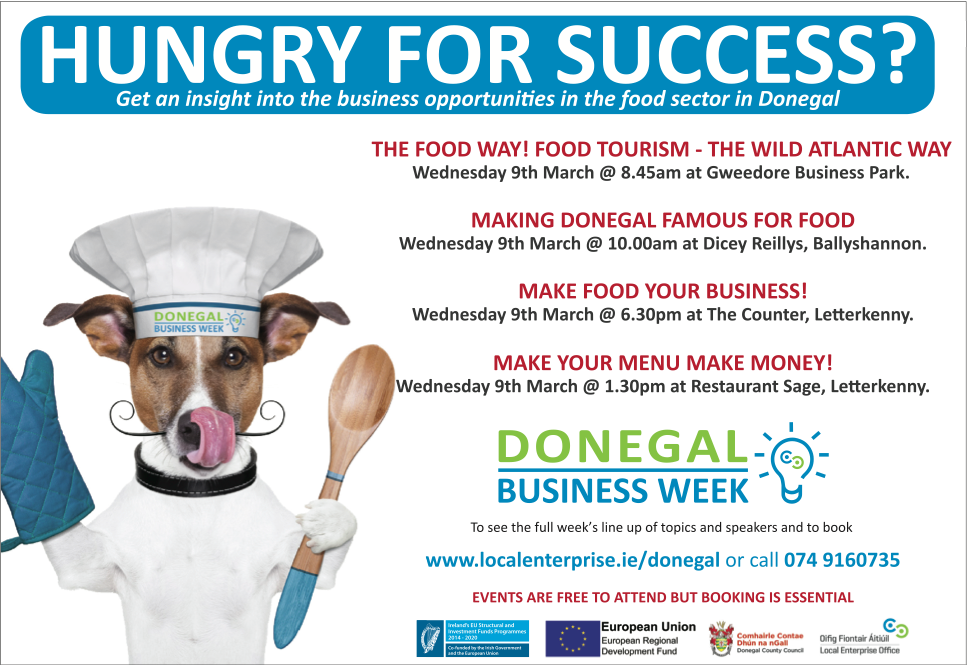 SPONSORED CONTENT BY: DONEGAL LOCAL ENTERPISE OFFICE
Posted: 4:30 pm March 4, 2016