THE Anti-Eviction Taskforce (AET) has said its members were merely making "interjections" while acting on behalf of vulnerable mortgage holders at a sitting of the Motions Court in Letterkenny last month.
In response to an article in this newspaper on Friday, November 20, which highlighted the behaviour of some protesters toward the County Registrar in Letterkenny Courthouse, the AET said they are "very disappointed" in the Donegal News coverage of the repossession cases.
The article in question outlined how the County Registrar requested gardai to be in attendance after the morning sitting of the court was interrupted by protesters. It also gave details of abusive language directed at the registrar, Ms Geraldine O'Connor, by some members of the public gallery.
A statement issued to the Donegal News by the AET this week said they "had hoped the media would use this opportunity to highlight the very serious issue of repossession, which is affecting 1 in 4 people in Ireland today".
It continued that, in February of this year, there were 271 homeowners facing repossession at Letterkenny Registrars Court.
"Donegal News could have chosen to highlight the extremely traumatic situation of a person who has never been before a court, with no training or information, in a distressed state and having had little to no access to any financial or legal help, standing alone against professionals to defend their home," added the statement.
Following the May sitting of the same court, when 243 applications were listed, this paper told the personal stories of a number of individual mortgage holders in distress.
"With no knowledge of law or even court procedure, there is a huge imbalance between lay litigants and a bank's legal council. Concerned volunteers have been trying to address this imbalance by attending court sessions to give information about avenues for help.  
"Maybe the Donegal News could have reported on the case that was heard, whereby despite assurances from the lawyer to the court that he was fully ready to proceed, the lady involved had been informed before court that the financial institution were in fact not registered or regulated by the Central Bank. When the lady brought this up, the lawyer backed down and did not proceed with the application for repossession."
The AET statement continued: "Your article mentioned a case at the end of court where the lady involved wanted her case to be heard, the interjections were advice she wanted to hear and was desperate to hear because she was standing before the court fighting for her home.
"Both these ladies appreciated the help of the AET and Distressed Mortgage Holders groups on the day, as did others whose cases were not heard. The background stories, the reasons these two cases are before the court are heartbreaking, though not ours to tell. We can say that in both instances the defendants had paid large deposits when purchasing their house and paid their mortgage faithfully for years. On 16th November there were many regulations but not much justice."
The organisation added that it believes many financial institutions in Ireland are repossessing homes illegally, with many issues arising including their regulatory status and securitisation of their loan books.
"Historically, prior to the banking-led crisis, there is very little evidence of mortgage arrears in Ireland, which may be a contributing factor to the complete lack of support available to homeowners in this area of our legal system today. There is limited access to financial help with long, lengthy waiting lists and even less access to legal help. In addition there is little social support, people in mortgage difficulties, in general, are facing repossession proceedings alone, in a distressed state, many having considered suicide and evidence shows many more are sadly driven to suicide.
"We would like to thank Letterkenny Gardai for their courteous behaviour on the day. From our perspective, this was not a case of 'rowdy interruptions' but interjections on behalf of a vulnerable person."
Receive quality journalism wherever you are, on any device. Keep up to date from the comfort of your own home with a digital subscription.
Any time | Any place | Anywhere
Posted: 4:41 pm December 3, 2015
THE County Registrar, Ms Geraldine O'Connor, was subjected to a barrage of abuse and threats by members of the...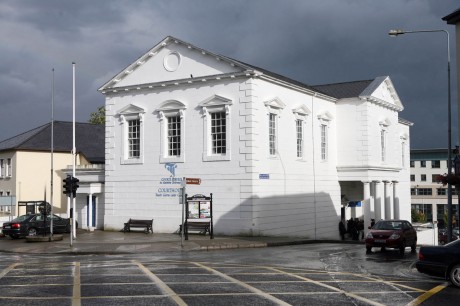 A MAN charged with one count of sexual assault has been sent forward for trial to the present sitting...