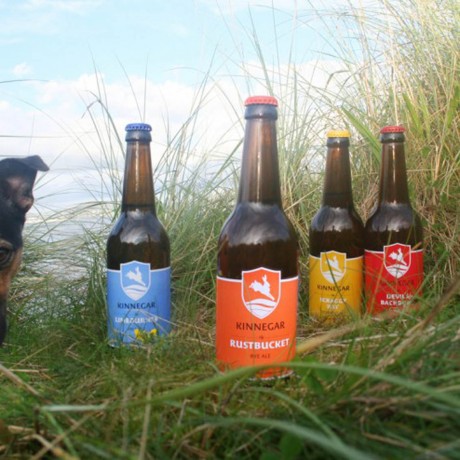 FOR the fifth year running, the Irish Craft Beer Festival returns to the RDS in Dublin from the 27th – 29th August and Donegal's own favourite Kinnegar Brewing will be representing the county.
Kinnegar Brewing have become a household favourite throughout the county and further afield. Whether it's a Limeburner, Rustbucket or Scraggy Bay you enjoy, the bottles and kegs are flying out the brewery door on Rick Le Vert and Libby Carton in Rathmullan.
The craft beer and cider industry in Ireland has witnessed explosive growth over the past 12 months – reflecting this aptly, this festival has witnessed 400% growth in both brewers and attendees since its conception in 2011. Having attracted over 12,000 visitors last year, the organisers are once again predicting a record turn-out of punters to reflect the record number of breweries and cider makers signed up to date.
This year's line-up consists of over 50 breweries and cider makers – totalling an astounding number of over 200 Irish produced beverages on offer to attendees. In comparison to last year's 40 producers, this year has seen an increase of over 25% in the number of breweries attending, a reflection of the massive growth of this local Irish market sector.
This year's festival promises to bring visitors an experience that is unrivalled throughout the country. It is the pinnacle of the year within the Irish craft beer and cider industries. For three days, each supplier sets up its own space within the venue and chats with consumers, enjoying discussions about the intricacies of each unique combination of flavours making every individual product stand out from the next.
Breweries and cider makers participating include: Kelly's Mountain Brew, Northbound Brewery, Black Donkey Brewing Ltd., Carrig, Killarney Brew, Long Meadow Cider, Wicklow Wolf, Porterhouse, Dingle, Rascals Brewing Co, Dungarvan Brewing Company, Lagunitas, Blacks of Kinsale, The White Hag Brewing Company Limited, Eight Degrees, Mac Ivors Cider Co., Trouble Brewing, Falling Apple, O'Hara's, Independent Brewing, Kinnegar Brewing, Wicklow Brewery, Galway Hooker Brewery, Craft Works, Cask Mates, Tom Creans, Jack Cody's Brewery, Rye River Brewing Company, Stationworks, Quinn Hospitality Ireland Operations 5 Ltd., Single Pot Still, O Brother Brewing, Armagh Cider, Stonewell Cider, Metalman Brewing Company, White Gypsy, Boyne Brewhouse, Mountain Man Brewing, Manor Brewing Company, N17 Brewery, Beoir Chorca Dhuibhne/West Kerry Brewery, Radikale, Dan Kelly's, 9 White Deer, Western Herd Brewing Company, Toby's Cider Ltd, Scotts Irish Cider and Starr Hill.
The festival also offers an array of local Irish artisan food and local musical talent. Some of the city's favourite food producers will be cooking up a storm including Jane Russell Sausages, Cillian the Pie Man, Dave's Wood Fired Pizza and more to be confirmed.
Posted: 10:35 am August 6, 2015