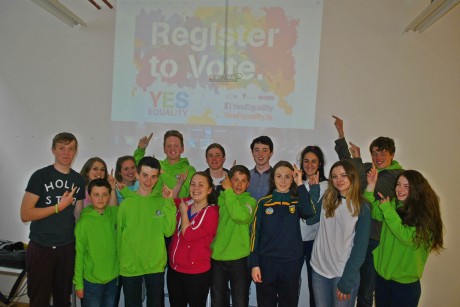 DONEGAL Youth Council is calling for people in the county to vote YES in the upcoming Marriage Referendum on May 22.
The group held a debate and private vote at their recent county meeting, with a unanimous result being returned to call for a YES to Marriage Equality.
The Donegal Youth Council are a group of 36 young people aged 12-18 years from all across the county who have representatives from every post primary school in the county and a range of other youth organisations including Donegal Youth Service, Foroige and Oige na Gaeltachta, who identify issues and promote projects to improve the lives of young people in Donegal.
Eamon Connaghan, who is the Chairperson of the Donegal Youth Council, has spoken of why he feels it was important the Youth Council spoke out on this issue. "I am delighted that we had everyone from the Youth Council on board with supporting a yes vote in the Marriage Referendum.
"I think it is fantastic that we all had the same view and that everyone felt the same on such a topic. To me this speaks volumes on how young people have moved on as a generation and we accept and realise that we are all the same – all equal and deserve to be treated as such. We can't vote unfortunately but we would urge anyone in Donegal who is undecided yet on whether or not they are going to vote or whether to vote yes or no, to get down to their local voting stations and put a big tick beside yes and give LGBT people what they deserve – equality."
Posted: 3:01 pm May 12, 2015