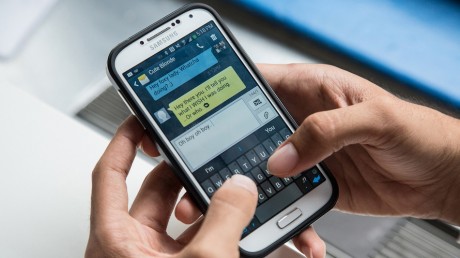 SEXTING has become an increased phenomena for teenagers with access to mobile phones, emails and social networking.
It's easier now that ever to distribute indecent images, videos or messages to friends and strangers alike. In the last 5 years, mobile phones have become more of a one stop shop device rather than a small gadget that makes phone calls.
Cameras are more sophisticated and some have as many pixels as the leading digital camera on their own have. Why? Because consumers want everything in their hand with quick access. Emails, Internet, Social Media, Games, Photos and of course text messages.
Remember the 'Brick'?
This year the text message has celebrated 20 years in existence. Remember the "brick" when you were first introduced to text messages first? For those that are too young to remember, we used to have 'mobile' phones that were the size of a small concrete brick and some say weighed the same! We have come a long way from then with the mobiles.
Research in Los Angeles found links to teenagers being 7 times more sexually active
The American Academy Of Pediatrics carried out a study this summer in Los Angeles school with 1839 students on the usage of sexting. Astonishingly figures showed 15% of teens were sexting. From these teens, the people who were sexting were 7 times more likely to be sexually active. They carried out the research as original thoughts were that people carrying out this behaviour thought it was safer and more fun than sex.
Children have always shown a "no-fear" side of personality from early age and continue this to their late teens. With the ease of mobile phone texts it has become easier to express how we feel rather than face to face situations. With this hidden layer of "protection" we sometimes express ourselves too much and tell more than normal.
What age are people Sexting?
Who carries out sexting? It's not always the young, recently in the states Geoff Fox a weatherman on Fox Tv was sacked after his private sexting to a photographer ended up online. Ofcom published a report in October 2012 that reported 45% adults are involved in sexting in the UK. Celebrities such as Ashley Cole and Vernon Kay were caught passing sexual content messages. These are responsible adults who get carried away and face the consequences. But children do not realise the full extent of what may happen to these.
17-year-old Philip Albert was a victim
A simple scenario is a teenage couple who are in "love" and share as much time together as they can and can't bare being apart from each other too long. When apart, they will communicate via social media and text messages. "I miss you xx" would be flowing back and forward and then the question of images may pop up.
Usually the male instigates this and asks for either a semi-nude or fully nude image of his beloved as he cannot be there with her and would like to see her. Normally, the girl will hesitate at the start but can end up letting her guard down and send him the photo as she "loves and trusts" him. Maybe the boyfriend will be loyal and keep these images to himself. But lots of times, research has found that boys like to forward these images on to their "mates".
When it leaves his phone, it could end up anywhere. He now has no control over its destination and the boys may create a website or post the photo on social media sites. Philip Alpert in 2010 was convicted as a child sex offender when he just turned 18 and his girlfriend was 16 at the time, for forwarding on an image she send to his phone. He will be 43 when this tag is released from him and until then, he cannot go near schools, beaches and play areas where children can be. A hefty price for someone starting out in life.

How to respond to your child Sexting?
Open dialogue between parents and children are always essential to approach any subject, even one as delicate as sexting. Explain to the child the precautions that should be taken before or during an incident they are part of or know of. Knowledge and experiences of similar cases will relate this information easier. Don't forget, once it goes into Cyber world, it's hard to get back. Before you text or post an image online, follow this mantra; Think, Think and Think again.
Is text replacing old style communication styles for the better or worse? What do you think?
Contact Niall Mulrine: If you would like a workshop for a parents association, workplace conference, sports centre talk and many other venues, please contact me on 086-2377033
For more information & tips on Cyber Bullying & Internet Safety log on to www.CyberSafetyAdvice.com or contact Niall Mulrine 086-2377033 if you wish to hear how you can haven Internet Safety workshop in your area.
Posted: 12:38 pm April 24, 2015