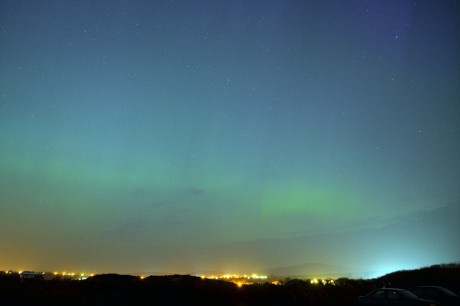 BY SEÁN P. FEENY
A SEVERE solar storm reached Earth yesterday, contributing to a display of the aurora boealis being visible across unexpected reaches of the southern hemisphere.
The aurora borealis is caused by eruptions on the surface of the Sun and recent activity has been unexpectedly strong.
Photographer Andy Deery, AD Photography, captured the natural light display beautifully from Crolly in West Donegal.
Increased solar activity meant that people further North had the chance of catching the colourful phenomenon in the early hours of Wednesday.
The Northern Lights can be seen more clearly in areas absent from light pollution, making Donegal and Inishowen supposedly the best place in Ireland to see the celestial display.
Hat-tip to AD Photography for sending us his beautiful photos.
Posted: 2:34 pm March 18, 2015
A LOCAL photographer spent the night at Slieve League capturing what is simply beautiful footage of the Northern Lights.