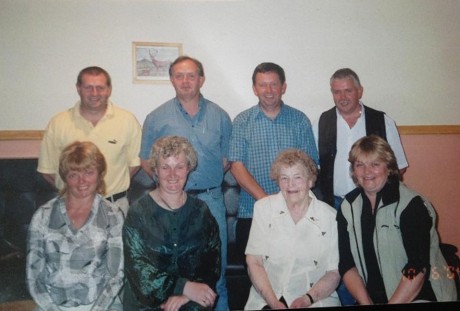 A SCOTTISH charity has changed the life of one man who is now in contact with six brothers and sisters in Donegal he never knew he had.
The son of a Donegal mother, Billy McFarlane was adopted in Scotland when he was just three months old.
However, Edinburgh-based charity 'Birthlink' was able to make the connection between Billy and his siblings here when both sides started to look into their family history.
Speaking to the Donegal News, Birthlink Co-ordinator Ms Kate McDougall said they have provided help to a number of Donegal people searching for relatives or trying to make contact with their natural families.
"We have a fair number of enquiries from Ireland and Donegal and this is not unusual because a lot of birth mothers would have come over here (Scotland) to have their children."
She said that Billy's story is a wonderful one which shows how essential an organisation like Birthlink is.
Back in 1992, he registered with Birthlink as part of his search into his family history. The 65-year-old knew that he was born in Govan to a Mary Sharkey, from Dungloe, but was separated from her when he was only three months old.
He was brought up by Duncan and May McFarlane in Dunbartonshire, and although he knew he was adopted, he remembers a contented childhood with little thought about his "real" family.
Speaking to this paper, Billy's wife Margaret McFarlane, who was instrumental in making the initial contact with Birthlink, said she and Billy could never have imagined how their lives would change.
From his home on the Island of Islay, where he has lived for more than 40 years, Billy explained that his father was 50 when he adopted him and his mother was 48.
"I had 30 years with them and they saw two grandchildren and it was absolutely brilliant. I had a fantastic upbringing. I can't praise them enough.
"As far as I was concerned these people were my parents, I grew up with them, and as long as they were alive, I didn't think about anyone else. As I grew older, I started to think about it a wee bit, but when my parents were here I never wanted to hurt them in any way."
It was only after his adopted parents died in the 1980s, that he began to consider the idea of looking into his background.
He registered with the Adoption Contact Register For Scotland and Birthlink in 1992 – then heard nothing for a few years. However, in 2004, a letter arrived from Birthlink which turned his life around.
Margaret explained: "One of Billy's sisters in Donegal had made contact with the charity. We couldn't believe it when we then found out that Billy had six brothers and sisters who all lived in the Dungloe area."
Billy added: "One of my sisters had heard about a child (me) and she always thought that one day her mum would tell her but she passed away and never said a word.
"Two of my sisters decided to start looking after my mother passed away, they searched about all over the place and eventually they got to Birthlink."
Billy discovered that after his adoption, his mother had returned to Ireland and gone on to marry and have six more children. She died in 1996, but Mr McFarlane and his sister began corresponding, first via Birthlink, and then directly, before arranging to meet face-to-face for the first time.
He said: "I felt I couldn't let this lie. So Margaret and I took off, got the ferry over to Ireland and went to my sister's house and gradually we met all the family. It was a big shock for them and it was a big shock for me too.
"I've gone from myself to seven of us in total – three brothers and three sisters and a big range of nephews and nieces. They all live within five minutes to each of other. It's strange, I used to go to Ireland every year to fish. And it turns out I was only an hour and a half away from them. I had no idea."
His sister Brid (Baska) lives in Kincasslagh, as does his brother Patrick O'Donnell, while his others sisters Kathleen O'Donnell and Anne (Breen) and brothers John and Dominic O'Donnell live in Dungloe.
"I was nervous because it could have backfired, but we all get on really well," said Billy.
Margaret added: "To have been reunited with family like this is so important. We try to get over to Donegal as much as possible and we are in close contact with all the O'Donnells. One of our grandchildren also looks very much like her Irish grandmother, it's very interesting."
"When we first came back to Donegal, Billy was able to meet with his mother's sister Catherine who was still alive at the time.
"She remembered him as a baby and would have met his adopted mother while the adoption process was ongoing. It must have been very painful to have to walk away."
Billy has urged anyone who is considering looking into their family background to make Birthlink their initial contact.
"They are fantastic people, they will search for you or let you know if someone is looking for you."
Birthlink is the latest name given to a service which originated in 1911 to help girls on the street and has expanded and developed, reacting to the needs of its users.
It now offers a number of services, including the Adoption Contact Register For Scotland, an after-adoption information line and a service which helps adults who were formerly in care.
Kate McDougall, concluded: "We offer support to both sides on their journeys, to those looking for their birth relatives but also to those parents who gave their children up for adoption.
"It can be a great shock to them when someone comes looking and people are grateful for some support during the reunion process."
For more information, visit www.birthlink.org.uk
Receive quality journalism wherever you are, on any device. Keep up to date from the comfort of your own home with a digital subscription.
Any time | Any place | Anywhere
Posted: 5:24 pm November 24, 2014