RECRUITMENT is underway for the seventh Donegal Youth Council, which will see 36 young people go forward to represent their peers for the next two years in the county.
The Donegal Youth Council is a group of 36 young people aged 12-17 years, who identify issues and promote projects to improve the lives of young people in Donegal. The Youth Council aim to represent the views and opinions of the youth of Donegal who don't have a vote, by building and strengthening links with people and organisations that impact on young people's lives.
The current Donegal Youth Council (2012-2014) are reaching the end of what has been a really successful term for the group and elections for the next Youth Council (2014-2016) will take place in October across schools in Donegal, with a number of other seats also being offered to young people involved in youth projects and clubs across the county.
Youth Council recruitment is targeted at young people in the 12-16 age bracket, as the young people will serve a 2 year term. This year will see the introduction of a new election model and Youth Council Co-ordinator Martin Keeney explains the reason behind the changes. "The aim of the new model is to ensure that every secondary school in the county will have a representative on the Donegal Youth Council, which is not always the case.
"As part of this process we will be inviting each school to hold an election process to nominate their representative. As part of the new election model we are also hoping to increase the links between student councils in schools and Donegal Youth Council.
"The remaining seats have then been offered to different youth projects and clubs, including Donegal Travellers Project, Youthreach, Foroige and Donegal Youth Service and this will provide vital opportunities for different groups who would not always have their chance to have a voice also. "
Current Mayor of the Youth Council is Shane Hegarty from St Columba's College, Stranorlar. He is urging young people to go forward for the Youth Council. "My decision to run for the Donegal Youth Council was one that I will never regret. My experience over the past two years has been amazing. You may think that it's boring and all about politics- but you're wrong.
"It's about creating fun projects to help the lives of young people. I have met some fantastic people throughout the country on our various trips to Dublin and we even went on a trip to Romania this year through our Democracy Builders project . I would also encourage people to run who don't feel they are confident or outgoing, as 2 years ago I was a shy young boy but the Youth Council has changed me for the better."
The deadline for the establishment of the new Youth Council to be elected is October 17th, with an Agenda Day happening in Letterkenny on November 5th with over 150 young people attending, which will aim at establishing the key areas and topics the Youth Council will focus on over the next 2 years.
Co-ordinator Martin Keeney says they are hoping to talk to all young people interested in going forward for the Youth Council over the coming weeks. "The school and youth project visits are largely about explaining the role and commitment required from those who take a seat on it. This is an important part of the process as it is a 2 year commitment for those who get involved, but the benefits for the participant are many."
Donegal Youth Council is funded by Donegal County Council, HSE Health Promotion and the Dept of Children & Youth Affairs and is co-ordinated by Donegal Youth Service.
Information election packs are available by contacting the Donegal Youth Council on their official www.facebook.com/donegalyouthcouncil or by emailing youthcouncil@donegalyouthservice.ie. Youth Council Co-ordinator Martin Keeney can also be contacted at 087-6806676.
Receive quality journalism wherever you are, on any device. Keep up to date from the comfort of your own home with a digital subscription.
Any time | Any place | Anywhere
Posted: 9:57 am September 16, 2014
DONEGAL Youth Service and Donegal Youth Council are combining to complete a special project to launch Connecting for Life...
DONEGAL Youth Council is launching their 'Shake Up Sports' initiative tomorrow (Friday) in the Finn Valley Centre in Stranorlar....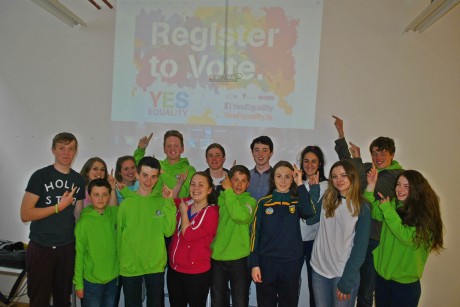 DONEGAL Youth Council is calling for people in the county to vote YES in the upcoming Marriage Referendum on...