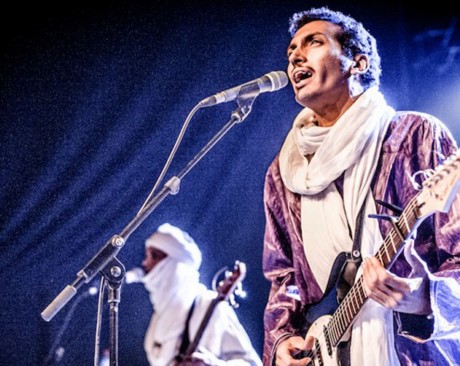 TUAREG guitarist and singer Omara Bombino Moctar is a star guitarist and singer from the Sahara desert on a meteoric rise.
Born and raised in Niger, in the northern city of Agadez, Bombino is a member of the Tuareg Ifoghas tribe, a nomadic people descended from the Berbers of North Africa who for centuries have fought against colonialism and the imposition of strict Islamic rule.
His new album, Nomad, was recorded with 2013 Grammy-winning Producer of the Year, Dan Auerbach, of The Black Keys.
The album, released April 2, 2013, debuted at No.1 on the Billboard World Music Charts and iTunes World charts, collecting rave reviews from top media outlets around the world including BBC World Service which calls it 'utterly, utterly fantastic' and Rolling Stone, which calls Nomad 'the most exciting blues album of the year' and 'a perfect match of sound and soul [that] introduces a new guitar hero'.
His dazzling live performance and virtuosity on the guitar have earned him comparisons amongst notable music critics to Jimi Hendrix, Carlos Santana, Neil Yong and Jerry Garcia. Friday 18th July, 8pm. McGrory's Backroom, Culdaff. Tickets €15/€12
For full details on the Earagail Arts programme visit www.eaf.ie. Earagail Arts Festival is funded by The Arts Council of Ireland, Fáilte Ireland and Donegal County Council.
Posted: 8:30 am July 7, 2014