THE Donegal Town Community Band, now comprising of over seventy young musicians aged from 8-18, recently recorded a 13-track CD of their most popular tunes, which will be launched at a gala variety evening in the Abbey Hotel, Donegal Town, on Thursday November 28.
The CD is entitled By The Left, Quick March, which reflects the command from 15-year-old Shannon Cassidy, the Bandleader, as she proudly fronts the dedicated young musicians and cheerleaders.
The Donegal Town Community Band was set up when it's chairman, Pauric Kennedy, saw an advertisement for second-hand marching band costumes and equipment for sale. These were purchased with local assistance and within a short time they had a dedicated committee of voluntary music tutors and forty-three young members!
Retired Garda, Brendan McMonagle, who has a lifelong interest in marching bands, came on board as bandmaster and his enthusiasm for teaching music and a no-nonsense approach has earned him the trust and respect of all the young musicians. "Brendan takes no messing, but he makes us a great band!" is the general comment from all the young musicians. The band members have such regard for Brendan that they recently put him forward for a TV3 Local Legend Award for which he became the Donegal finalist.
Since the local community band's debut performance in 2010, they have gone from strength to strength winning the "All Ireland Champions" title at the Fleadh Cheoil na hEireann in both 2012 and 2013.
The Donegal Town Community Band has now become the pride of County Donegal and is continuously asked to appear and play at all major functions, events and celebrations. They rehearse and learn new tunes every week. They are now concentrating on upgrading their musical instruments to enhance their musical ability as they look forward to retaining the All-Ireland Title for the third year in a row.
With this in mind it was decided to bring out a CD of their most popular tunes and thanks to local Donegal Town music entrepreneur, Greg Gorman, the band recorded thirteen tracks. The CD includes some traditional Irish tunes like "The Blackbird", "Down By the Sally Gardens" "O'Donnell Abu" and "Harvest Home" as well as classic marching tunes such as "Anchors Aweigh", "The Can-Can" & "Waltzing Matilda".
The new CD, which it is hoped will help to raise funds for new musical instruments, will be launched at a gala evening in the Abbey Hotel, Donegal Town, on Thursday 28th November. The show will include a variety of local talented musicians, some fun events and of course renditions by the marching band itself. One of Ireland's oldest surviving skiffle groups, The Hayseed Skiffle Group, has also come out of retirement especially to perform at the concert.
Tickets for the Concert are only €5 and are available from the Abbey Hotel in Donegal Town and from any band committee member. The CD, "By The Left, Quick March", will be on sale on the night priced €10 each.
This superb music CD will make a great Christmas present for any music lover and a wonderful gift to send to friends and relatives who are spending the Christmas season abroad or away from home. Do come out on Thursday 28th at 7.30pm and support your local Community Marching Band.
Posted: 12:37 pm November 26, 2013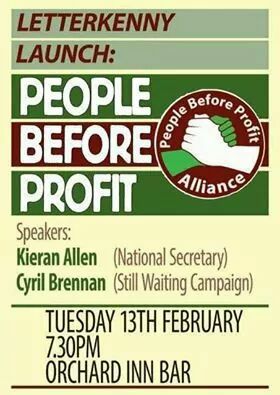 People Before Profit will launch a new Letterkenny branch tomorrow night in the Orchard Inn Bar.  Speakers will...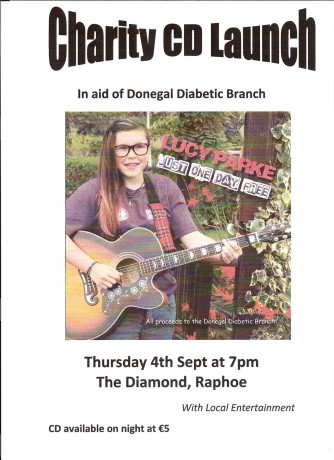 A LOCAL girl who wrote a song about diabetes when she was just thirteen will launch her first CD...