THE early morning drive into Bodymoor Heath, Aston Villa's training ground, seems like a chore these days for Shay Given.
On the roads into Fazeley, the small town that houses Villa's training facility, Given must wonder how it has come to this: At 37 and after 440 Premier League appearances over the last 17 years, the Liffordman has found himself in Limboland.
Frozen out at Villa, with number one Brad Guzan being joined by Jed Steer from Norwich this summer, Given is in desperate search of first team football again. He hasn't played a game in the Premier League since Villa's 3-1 defeat by Everton in August 2012, with his last competitive game the FA Cup defeat by Millwall in January.
The autumn came and went without Given finding solace. Proposed moves to Liverpool and Doncaster Rovers were mooted, but nothing became of either. Given now has January encircled on the calendar. The lonely mornings now are spent with January in mind.
"Ideally I'd get a move in January and get back playing again, or something could happen at Aston Villa to get me back into the team," he says.
"You just don't know in football; things can change quite quickly. I've just got to be fit and ready if and when the calls comes, be that here or somewhere else.
"I'd love to be playing and that's the plan."
Bar a couple of seasons when Steve Harper was above him in the pecking order, Given had been the number one at Newcastle United, after out-doing Pavel Srnicek and Shaka Hislop at St James' Park. Given is revered on Tyneside, a legend among the Magpies' fans. Given has not been used to being a number two, let alone the position he now dwells: third choice at Villa Park.
Given was handed a five-year deal by then Villa manager Alex McLeish with Given having become frustrated after Roberto Mancini preferred Joe Hart as Manchester City's goalkeeper. His contract doesn't run out until 2016. Given's £3m-a-year salary is prohibitive to some but, just like when he took a pay cut to join Villa, the Donegal native's motive now is not the bank balance.
On joining Villa, Given had said: "When I left home at 16 I didn't come over to make money. I was following my ambitions to play football. I took a pay cut, yes. But what do you do? Sit there and let your career fizzle out? Or do you kick on again?"
The same is true now.
No competitive games in nine months and an absence of appearances in the Premier League that is now in its 14th month has become a real source of pain for Given.
When Doncaster's interest was floated in the summer, some saw it as a slight on the former Republic of Ireland international. Dropping to the Championship, it seems, is a possibility.
"I just want to get playing again, wherever that is," he says.
Given is open about his state of mind, 'frustrating' being the general feeling at the moment.
"It's not easy because you're so used to training and working hard for a game this week or a game next week," he says.
"When there is no game to play, you can sometimes wonder: 'What are you training for?'
"I basically have to go into training every day, keep the head down and wait until January. It's not easy. Every professional footballer wants to be playing football. When you're not playing it's so frustrating. But that's the situation I'm in and I've just got to keep the head down and hope something comes up in January to get me back playing again.
"You have to keep professional and keep working hard. Something could come out of the blue and you have to be ready for that if it did happen.
"I had a chat for the transfer window, but nothing materialised. I need to get back up to match fitness again and get sharpened up. We'll see where the winter and spring takes me."
Given still seems like the giddy schoolboy when he recounts the phonecall in 1996 from Mick McCarthy to inform him that he was being called up to the Republic of Ireland squad. Given made his debut at Lansdowne Road that year.
SHAY ON DONEGAL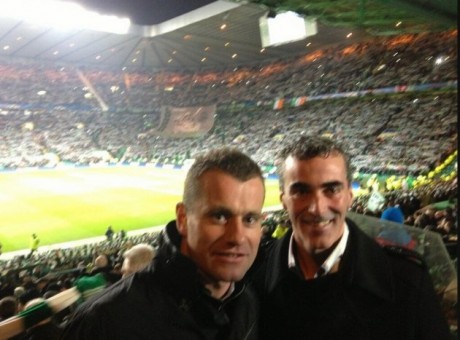 SHAY Given has got to know the Donegal manager Jim McGuinness in the last year. The pair met at Celtic's Champions League clash with Barcelona at Celtic Park last season. Given got to know McGuinness through Pat Shovelin, the Donegal goalkeeping coach who has spent some time with the former Irish star in England.
"I've been in touch a few times," Given said.
Given has backed McGuinness and Donegal to bounce back from the disappointments of 2013.
He said: "They had a disappointing campaign this year and it was a real battering we took against Mayo. It was a frustrating year being All-Ireland champions and then going into a game like that against Mayo. They'll be working hard behind the scenes and will be determined to get back to where they were."
Given spoke to McGuinness in the moments after last year's All-Ireland final win after phoning Shovelin – and the Liffordman believes that the manager's association with Celtic will only benefit Donegal. Celtic was Given's first professional club back in the early 1990s.
He said: "Celtic are a really professional club. They're playing in the Champions League and Jim will learn so much there that will help and assist the Donegal set-up. Jim's workload is a bit crazy and he has a busy life, but it's hard work and dedication that gets success in sport – and no-one works harder than Jim."
_ _ _ _ _ _ _ _ _ _ _ _ _ _ _ _ _ _
SHAY ON LIFFORD CELTIC
IT WAS while playing for his hometown club, Lifford Celtic, in an FAI Junior Cup semi-final when he was just fifteen that Celtic spotted the potential in Shay Given.
Lifford lost 1-0 to Neilstown Rangers, but the performance of Given that afternoon in Oriel Park was enough to convince the Celtic scout watching that he'd seen the future.
Given has retained a great affinity with Lifford – and it was to his delight that the club, under Joe McGee's direction, won the Donegal League Premier Division last season.
"It was great to see Lifford winning the Donegal League," he said.
"I have great memories of playing for Lifford Celtic myself and met some of my best friends playing for the club. It was great to see them doing well and I was delighted to see them winning the League."
Receive quality journalism wherever you are, on any device. Keep up to date from the comfort of your own home with a digital subscription.
Any time | Any place | Anywhere
Posted: 9:00 pm October 4, 2013