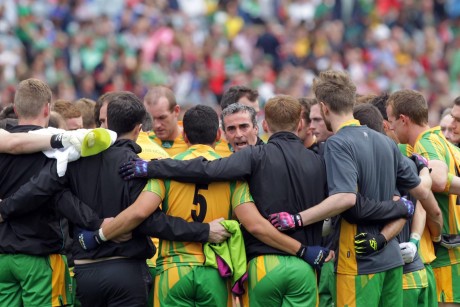 I have the task of looking after the Donegal minors in 2014.
A lot of people say to me, 'at that level it isn't about winning' – but, to me, it is. It is about winning and about developing a winning mentality.
Saying that it isn't about winning is a cop out, really.
When someone comes and asks me about the aims for 2014, it is about developing players, yes, but mainly it is about winning an Ulster title.
That isn't putting pressure on anyone – that's just the way it is. The target has to be to win it.
That's me talking ten months before we will play a Championship game in 2014 but, if we don't win an Ulster minor title I will deem it a failure. You must have goals and targets. Of course, you're looking to develop players along the way, but the titles are what count.
You must make sure the players are well looked after, doing the right things with their nutrition and psychology, but the other part of it is the winning.
A player who has been involved with a winning set-up will take so much with him on that journey. He will develop much faster and better than the guy who hasn't been brought in with the winning mentality.
That is vital.
In the past we have missed out on development of players.
We have now won back-to-back Ulster titles at under 16 level with the Buncrana Cups (congratulations to Sean Paul and the team on their win).
I have taken the Under 17s and have worked with them on a weekly basis over the last five months. That hadn't been done in the past and the 17s would have been left to their own devices.
These players are the future. You need them coming through and hopefully we'll see progress with them.
WE CAN'T FORGET ABOUT CLUBS
WE seem to shoot ourselves all the time in Donegal when it comes to fixtures.
It looks like a request was made from the county management to bring the games forward and that's why the CCC made the decision last Tuesday to have the games scheduled for this weekend. Of course the decision was reversed and, it seems, there was little thought put into the whole process.
I keep on about this, but we cannot and must not forget about the clubs. The clubs are what make the Association and makes the players. These people brought through Colm McFadden, Michael Murphy, Patrick McBrearty and these sort of players. We cannot forget about them.
You can't give clubs a Championship fixture at little more than a week's notice. There was no thought process here at all and it's unfortunate on the clubs.
The clubs are what make this great game of ours.
The correct decision was made anyway, and that was to play them on that original date.
Have you a comment to make on any of the above or would you like Declan to raise an issue in the column? If so, get in touch by email d.bonner@donegalnews.com
Receive quality journalism wherever you are, on any device. Keep up to date from the comfort of your own home with a digital subscription.
Any time | Any place | Anywhere
Posted: 5:24 pm August 22, 2013