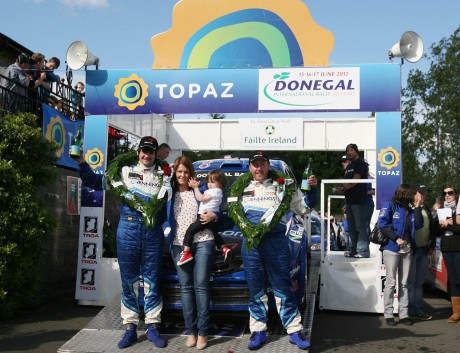 BY CHRIS MCNULTY
AS they neared the closing miles of the 2012 Donegal Rally, Garry Jennings and Neil Doherty switched off the intercoms. They led from start to finish and knew they had victory secured.
It was an emotional win for the pair – who are back this weekend looking to make it a double.
Kesh man Jennings was king of the Donegal tar last year with Donegal native Doherty, who hails from Glen, calling the notes.
During the rally, John Dohery, Nei's father, was terminall ill in Letterkenny General Hospital and passed away soon after.
It was a poignant win for the duo, who return this weekend as the top seeds in a different car. They won last year in a S14 Subaru, but are in this year in the Impreza WRC S12b.
It's hard to believe that a year has passed since Jennings flicked off the switch midway through Atlantic Drive.
"For the last mile or two, we turned off the intercom. We finished it with no notes and we just enjoyed the end of it," he told the Donegal News.
"We just did our own thing and it was good to be able to do that. There were tears shed and it was emotional too with Neil's father not being well. It was very hard for us to focus on the rally, but it was great to have those couple of minutes. It was nice to reflect on the rally and that feeling will always live with me."
"If someone anywhere in the world knows about your rallying they'll always come and say something like: 'Ah jeez, you're the cub who Donegal'. The Donegal rally is always highly remembered."
Jennings has been coming to Donegal for as long as he cares to remember.
He can recall coming and spending the weekend sleeping in his car. To win it, then, was the stuff of his dreams. To retain it now would give him an extra pep in the step.
"I'll be going to enjoy it and hopefully we'll be there or thereabouts. The aim is to make it a double," he said.
"It'll be great to run Donegal at number 1 on the road.
"Donegal is a marathon.
"It's hard to keep the concentration going for three days. My thinking is more or less trying to stay with everyone through the Friday stages.
"I expect a lot of competition from Declan Boyle, Darren Gass and Derek McGarrity; those boys will be right up there. My intention is not to let any of them get too far away.
"Donegal is very tricky. I've had my share of spills and mechanical trouble in Donegal. It's a long event.
"Whenever you go off in Donegal you'll always hear 'that's where McHale went off' or 'that's where Bertie went off'. I always seem to get stuck in ditches where other boys have been!"
Jennings would dearly love to emulate the feat of men like Austin McHale, Bertie Fisher, Andrew Nesbitt and Eugene Donnelly to become a repeat winner of the event.
Three days of seriously intense rallying await him now – and he can't wait to tackle his favourite stage of all. It's his co-driver's home stage in Glen.
"I love Glen village," Jennings said.
"I've done that stage both ways. it's very tricky and you need to get the tyre selection. I think it was in Glen last year that we won the rally. It was the first stage on the Sunday morning and we took time out of every body. We had a good enough lead going into Sunday, but we threw everyone onto the back foot on Glen. We showed then that we weren't going to back off. We let everyone know that we weren't going to let it slip.
"I love different stages. I like something different because it helps the concentration. It's great that Donegal can rotate their stages and go to different parts of the county."
The lure of Donegal is something else. The who's who of Irish tarmac rallying all crave this weekend. Sebastein Loeb came here with Daniel Elena in 2007 to use Donegal as a tester for Rally Ireland. He won it and he planned to take the ramp at the Mount Errigal Hotel and dash home.
"Here, Citroen, you won't make it out in 15 minutes, no chance," an official told the Frenchman. Sure enough, Loeb was surrounded as he pulled into the Mount Errigal and organisers had to organise a helicopter to take Loeb to the airport.
That a driver of his standing tackled the tar in Donegal says a lot about the event.
Jennings said: "There was something very special about that. Donegal is very proud of that and rightly so. For us competitors, it's great to be able to say that you competed with Loeb. That really set Donegal up as one of the top rallies and I remember Mark Higgins and Rory Kennedy really put it up to him. They made a couple of mistakes and if they hadn't they could have won it."
Receive quality journalism wherever you are, on any device. Keep up to date from the comfort of your own home with a digital subscription.
Any time | Any place | Anywhere
Posted: 7:00 am June 21, 2013