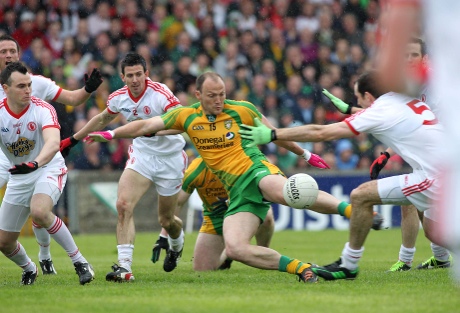 GAA – Ulster Senior Football Championship Quarter-Final
DONEGAL 2-10 TYRONE 0-10
BY CHRIS MCNULTY IN BALLYBOFEY
WHEN this game was in the melting pot, it was Donegal who rolled their sleeves up and got to work in style.
The Ulster and All-Ireland champions lowered Tyrone's colours in sending out a huge note of their intentions for 2013 with a dominant second half display.
Colm McFadden and Ross Wherity scored the goals as Donegal defeated the Red Hands for the third year in a row.
It was billed as being a grudge match of sorts and this was confirmation, if indeed it were needed, that Donegal are very much Ulster's top dogs right now.
They took everything Tyrone threw at them and, as they have done through Jim McGuinness's tenure, pressed the button in the third quarter.
The teams were level five minutes into the second half, but by the 53rd minute Donegal moved five clear.
The defining score came in the 49th minute. Patrick McBrearty, who was excellent throughout, surged past Dermot Carlin and a weak effort by Martin Penrose to stop him was navigated. McBrearty slipped the ball across the square for Wherity to palm home.
The St Eunan's man was introduced as a sub for his Championship debut and with his first touch he was on the mark in style. It was the perfect way to celebrate his birthday weekend having turned 25 the previous day.
Wherity was sent on along with Karl Lacey in the 47th minute.
The 2012 Footballer of the Year didn't start, but came on to a thunderous reception and his presence here was key as Donegal turned the screw. Right after the second goal, Donegal added quick fire points from McBrearty and Michael Murphy.
Tyrone fell to pieces and Donegal kept the Red Hands scoreless for a thirty-minute spell, while their discipline went, too, and they had Joe McMahon sent off when he was booked for the second time in the 63rd minute.
Donegal had prepared for this game since the pairing was made. The squad assembled at MacCumhaill Park on Saturday and spent Saturday night in the Sandhouse Hotel in Rossnowlagh.
This was a game they did not want to lose; and a day on which they were determined to lay down a marker. This, they did. With Lacey and Mark McHugh in as subs, Donegal could even afford to be dominated at centrefield, where Conor Gormley took a couple of excellent fetches.
Declan Walsh and David Walsh were the men to come into the starting XV, in place of McHugh and Lacey. What had been a tight battle opened up when Donegal began to take command in front of a packed house as the rain teemed down.
The game was one of several seminal incidents. Not least of them was that moment in the 24th minute when Stephen O'Neill thundered into Neil McGee at full pelt. The Gaoth Dobhair man was barely put off his stride. As tough as the face of Errigal, a clash with McGee meant O'Neill was on his rear end.
Or there was the sheer ferocity of Paul Durcan's reaction at the final whistle; a moment that outlined what this game meant to Donegal, the Four Masters man howling into the rain-soaked sky after an emphatic win by his team.
It was a day when McBrearty was very impressive, the 19-year old having had to endure a difficult few weeks after the incident that led to Croke Park launching a probe into allegations that he was bitten during the League meeting with Dublin. 'Head melting', McBrearty called it post-match – but it was Tyrone heads that melted here on an afternoon of Donegal delight.
Colm McFadden again demonstrated his prowess as a Championship player, the St Michael's man stepping up with a clinical 1-3. It was McFadden who swung over the game's first point from a free in the second minute and it was he who netted the opening goal in the 32nd minute. McBrearty batted down a Murphy free and McFadden got away from Cathal McCarron before sliding past Niall Morgan with his right foot.
It was not a day that Morgan will wish to remember.
The goalkeeper's place kicking was predicted as the key for Tyrone. Morgan would rue his gesturing to a crowd that had jeered an earlier miss when he scored one in the 19th minute. Six times, Morgan stepped forth but just once he scored. Four of them he shot wide and one he dropped short into Durcan's hands.
Morgan's short effort was from around 55metres and right after McFadden's goal Murphy came up from a similar distance and sailed it over the black spot to give Donegal a 1-6 to 0-7 interval lead.
Donegal were 0-4 to 0-1 up after just seven frantic minutes with McFadden (2), Murphy and David Walsh on the mark. Tyrone's opener was hit by Conor McAliskey and Morgan's score brought Tyrone to within one.
McFadden pushed Donegal two ahead, but Tyrone led for the first time after Stephen O'Neill majestically shot over from the stand side and then two in a minute by Matthew Donnelly and Colm Cavanagh turned the tables.
McFadden's goal restored the lead for Donegal and despite Tyrone started brightly in the second half it wasn't long before Donegal took control in devastating fashion.'
It was composed, it was precise and it was an exceptional barometer of the level to which this team has gone.
McBrearty was excellent; Eamon McGee gave a brilliant display in marshalling Cavanagh while his brother Neil restricted O'Neill's influence; and the likes of Paddy McGrath, McFadden and Kavanagh stood tall with McFadden contributing 1-3.
Durcan kept the sheet clean for a third year in a row against the Red Hands.
The tide has turned now alright; and Donegal have the look of a side we'll be seeing into the autumn again.
DONEGAL: Paul Durcan; Paddy McGrath, Neil McGee, Anthony Thompson; Declan Walsh, Eamon McGee, Frank McGlynn; Rory Kavanagh (0-1) Neil Gallagher; Ryan Bradley, Leo McLoone, David Walsh (0-1); Patrick McBrearty (0-2), Michael Murphy (0-3, 2f), Colm McFadden (1-3, 2f). Subs: Mark McHugh for McGlynn (21 mins), Martin O'Reilly for Bradley (half-time), Martin McElhinney for David Walsh (42 mins), Karl Lacey for Thompson (47 mins), Ross Wherity (1-0) for McLoone (47 mins).
TYRONE: Niall Morgan (0-1, 1f); PJ Quinn, Conor Clarke, Cathal McCarron; Conor Gormley, Justin McMahon (0-1), Matthew Donnelly (0-2); Colm Cavanagh (0-1), Joe McMahon; Mark Donnelly, Sean Cavanagh (0-2, 1f), Peter Harte; Martin Penrose, Stephen O'Neill (0-1), Conor McAliskey (0-1). SUBS: Dermot Carlin for Quinn (half-time), Aidan Cassidy for Justin McMahon (55 mins), Kyle Coney (0-1) for Mark Donnelly (60 mins).
REFEREE: Joe McQuillan (Cavan).
Posted: 12:39 am May 27, 2013