BY SEÁN P. FEENY
MEMBERS of the Happy New Ear campaign are expected to meet with TDs from all over the country for a briefing at Dáil Éireann next week.
Alison and John McFadden, Letterkenny, are members of the campaign which is petitioning for signatures to present to Minister for Health, Dr James Reilly TD, asking him to provide funding for bilateral Cochlear implants for deaf children in Ireland.
Under the National Cochlear Implant Programme, at present, children in Ireland get one implant, even though it is recognised as international best practice to provide children with two implants.
Last month we featured the story of Alison and John's daughter Taylor Beth (2) who was diagnosed as being profoundly deaf when she was 19 months old.
Under the government's programme, Taylor received one implant, which was a very special moment for her parents.
But there is a downside to Taylor's current situation and this is one the couple and all campaigners behind the 'Happy New Ear' petition hope to remedy.
Having only one implant cant be very exhausting, especially for a child at Taylor's age which is taking in so much new information every day.
Since the Donegal News highlighted the campaign, representatives of Happy New Ear have met with Laverne McGuinness, National Director of the HSE's Integrated Services and other major players involved in getting bilateral implants rolled out for 2014.
Gary Norman, an audiologist at Beaumont Hospital, appointed as National Audiology Clinical Lead to oversee the implementation of a bi-lateral cochlear implant programme.
Mr Norman is going to oversee this being rolled out, while he has also met with parents involved in the Happy New Ear campaign.
Speaking last week, Alison said: " Although we are delighted this campaign has got us to this stage and we are over the moon with results achieved thus far, we won't rest until we get this fully over the line. We have a briefing with TDs from all over Ireland in the Dáil on Wednesday, March 27, and we are hopeful this will be another step in the right direction."
Senator Brian Ó Domhnaill also raised the issue during a recent special Dáil debate calling on the government to ensure that funding will be provided for all children with hearing difficulties in need of cochlear implants.
"The government needs to ensure that sequential bi-lateral implantation for these children is provided to give them a better chance to progress. It committed to supporting these programmes but the necessary funding must be provided to make this a success.
"I am calling on Minister Reilly to follow through on his commitment and ensure this funding is forthcoming I will continue to raise this matter with the minister."
Receive quality journalism wherever you are, on any device. Keep up to date from the comfort of your own home with a digital subscription.
Any time | Any place | Anywhere
Posted: 10:49 am March 21, 2013
2014 will be a 'Happy New Ear' for a young Donegal couple and their daughter following Wednesday morning's announcement...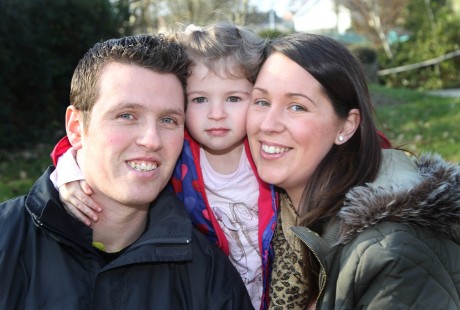 A DONEGAL couple campaigning to get the State to introduce bilateral Cochlear implants for deaf children have expressed ...
IF YOU had the ability to treat blindness, would you only cure one eye? This is the comparison campaigners...