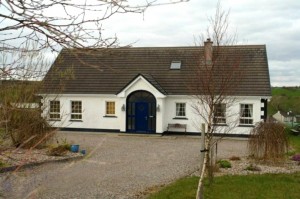 Cllr Sean McEniff has condemned the suspected arson of a house  earmarked for a Traveller family near Ballyshannon. The house was gutted when fire broke out shortly after 3am this morning.
Cllr McEniff said while he abhorred the actions of those who burned down the house he stood by his comments and he had said nothing that could have led to the criminality.
A Garda investigation team is expected later today. The five-bedroom house was totally destroyed and is dangerous for investigations. One eye witness said he was surprised other houses were not damaged. It is thought that the people who had sold the house to Donegal County Council was to be moved today.
Fire crews from Ballyshannon and Bundoran attended the scene but the five-bedroomed house was destroyed. No-one was injured and no-one was in the house at the time.
Cllr Pearse Doherty said the house was burned because it was to house a Traveller. He also maintained neighbours and fire fighters had been put at risk because of a hatred of travellers. He was critical of Cllr McEniff for attempting to deny travellers their right to housing.
Last month gardai received a formal complaint from a member of the Travelling community about remarks made by Cllr Sean McEniff.
The Bundoran councillor caused controversy when he made comments in relation to the purchase of the  house. He denied he was being a bigot when he insisted that Travellers "should live in isolation."
"Parkhill is a very settled community. I would not like these people (the family) living beside me," he said.
At that time, Mr Hugh Friel of the Donegal Travellers Project, confirmed that he has lodged a complaint with gardai and was to lodge a second complaint against another councillor.
The complaint was been made under Incitement to Hatred Act against Councillor Sean McEniff.
Mr Friel said he also intends to make a similar complaint against Cllr Eugene Dolan.
Under the Act, a person if convicted could face a fine not exceeding £1,000 or to imprisonment for a term not exceeding 6 months or to both, or if convicted on indictment, to a fine not exceeding £10,000 or to imprisonment for a term not exceeding 2 years or to both.
Cllr McEniff objected to Donegal County Council purchasing a house in Ballyshannon for a family of travellers claiming they should live isolated from the settled community.
Receive quality journalism wherever you are, on any device. Keep up to date from the comfort of your own home with a digital subscription.
Any time | Any place | Anywhere
Posted: 11:01 am February 11, 2013