BY SEÁN P. FEENY
IT WAS a beautiful sunny morning in An Spideal as the cast and crew landed on the set of Ros na Rún for another day of filming. Now in the last two weeks of filming for Season 17, it was Donegal actor Niall Mac Eachmharcaigh's last day of shooting.
As the Rann na Feirste man, who plays John Joe, relaxed in the Greenroom looking forward a six-month break and supporting his home club Naomh Mhuire and, of course, Donegal, he reflected on what was yet again another exciting season full of drama for him.
There is plenty of banter between the actors in the Greenroom, especially between the men when it comes to football, as fellow actor and Kerry native Seán Mistéal (Father David) displayed when he jokingly waved the Donegal flag Niall had hung up outside through the window.
The experienced actor has worked with a lot of Donegal talent at Ros na Rún, most notably Gaoth Dobhair's Gavin Ó Fearraigh, who played his son Conall for many years, and in more recent seasons he has been working with Bridín Ní Mhaoldomhnaigh, also from Gaoth Dobhair.
"This was my third season working with Bridín who plays my daughter Katy and she is any man's nightmare of a daughter," he laughed.
"We have had some great storylines together and she's a class act and I great fun working with her and I am looking forward to seeing her back next season."
The on-screen father and daughter duo have touched on some very hard-hitting topics in their storylines from elder abuse, blackmail to rape.
"In this series she told me she was raped and I didn't believe her and that rape has a long-lasting effect on my character. We have been through a lot on-screen together, she even blackmailed me, but she is still John Joe's daughter," he laughed.
Reflecting on ten seasons with Ros na Rún, Niall said his character has changed a lot. "Two years ago John Joe started gambling and he started doing things he usually didn't do, especially with Mo (played by Marie Breathnach) and they way he blackmailed her – it was actually very difficult and it was a side that I didn't even know of John Joe."
But now that he his finished filming for this season, Niall said he is already looking forward to getting back to work in the summer. "I love coming to work every day, but that's me finished until next season and I will be heading up home on the N17 tonight," he laughed.
The team behind Ros na Rún boasts an impressive 75 crew members, 13 directors, 13 writers, 26 weekly actors, 15 daily actors and 35 extras a week, well, for this week there was an additional extra as you don't get to visit the set without featuring on screen of the soap co-produced by EO Teilifis and Tyrone Productions.
And so by kind invitation of series producer Deirdre Ní Fhlatharta I got to feature as a 'walk on' in one of the scenes at Tigh Thaidhg featuring one of the legends amongst the cast, Seamus (Diarmuid Mac an Adhaistair), Mack (Pól Ó Gríofa) and Mo (Marie Breathnach).
It is very interesting to see the actors at work, but it remains to be seen if I had enough 'cleachtas, cleachtas' before the final recording of the scene.
But being at the actual filming of a scene gave me the opportunity catch up with a crew member who is originally from Quigley's Point.
Eibhlín Ní Hír went to school in Derry and started learning Irish when she was 14 and continued to study while she was at college.
She then went on to do a television production course in Carraroe and now the Inishowen native has been with Ros na Rún for five years.
"I started in the lighting department in 2008 and then moved into the script department, but I always wanted to get behind the camera and I finally got my chance.
"Ros na Rún has been a great training ground for me. If you are enthusiastic you get a lot of opportunities to work in different departments and they will provide the training.
"Two years ago a space became available in the camera department. I became an assistant for a year and now I am up to full-time trainee camera operator."
There is a great chemistry amongst the cast and crew which shines through whether it's on set or in the very impressive canteen and this is probably the secret to the great drama produced every week in and week out for the many viewers that follow the soap in Donegal and around the country.
It was a wonderful day in An Spideal, one that won't easily be forgotten. Go raibh maith agaibh.
Tune into Ros na Rún every Tuesday and Thursday at 8.30pm or catch up on all the drama in the omnibus on Sundays from 10.30pm, only on TG4.
Posted: 8:30 am January 25, 2013
A WEST Donegal actor has been recognised for his contribution to the Irish language within mainstream media,...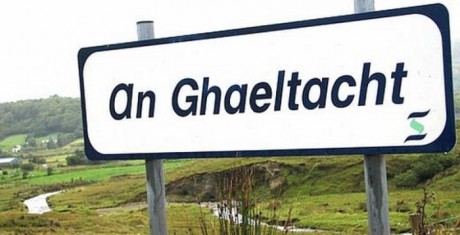 IRISH colleges in West Donegal have been welcoming students and with numbers remaining strong it looks like the local...
ARE you interested in a career scriptwriting for Ros na Run, one of Ireland's longest running TV dramas?