BY SEÁN P. FEENY
THIS weekend a group of young musicians, singers and dancers turning trad on its head will reach the pinnacle of what has been an incredible first year as they prepare to officially launch their debut album at the Millennium Forum in Derry on Saturday night, November 17.
Ten-piece Sontas is a group of talent from Donegal, Derry and Tyrone who draw on the influence of both their Irish and Scots backgrounds to bring you their unique sound, now to be released to the world on their debut album, Prospect Road.
The group boasts a very strong Donegal representation through Michael Gillespie, George Henderson and Zara Montgomery (Donegal Town) and Karol Harvey and Denise Roper (Letterkenny) proudly representing the county.
Over the past few months the band has been busy making Prospect Road, which was produced in a very unique environment right here in Donegal.
The band took over a house near Lough Eske, outside Donegal town, over five weekends to record eleven tracks, half of which is original material, as well as some very different takes on well-known songs such as The Parting Glass, Hard Times and The Raggle Taggle Gypsy.
Michael said: "The process itself was fairly unusual. Our previous experiences in the recording studio weren't that great in that we felt it sounded very flat.
"So instead of recording individually, we got the entire group into a house and each track was recorded live, so the band needed to be very tight."
Karol added: "There were ten people playing instruments from the sun room, to the kitchen and on to the sitting room, separated by screens, blankets and pillows," he laughed.
In doing so they have preserved the sound of Sontas and created a very 'live and energetic' final product, engineered by Leslie Long and Cathal Boyle of CP Audio.
Posted: 2:00 pm November 10, 2012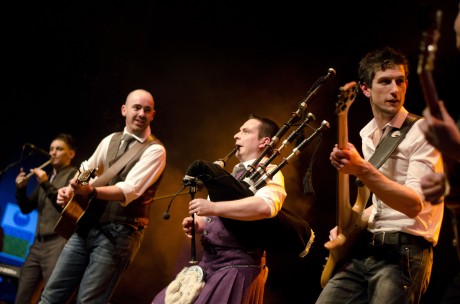 A NORTHWEST supergroup which has been making a name for itself performing to thousands of people over the past...
NIALL Erksine was elected as a Trustee of the GAA on Saturday at the Association's Congress in the Slieve...