By Aidan O'Donnell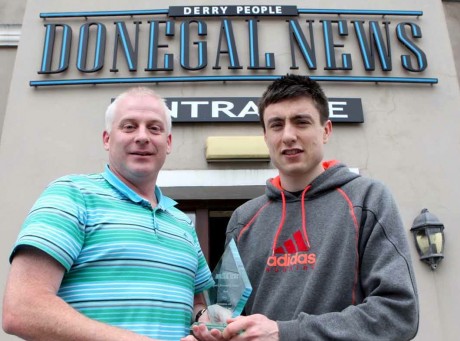 MARK English admits making this summer's Olympics wasn't a primary goal at the start of the season but having smashed his personal best over 800m in Belgium last month, the Letterkenny AC man is now within touching distance of achieving the A standard.
The 19-year-old DCU student shattered his own Irish Junior record with a stunning run in Belgium at the end of May, comfortably winning the 800m at the International Flanders Athletics Meeting (IFAM) in Oordegem, Belgium with a great time of 1:45:77.
That time was over a second quicker than his previous Irish Junior record of 1:47:09, which he set in Kessel-Lo last year, and it helped move him into fifth in the all-time Irish list, relegating Marcus O'Sullivan's 1:45.87 down to sixth.
"I was absolutely delighted, I can't even explain it," Mark said of his run in Belgium.
"I can't even remember that much about the race to be honest. I just remember it was a very fast race. I ran behind the American and the Belgium lad and there was so many people in that race that I couldn't really go into it with any preconceived idea other than just to give it my best.
"My plan, I suppose if I did have one, was to be in contention with 150 metres to go. Thankfully, I was and I powered past the two leaders at that stage and had my own lane going down the home straight, which allowed me to get that time."
The time in Oordegem meant Mark achieved the A standard for the European Track and Field championships in Helsinki at the end of this month, although he won't be competing in the Finnish capital.
Instead, he hopes to be given the chance to compete at the Diamond League meeting in Paris on July 6, before then travelling to Barcelona for the World Juniors, which take place between July 7-16.
English's time in Belgium is just 0.17 seconds outside the Olympic A standard of 1:45:60 and were he to be handed the chance to toe the line in Paris, the LAC man is confident of achieving a qualifying time for the Olympics in London.
He said: "I need a perfect race in the right track with the right athletes in the race. Ideally, I would need to go around the first lap in 51 or 52 seconds, slipstream behind a few other athletes because that's what pace-races are always like.
"There's the Diamond League in Paris on July 6 but I'm not sure if I'll make it into that race yet because there's a few different people you need to go through. But that would probably be the best opportunity because David Rudisha is running it and he's the world record holder.
"If I got into that race it would definitely be fast enough for me to get the time. It's just about getting into it now and whether my hamstring holds up.
"I damaged it last Tuesday and I've been going up to the physio, Emma Galvin, up in Dublin and she said it's a low grade two-high grade one tear, so it will probably be three weeks before I can get back to speed work.
"I'm back running now and it's just about being cautious really and trying not to re-tear it. I should be back in time for the World Juniors hopefully because you don't really lose the speed; it's just about keeping up the aerobic fitness between now and then."
English, who has just completed his first year of Psychology at DCU, had his sights set on the 2016 Olympics in Rio de Janeiro as his ultimate goal.
However, his rapid progression has catapulted him to the forefront of the Irish 800m queue and, with the confidence of his performance in Belgium fresh in his mind, he is desperate to get the chance to secure an A standard time in Paris next month.
"It all depends on a few people. I might be there and I might not be there, at this stage I'm banking that I will be there," said English, who recognised that similar opportunities for Olympic qualification might not be so achievable in four years' time.
He added: "Whenever you're so close to the opportunity you really want to take it. If you look at the likes of Maria McCambridge there with four athletes making the A standard (for the women's marathon), that could be the same for us in four years' time. You just have to take the chances whenever you get them.
"I'm not going to push the hamstring injury. If I re-tear that I could be out for even longer and I don't want to miss the World Juniors. That was my main aim all year. As long as I'm in shape for that – I'll give the race (in Paris) a go if I'm in it and fingers crossed I get the time if I'm in it, but I'm not going to gamble on it for the sake of my hamstring.
"There are no other athletes who have even got the B standard so if I got the time I think I would be more or less straight in. I think I'm the only person over 800 metres capable of it at the moment.
"Karl Griffin will be very close to it in a few years' time. He's improving massive amounts by the day and then you have Darren (McBrearty) who could do it if he sticks with 800m and Ruairi Finnegan who will probably stay with 1,500m or 5k.
"But you don't know who is coming through all the time. You have a few guys now at intermediate level at school who are already running 1:55 and we only ran 1:54 at that age so you don't know who could be there in four years."
English achieved qualification for the World Juniors following a run at a British Milers Club event on May 1st in Manchester.
The event in Barcelona was originally his number one target this summer, but it could yet prove a stepping stone to something even bigger for the Letterkenny man.
"It was always going to be a plus if I qualified for London. At the start of the season I really didn't think I'd run 1:45:77, never mind break 1:46:00 so it was always going to be a bonus if I got it. But now that I've put myself in with a chance I'd love to get the A standard because I'm in such good shape. I've never been in better shape in my life," he said.
Mark was awarded the Donegal News Sports Personality of the Month Award for May in light of his qualification performance for the World Junior's in Manchester and his devastating showing in Belgium.
He got the nod just ahead of Letterkenny jockey Martin Harley who guided Samitar to victory in the 1,000 Guineas at The Curragh.
Posted: 3:34 pm July 26, 2012