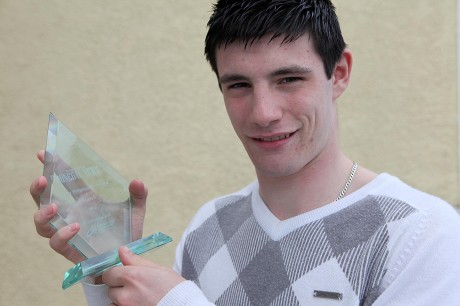 BY AIDAN O'DONNELL
FINN Valley boxer Michael Gallagher collected his seventh national boxing title at the age of just 16 last Sunday, making him a clear winner of the Donegal News Sports Personality of the Month Award for March.
Michael, a fourth year student at Finn Valley College, defeated Martin Collins (Trinity Boys) 14-7 to be crowned the 80kg champion at the 2012 National Senior Cadet finals at Dublin's National Stadium earlier this month.
He also won an All-Ireland title at the start of the month but it was the coveted Cadet title that he craved the most, having narrowly lost out in the final last year.
"It meant everything to win last weekend," said Michael, a native of Kinletter, just outside of Ballybofey. "Last year's fight was a learning curve for me. I was in front for all of that fight but switched off for the last round. That hurt a lot but it made me want to win this year even more. I trained harder than I ever did before and I was much more determined."
This month's win took his tally of national titles to an incredible seven (5 at Boy 1, 2 and 3 and two at cadet level).
He will now join the elite of Irish boxing on the High Performance Programme where he hopes to show off his credentials in a bid to get selected for the European Championships later this summer.
"I'll be training up with the High Performance Programme every Saturday from April 14 onwards. The aim is to get selected for the European Championship team this summer. I'll be sparring with the best boxers at 75kg and 86kg so hopefully I'll make a good enough impression to get picked," said Michael, whose brother Leon is also a reigning national boxing champion. Leon defends his national title at 54kg at the All-Ireland's next weekend.
A talented sportsman, Michael won two All Ireland javelin under-age titles with Finn Valley AC, breaking the Irish record in the process, while he also won an All Ireland bronze medal in the shot putt.
Meanwhile, Michael's coach, Conor Quigley, believes the sky's the limit for Finn Valley's latest boxing superstar.
"He's a massive success story for himself, his family and the club. He's one of the biggest up and coming sports stars in Donegal," he said.
"He was delighted to win last weekend because it made up for last year's disappointment. He would've qualified for the World Championships had he won, but he's learned his lesson from last year. He's matured a lot from last year and is a very determined wee man. He's an orthodox boxer and has a lot of skill and power in his game."
Conor, who is a father of European Gold Medallist Jason Quigley, has been blown away by how quickly Michael has made an impression on both the national and international stage.
He added: "He's the number one boxer at his age and weight in Ireland at the moment. He'll represent Ireland at international and European level over the coming months. He'll actually be competing in his third European Championships, which is staggering given his young age.
"The high performance training will benefit him greatly. He'll get to spar with the top boxers in the country and that will serve as great experience for him in years to come.
"Jason Quigley never got to the European Championships until he was U18 although he got a Gold medal when he did get there.
"But that just gives you an indication how well Michael is doing for himself because he's only just turned 16."
Previous award winners
January 2012
Paddy Peoples (Soccer): When Milford United sealed a place in the last 16 of the FAI Junior Cup in January, centre back Paddy (27) stood out like a beacon at Moyle View Park.
February 2012
Danny Mooney (Athletics): The 23-year-old Letterkenny athlete clinched his first ever national title at a senior level when won gold in the 1,500m final at the Irish Senior Indoor Championships.
Posted: 12:43 pm April 18, 2012