Paddy lights the way at Moyle View Park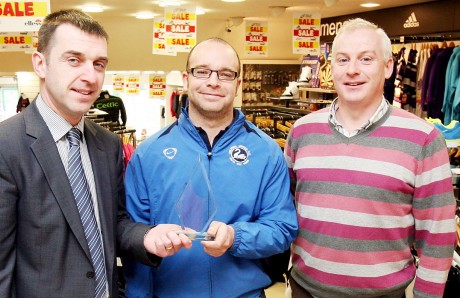 by Harry Walsh
When Milford United sealed a place in the last 16 of the FAI Junior Cup last month, centre back Paddy Peoples stood out like a beacon at Moyle View Park.
Peoples (27) produced a no nonsense performance in an absorbing penalty shoot-out win over a highly fancied Athenry side, mopping up everything the Galway side could muster while also offering his team-mates plenty of vocal direction throughout.
To cap a wonderful individual performance he stepped up to convert the all important match-winning penalty, making him a deserving recipient of the Donegal News Sports Personality of the Month Award for January.
Next up for Paddy and Milford is a meeting, also at Moyle View Park, with tournament favourites and reigning FAI Junior Cup holders, Limerick side Pike Rovers, on Sunday week, February 12, while the latter stages of the Ulster Cup and the Donegal League will help to keep the engineer's mind focussed in the coming weeks.
A member of Anthony Gorman's Donegal Youth team which brought the All Ireland crown back to the county in 2001, Paddy was joined in that squad by fellow Milford men Enda McHugh and PJ Hagan together with the likes of Michael Funston (Bonagee), Colm McGonigle (Letterkenny Rovers) and team captain Ciaran Harte (Swilly Rovers).
While a few of those players got the opportunity to player senior football, Paddy's stellar under-age career didn't turn out to be a prerequisite for future success at senior level.
"I'm lucky to be even playing in the Donegal League with Milford," he quipped.
Indeed, apart from a one-year spell playing Ulster Senior League football with Swilly Rovers Paddy has played all his adult football with his home town club, winning a Donegal League title under the guidance of Noel Gillespie.
"There's a great spirit in the club at the moment. We had 33 lads down at training the other night and the banter is great. We're all local and we're enjoying our football," he said.
Last year, Paddy headed off to Australia for a year with a couple of friends, leaving his job as a Roads Engineer with the National Road Design Office in Donegal Town. He travelled extensively during his time Down Under and even found the time to undergo a hernia operation in Sydney – brought on by the effects of his job felling trees in Queensland.
On returning home, he took up employment with Kirchhoff Ireland Limited based in Letterkenny, and resumed his soccer and GAA careers with Milford. Indeed, playing at centre half back he was recently named as the Milford GAA Club's Senior player of the Year.
"I started at left back, played a bit of football in midfield but seem to have settled at centre back – for the moment anyway. I'm a bit like John O'Shea (Sunderland and Republic of Ireland)," he laughed.
While Milford's hopes of winning another Donegal League title can be placed on the long finger until 2013, of more pressing concern for Paddy is the closing stages of the FAI Junior Cup and the Ulster Cup.
They face Pike Rovers from Limerick at Moyle View Park next weekend with a quarter final place awaiting the winners.
"We were pleased to get past Athenry in the last round but we have another tough battle coming up against Pike Rovers now. We'll put in the effort at training and hopefully it will pay off for us," he said.
respect
Hopefully Pike Rovers will give Milford a little more respect than Athenry did in the last round.
"They came here expecting to win. Some of them were even looking forward to a re-match with Pike before they played us. They even took time to do a profile on each of our players which wasn't too complimentary. One player, who will remain unnamed, was, according to them, the worst player they had ever seen!" he said.
That player profile was left behind by the Athenry management team in the Milford Inn the evening before the game and was subsequently passed onto Milford manger Peter Doherty and his management team.
"Let's say that the team talk wasn't too hard to give the following day," he said.
While Paddy is back home following a trip to Australia, his team mate Chris Bradley is heading off in the other direction. The striker departed these shores earlier this week while club captain Darren McLaughlin has also secured his Australian visa.
"Unfortunately that's the nature of the beast nowadays. Chris had initially thought about delaying his flight until after the Pike Rovers game while Darren is hoping to head away in March," he said.
One big plus for Milford is the decision by the Donegal League to postpone matches in the vicinity of Moyle View Park that Sunday afternoon.
"The support was brilliant last time out and hopefully with the League calling the other games off it will be even better this time around," he said.
Milford lost their long unbeaten home record last time out when fellow title challengers Glenea United beat them 2-1 but Paddy thinks that will only serve to further galvanise his troops ahead of next weekend's game.
Paddy's older brother Brian (captain of Letterkenny Rugby Club) is also a member of the Milford panel while another brother Mark plays with Whitestrand United.
A younger brother Paul (20) lost his life in a road traffic accident in Enniskillen three years ago while a second brother Anthony drowned in a tragic accident back in 1990, aged 16-years.
Parents James and Josephine, sisters Noreen and Teresa and brother Mark will no doubt be among the large crowd cheering on as Paddy and his brother Brian aim to create yet another piece of sporting history in Milford on Sunday afternoon, February 12.
Posted: 12:56 pm February 8, 2012