LGFA – TG4 LADIES ALL-IRELAND FOOTBALL SEMI-FINAL
By Frank Craig
Aoife McDonnell is well aware that the sands of time are slipping through the neck of the hour glass for this particular group of Donegal ladies footballers.

At 32, the Glenties girl is into her 16th season with the Tir Chonaill seniors. It could well be her last. Something of a free spirit, McDonnell has spent as much time travelling as she has at home in recent campaigns. 
You get the feeling a permanent or extended stay Down Under could again be on the cards once Donegal's interest in the 2018 season ends. 
She's not pressed her on her exact intentions. But you sense the only question that remains, it seems, from the outside looking in anyways, is whether that journey ends on the steps of the Hogan Stand or in a lonely corner of the dressing room in the bowls of Dr. Hyde Park tomorrow afternoon. 
All-Ireland success at Junior level in 2003 and Intermediate, 2010, have both been landed in her time in the senior ranks. But the prize on offer this weekend has the potential to eclipse all of that. High stakes indeed. So much is on the line for McDonnell, Donegal and a number of their more experienced stars.
Donegal have the chance to appear in a first ever senior All-Ireland final. Standing in their way is a fancied and experienced Rebelettes outfit. 
Here, McDonnell sits down with the Donegal News for a detailed and varied Q&A. Affable and articulate she may well be. But the Naomh Conaill club woman is also a fierce competitor that takes her football very seriously.
 
The LGFA moved the fixture back a week so as to avoid a clash with Cork's involvement in the All-Ireland camogie semi-final. Did that disrupt your preparations much? 
"No. It gave us the extra week to work on things we wanted to work on. We didn't see it as a bad thing. It was what it was. We've got on with it. No one complained. From Cork's point of view, I understand it. 
"It's ridiculous that girls were being asked to choose between two All-Ireland semi-finals that they've worked equally hard for all season. We had a fair idea that common sense would prevail. We've just got on with things from our end.
"We also didn't want to be going out and having people say we only beat Cork because they had players missing."
Donegal blazed a trail through Ulster but found the new group stages format a little trickier. Has that worked to you advantage as a lot of talk and attention had previously centred on Donegal after that provincial hammering of Armagh.
"They were tough games. And that's where the most learning has come from. We probably didn't take too much from the Ulster championship. That was no fault of Monaghan or Armagh's at the time. 
"We just found ourselves in a position in those games where we broke those sides early enough and there was simply no coming back from it. Armagh were much improved in that second game. They changed their defensive approach completely and they pushed us really close. 
"We didn't go into that game expecting any different. We were delighted to come away with a three-point win. They are a great side with great players. If we'd been complacent there we would have been found out. 
"Tipperary, Kerry and Armagh… yes, we got through all of them but we know that we have to lift things to a completely new level against Cork.  We didn't really have that after Ulster. So again, from our point of view, we're in a much better place going into this game than we'd previously been in, after Ulster."
With the men's side eliminated by Tyrone, have you seen attention shift completely the ladies' direction? Can you sense a growing interest as the weekend approaches? 
"The interest is definitely there. People are asking us how things are going and wishing us luck. When you get to a semi-final you get that little bit more interest in how you are doing. We'd love to see some new faces around the ground now that we're at this stage.
"We'll need it all against Cork. We've been going at this pretty much every day since November. It's been that hectic. You don't have many off days. It's got to that level now. You can see how much quality is in the ladies game. 
"We got a lot of coverage back in 2010 (Intermediate All-Ireland) and that seemed to kick start all of this. We open the papers now and you see articles on ladies football – previews and match reports. It wasn't always like that. It wasn't too long ago that there was a small piece squeezed into the bottom corner of a page! 
"You can turn on the TV now and see so many games on TG4. That's been great too. We were the poor relation for a long time. It still is to an extent. But hopefully we're going down the road where all codes will eventually fall under the one umbrella. 
"That would be the best thing that could happen to ladies football and indeed camogie."
Last year's All-Ireland final between Dublin and Mayo at Croke Park smashed the European record for the highest attended women's sporting event of 2017. How big of a carrot is that – playing in front of a crowd that size?
"That's the incentive. It's massive. To think that the chance is there to play in front of 40,000 at Croke Park. That's huge. If you get over this next hurdle that's the reward. I don't know if that would make some people nervous. I just find it really exciting. 
"For all the football I've played – this is my 16th season with the seniors – I've only played in front of a crowd like that twice. Nothing compares to it, especially in Croke Park. It's still only half of its capacity so I can only imagine what it would be like to go there in front of a full house. 
"To me, that's the prize. To run out with that noise and that colour all around you."
With a number of girls in or approaching their 30s, do you get the sense that this year represents not only best chance but, for some, maybe the last chance to reach a senior All-Ireland final? 
"Yeah, and we do joke about it. There are a few of our gang into their 30s now. Family is going to have to come first sooner rather than later. We feel this is our chance  – our opportunity. We have to make it count.
"It might be the last opportunity for so many of us. For me, it's not something I'd look back on with regret (not winning a senior All-Ireland). Football has been so much more to me than just that – medals. I really enjoyed the Junior and Intermediate All-Irelands.  At the time they were just as big as what's in front of us now. 
"In the here and now, we want to win this so badly. It is probably the last chance we have, realistically, this group anyways. Players will probably be gone next season and some have already made plans. 
"That's family for some and travelling for others. We might never be together again. We feel that. It's very powerful.  We have to make this count."
Cork have 11 senior All-Ireland titles between 2005 and 2016. That's serious pedigree. Donegal, for the first time this season, will be underdogs in a game of football. Does that alleviate some of the pressure? 
"Cork are Cork. Everyone knows their quality. We played them in the league. They were depleted as they'd already qualified for the semi-finals. This is much different. That counted for nothing. We seen their quality in the league final last season. 
"There was just a single point between the sides then. They are a serious outfit with some amazing players. They are standing in our way. We respect them but, like I said, they're between us and a place in the final. It's a huge challenge but it's something to be excited about."
Is this the game that finally reveals if Donegal have progressed this term and proves they are good enough to challenge for an All-Ireland title? 
"We'll only find that out at the weekend. We've put so much work into this year. We've gone out most games this season, championship anyways, expected to win. We'll be underdogs here. We'll know a whole lot more about ourselves after this one. 
"It's knockout, there's no second chance. It's up to us to rise to the occasion now. We put so much expectation on ourselves. It'll be no different against Cork. They're seasoned at this level but we're relishing the challenge.
"It's nice going into a game where the expectation shifts and moves onto Cork. That suits us just fine. We believe we are good enough to win an All-Ireland. We believed that back in November. And it's alright to say that. 
"If you don't have that belief then what's the point of it all? What's the point of the early mornings, the gym sessions, field sessions, video analysis and everything else in your life that is put on hold for this?
"If you don't have that ambition and expectation,  you're never going to win anything. I do think setting our stall out this year and shooting for an All-Ireland has been a positive thing. Up until this point we've followed through on everything we've wanted to accomplish. 
"We will bring that same attitude into the Cork game."
That candidness and honesty is refreshing. There seems to be a more openness to ladies football in terms of how they deal with the media…  
"The clichés thrown around sometimes in Gaelic games makes me laugh. You'd wish someone would just say what they're really thinking. The Dublin manager, Jim Gavin, is always saying what a tough game they just had even when they've won by 20 points!
"He's always "taking it one game at a time"! At the start of the year if you don't have a clear and definite set of goals then you're never going to get anywhere.  We probably have around six sides in ladies football now with real expectations of getting to an All-Ireland final and winning it.      
"Then the work comes into it. Strength and conditioning, running programmes… there is no denying it was a horrible winter. It was very tough going. On a Saturday, you trained hard on the pitch and in the gym. You then went out and played a league game on the Sunday.
"You could be training on the Monday again. It's been absolutely relentless. Between video analysis and recovery sessions, it's been never ending, crazy. The only thing that keeps you going at that pace is the thought of winning an All-Ireland."
The tiered system seems to have really benefited Donegal over the years. Do you think it's a model that could rejuvenate the men's game?  
"I can't believe in men's football there isn't yet different levels. The Junior, Intermediate and Senior works so well. I wasn't joking when I said that Junior All-Ireland, at that time, meant the world. Our Intermediate success was the exact same. They were stepping stones. 
"I'm sure it would be the exact same for the so called 'weaker counties' in the men's game. I think it's crazy, the current set up. Sides need to be ambitious but they also have to be realistic. Some teams don't have a chance of winning a championship game, never mind a provincial title or All-Ireland.
"How can you go back at things in November/December or whatever with that reality in the back of your head? A restructure would give all players and all teams a realistic chance to play in an All-Ireland final of some description at Croke Park.
"Because of the tiers in ladies football, we were able to make the jump as we went. Success breeds success. Those wins would probably have caught the attentions of lots of young girls at the time that are now in the senior set-up. " 
Posted: 12:17 pm August 25, 2018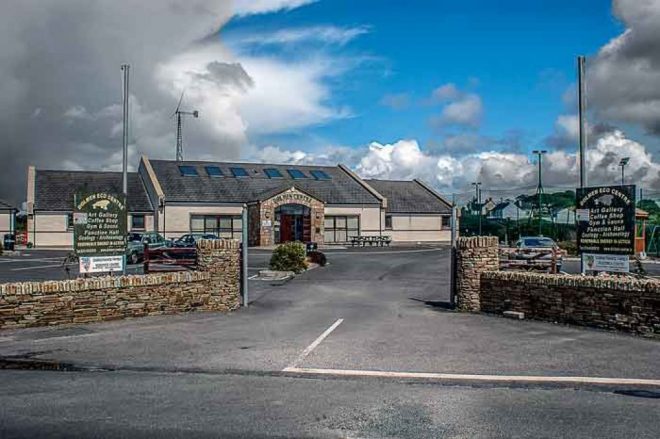 Planning is to be submitted in the coming days to develop a €3.5 million facility on the site...