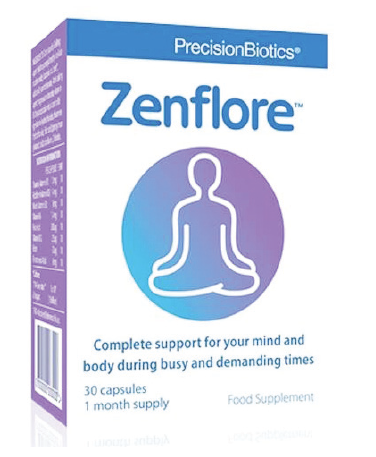 • Scientists identify a bacteria in the gut that can reduce stress
• World's first food supplement harnessing the unique culture 1714-SerenitasTM now launched in Ireland
• Supported by research performed by scientists at the forefront of research on the 'gut-brain axis'
Now scientists have discovered a good bacteria which can reduce the level of our stress hormone, cortisol. The scientists at PrecisionBiotics® – who discovered this natural 1714-SerenitasTM bacterial culture – have now harnessed it to create Zenflore® to support the mind and body during demanding times. This culture has been shown to increase the activity in the areas of the brain associated with emotions, learning and memory.
GUT BRAIN AXIS
The scientists at PrecisionBiotics have been working with two leading researchers, Professor Ted Dinan and Professor John Cryan at University College Cork (UCC), whose primary focus is the gut-brain axis. Their work has shown that there is a direct connection between our brain and our gut. In scientific terms, the gut-brain axis is the two-way dialogue between the brain and the gut. Its main job is coordinating brain and gut functions, by transmitting information from the gut to the brain, and the brain to the gut.
The vagus nerve is a key physical link that relays the information between the two, it is the largest nerve in the body outside of the spinal cord and 80-90 per-cent of the nerve fibres in the vagus nerve go from the gut to the brain.
STRESSING THE BENEFITS
Sleep disturbance was the main way stress affected marketing consultant Gemma Kennedy. She has been taking a single Zenflore® capsule every day for two months and says she is "super impressed" with the results. "I feel I'm coping better with stress and I'm less tense. I've slept through the night without waking to stressful thoughts for the past three weeks which is almost unheard of for me. I fall asleep with ease and when I wake in the morning I feel well rested and don't struggle to get out of bed." For more information call into The Natural Way Letterkenny Shopping Centre Tel:07491 25738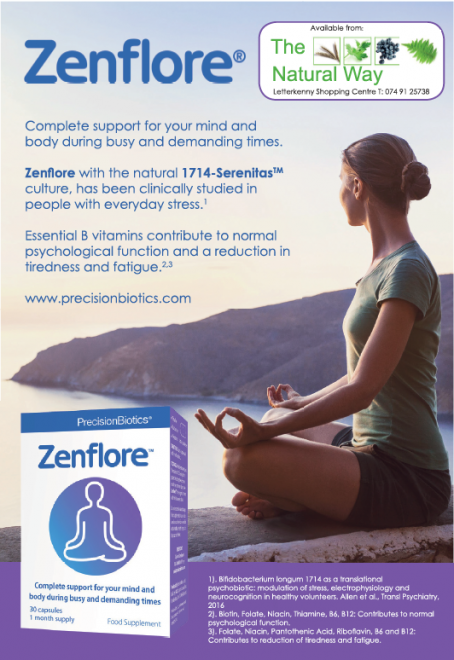 SPONSORED CONTENT BY:  THE NATURAL WAY
Posted: 2:04 pm July 15, 2018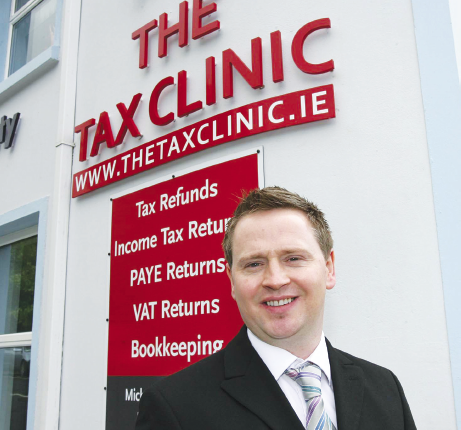 The Tax Clinic, High Road, Letterkenny, will assist you in all your tax return queries.