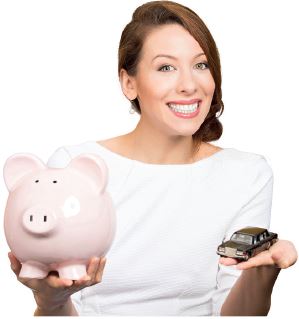 TÁ an t-earrach buailte linn agus ciallaíonn sé sin go bhfuil a lán dao-ine ag samointiú ar fheabhsúcháin tí a dhéanamh. Tá DIY agus obair athchóirithe ag éirí níos coitianta le blianta beaga anuas. Léiríonn fi-giúirí úra maidir leis an Dreasacht Athchóirithe Tí go ndearna níos mó ná 107,000 úinéir tí obair ath-chóirithe ó seoladh an scéim sa bhliain 2013. Caitheadh €1.7 billiún san iomlán ar fheabhsúcháin tí – meánmhéid de €16,187 in aghaidh an tionscadail.
Rinne Conradh na hÉireann de Chomhair Chreidmheasa (ILCU) suirbhé sa bhliain 2017 agus fuar-thas amach go ndearna dhá thrian de dhaoine fásta feabhsúcháin tí ón bhliain 2014. Mheas aon cheath-rú díobh gur chaith siad idir €1,000 agus €3,000 agus iad ag feabhsú a dtí. Dúirt 42% go ndéanfadh siad a dteach a fheabhsú le cairpéid agus le hábhar urláir nua. Dúirt 38% go bhfaigheadh siad córas teasa nó insliú úr agus dúirt 23% go gcuirfeadh siad fuinneogaí nó doirse úra isteach.
Cé go gcuireann na feabhsúcháin sin go mór le do theach, tig leo a bheith costasach. Tá dea-scéal ann sa mhéid is go raibh an smaointiú ceart acu siúd a ndearna ILCU suir-bhé orthu maidir lena gcuid feabhsúchán tí a mhaoiniú. Díobh siúd a dúirt go mbeadh orthu airgead a fháil ar iasacht, dúirt seisear as deichniúr go núsáidfeadh siad a gcomhar creidmheasa áitiúil.
Commenting on this, Dara Uí Dhuibhir, Manager of Comhar Creidmheasa Ghaoth Dobhair said; "It's easy to see why there is such interest in the Home Improvement Loan. We offer the loan at a great value APR rate of 9.97%, for example, for a €5,000, 3 year variable interest rate loan with 36 monthly repayments of €160.17, an interest Rate of 9.5%, a representative APR of 9.97%, the total amount payable by the member is €5766.12. *Information correct as at 13/04/18.
Not only that, but our loans are typically approved within a day or two. We are also happy to offer our loans to brand new members, those members we see every days and of course those members who may have inactive accounts or whom we haven't seen in a while." Dara Uí Dhuibhir continued "There are a lot of other benefits with our home improvement loan. There are no administration fees or hidden charges and we can structure repayments in a way that suits every individual's circumstances. Borrowers are also free to repay the loan early, should they wish, without any penalties. So we would encourage anyone planning on doing some springtime DIY to contact us and enquire about a 'Credit ReUnion' with Comhar Creidmheasa Ghaoth Dobhair. We'll be happy to help make your home improvement dreams a reality."
For further information please contact: Comhar Creidmheasa Ghaoth Dobhair on 074 95 31279 or email info@gaothdobhaircu.ie
For other loan amounts check out our loan calculator on our new website www.gaothdobhaircu.ie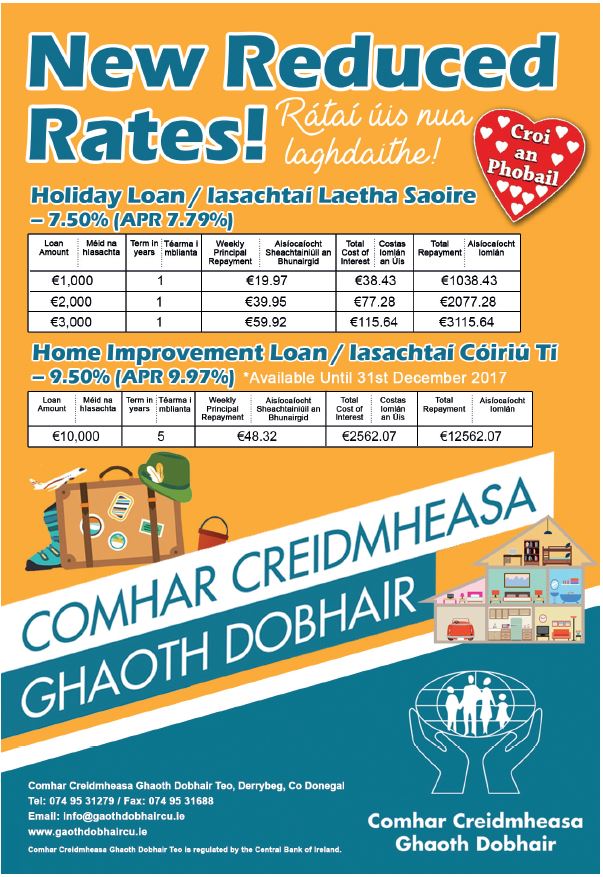 SPONSORED CONTENT BY: COMHAR CREIDMHEASA GHAOTH DOBHAIR
Posted: 12:03 pm April 24, 2018