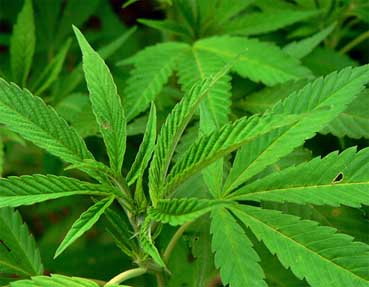 THE woman behind Donegal's Cannabis Social Club has vowed to expand the organisation in a continued drive to have whole plant cannabis legalised for medicinal purposes.
Candice Faulkner was speaking as she marked the second anniversary the club, which she founded in November 2015.
Her commitment comes just weeks after this newspaper reported how a medicinal cannabis research plant is understood to be on its way to Donegal early next  year, creating 50 jobs.
Pharmaceutical start-up, Green Light Medicines, revealed the firm is looking to roll out a new hub in the north west in 2018. Although the company's headquarters are based in Dublin, the firm has found a cultivation site in Donegal for growing the materials  for clinical trials, as well as an additional facility that will be used for extracting compounds from the raw material.
Speaking to the Donegal News, Candice said that while some people dismissed her idea, her club has grown in strength, helped by the emergence of a public debate on legalising cannabis for medical purposes.
She has been supported by fellow campaigner, Vera Twomey. The Cork woman has been campaigning for access to medicinal cannabis to treat her daughter, Ava, who suffers from a life-threatening form of epilepsy called Dravat Syndrome. Ava has been separated from her family as she receives medicinal cannabis treatment in the Netherlands.
Candice teamed up with People Before Profit TD for Dublin Mid West, Gino Kenny, last year for a public meeting in Letterkenny.
"Two weeks ago we watched the medical cannabis debate again for the second time from the gallery in the Dáil. The longer we debate the obvious, the more profits pharmaceutical drug companies make and the longer patients will suffer," said Candice. 
Ireland now has a number of cannabis clubs which are working together to share information and raise awareness. 
"Belfast Cannabis Group, which are the leading club in Northern Ireland , has raised thousands of pounds to help sick children," the campaigner revealed.
"Because of our clubs, more people are coming out of the cannabis closet and finding safer ways to medicate."
Candice said she hopes to travel Stateside in the new year to meet with one of the country's top cannabis growers. 
"Ireland is very behind the times. I will also be visiting the medical cannabis clinic in Prague, which I've been collaborating with over the passed two years. I'm confident that my passion for cannabis will lead me to great things in the future. 
"The plan for our clubs is to grow. Grow in members, grow awareness and grow the plant." 
Posted: 2:19 pm November 29, 2017