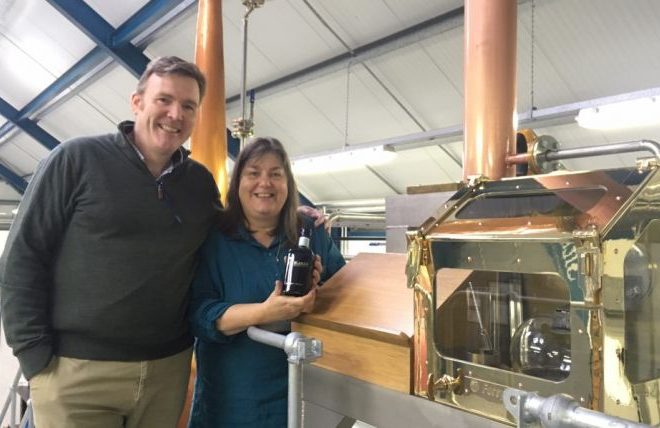 Sliabh Liag Distillery will launch An Dúlamán Irish Maritime Gin this weekend. An Dúlamán is inspired by the Donegal coast and the ingredients found around the Sliabh Liag peninsula. The gin's name comes from the traditional song Dúlamán na binne bhuí, made famous by Altan, Clannad and other famous Irish singers and songwriters. The official launch of this unique gin takes place on Friday 27th October with an event celebrating "draíocht na farraige", the magic of the sea.
Sliabh Liag Distillery is Donegal's first distillery in 175 years and the directors, James and Moira Doherty, are passionate about creating brands inspired by local lore and legends, rooted in the Donegal Gaeltacht, where the new distillery will be built on the slopes in the lee of Sliabh Liag Cliffs.
The inspiration for An Dúlamán came about during a trip foraging seaweed in Donegal, as James explains: "My wife Moira was out picking Dulse with my aunt at Muckross Head close to Killybegs and she asked the question: 'has anyone ever put this into alcohol?'. The seeds of an idea were born that day and we're delighted to be able to share the result this weekend."
"An Dúlamán is made using only the finest Donegal Sweet Kombu (Sugar Kelp), Dillisk (Dulse), Pepper Dulse, Carrageen Moss and Channel Wrack. Pepper Dulse, sometimes known as the "truffle of the sea" is the shyest of these coastal treasures and can only be harvested on a full moon when the tides and the wild Atlantic work in our favour," James adds.
"Once collected, each botanical is treated on its own merits. Some are dried to intensify their flavours and others frozen to capture the delicate umami essence. Following this, some of the ingredients go into Méabh, our hand beaten copper pot still and we add the more challenging ones into the flavour basket to be distilled into An Dúlamán, Irish Maritime Gin. The result of this devilishly narrow cut is a taste that captures fresh juniper, an umami richness and the dry tang of sea breeze," says James.
An Dúlamán is presented in a dark bottle reminiscent of those found on the Armada wrecks along the coast of Donegal. The bottle's labelling in drawn by a local artist and inspired by the Book of Kells. Each bottle is wax sealed and the batch number is linked to the lunar phases.
James knows the drinks industry well having held senior positions with major drinks suppliers SABMiller in Asia, Foster's in Australia and William Grant & Sons. He and his wife Moira are joined by James Keith, the Hughes family, Dom De Lorenzo and John Davidson in their mission to reclaim the distilling heritage of Donegal. Moira says: "the artisanal gin category is exploding and with Donegal officially the coolest place on the planet we feel it's an exciting time for the county and we want to thank everyone from the local community and further afield who helped us along the way."
James believes the new distillery will boost employment in the local community, while also bringing more visitors to the area. "We have 5 employees today and with construction on the main Sliabh Liag Distillery, we will create employment for up to 40 people once the distillery and visitor centre is fully operational. The Sliabh Liag Cliffs are Donegal's main visitor attraction with almost 200,000 visitors each year.
Drinks tourism in Ireland is an area of huge growth and there's been an explosion of craft gin in recent years. Construction of the new distillery will begin next year. The company has a portfolio of four spirits brands and has already launched its first expression, an independent bottling of Irish Whiskey named The Silkie.
The launch of An Dúlamán takes place from 8pm – 10.30pm at An Dúlamán Gin Palace, Sliabh Liag Distillery, Line Road, Carrick, Co. Donegal. It is strictly for over 18's only and ID may be required. There is very limited car parking at the venue. For more information on An Dúlamán Irish Maritime Gin or Silkie whiskey visit www.sliabhliagdistillery.com or for any queries please contact Sliabh Liag Distillery on info@sliabhliagdistillery.com. Please enjoy alcohol responsibly.
Posted: 3:37 pm October 24, 2017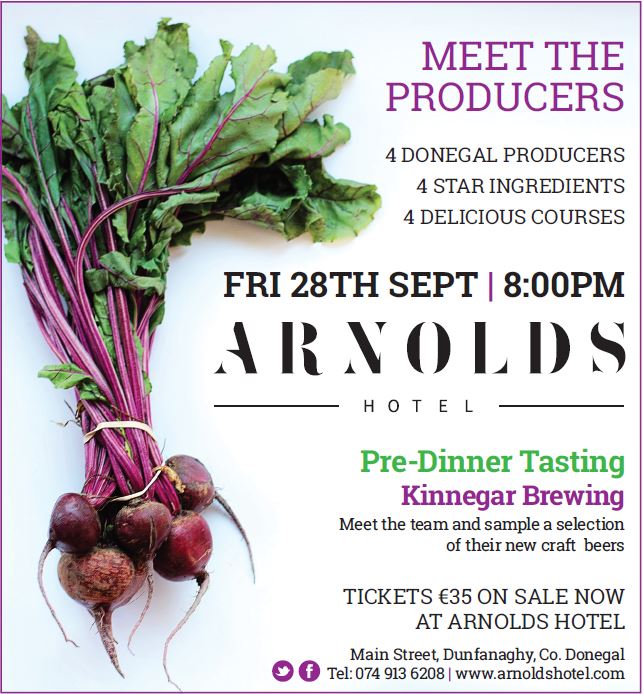 The popular seaside village of Dunfanaghy in North West Donegal will host its third annual food festival on Friday...