BY FRANK CRAIG
Anthony Molloy has warned Donegal GAA bigwigs that their mechanics for selecting a new county senior football manager are not right.
The legendary '92 All-Ireland winning captain is no fan of the usual process which will again, most likely, see the three main officers of the Tir Chonaill executive – the chairman, treasurer and secretary make up the majority of a five-person selection committee.
It's anticipated that the other two positions will be filled by ex-county players.
.
This newspaper understands that clubs who have nominated individuals for the position of senior team boss have already been told that interviews will take place at the start of next week.
Declan Bonner remains the strong favourite to succeed Rory Gallagher, although he faces competition from Tyrone native Cathal Corey, Gary McDaid, Seamus McEnaney and minor boss Shaun Paul Barrett.
Molloy however, isn't sure whether every candidate will get a fair crack at the whip.
He told the Donegal News: "Going forward, I believe there are five candidates there. I would hope that we have a fair and democratic process of selection. I also think that it should be a committee set up completely outside of our county board.
"Outside people that we know should come in and conduct a proper and thorough interview and selection process. These individuals should have no conflicts of interest. That's the bottom line."
He added: "I think it's a process that should never have been taken away from our clubs, the say on who comes into manage our county affairs. The names mentioned, they might not have been officially confirmed, but they are all good candidates. They all deserve a fair crack of the whip.
"But like I said, the process has to be done democratically. If we're going to do that and make sure that is the way, it has to be with a totally independent group of five people to conduct these interviews.
"When I say 'independent' I mean independent of the Donegal county board. I would think there is always certain interests at the heart of certain people. That's not having a go. That's just human nature.
"I just feel the right and fair way, and I mean right and fair to everyone involved, is that this is a separate committee. We have some brilliant people inside our own county. These people know a lot about football and are more than capable of carrying out this task.
"We have so many ex-county players – lads that have played at the highest level and understand what kind of individual is needed. I think that is the road we should go down – the avenue we should pursue."
Molloy feels Donegal are at an important juncture in terms of development and pushing the likes of the training centre in Convoy through to full fruition. He is adamant that the success of the senior footballers on the field of play is crucial to making sure progress is accelerated there.
"It's crucial, absolutely crucial that we get this right," he continued.
"Results need to be pointing in the right direction on the field for everything else to fall into place off it.
"We have an excellent bunch of young players coming through and more will follow. As well as that, we've an awful lot of work to do away from team management. We are the poor relations in this county at the moment compared to the likes of Tyrone, Kerry and Dublin. Facility wise, we're lagging behind getting ours to full development and fruition.
"We missed an opportunity after 2012. We did the same in 1992 but it's obvious we haven't learned from our mistakes. You see Tyrone spending €8.5m, Kerry spending €6.5m… I won't even attempt to fathom what Dublin are spending.
"We are light years behind in that area. We have to take stock on a variety of levels. Getting this decision right would be a start. We have to start taking things a little more serious in Donegal. We also have to be more open to get people on board and eliminate negativity.
"We need to have a better working relationship within ourselves here too as a county board, as an executive and everything else that goes with it."
Posted: 4:57 pm September 2, 2017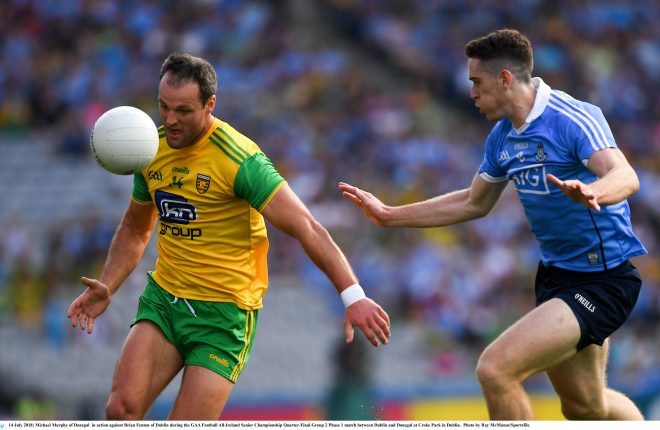 Dublin too strong in Croker.