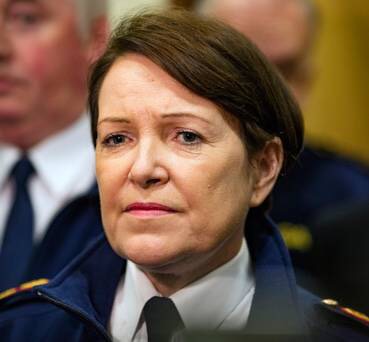 RETIRED Donegal Garda Sergeant Christy Galligan has responded to the retirement of Garda Commissioner Nóirín O'Sullivan saying he was not surprised by her decision but at the length of time it took.
Mr Galligan, Letterkenny, said: "If I had been in her position, which I wasn't, I would have retired or resigned post haste. The sad reality is that no matter who we get as the next Commissioner they will still have the added difficulty of dealing with all of the baggage and controversies that have occurred within the force over the past several years. No matter how much managerial experience you have, you will have to deal with a large and very diverse organisation and structure and a very demanding public."
Mr Galligan, who retired from the force in 2012, said the new commissioner will still have to deal with the Public Accounts Committee, the Justice Committee, Garda Inspectorate, GSOC and the Minister of the day.
"It seems, as in the case of the Minister of Health, the Justice Ministers have divested themselves of any direct dealing with the Commissioner of the day and are shielded by all of these other bodies, some of which have very little direct influence. I, like other former members agree, thatbut it must be real and tangible. The present cohort of Senior Gardaí must be analysed in minutiae and each of them must be held also to account for their failures, whilst acting as Senior Officers in the District, Divisions, Regions and Garda HQ, while matters pertaining to Crime Statistics, Breathalyser controversies were occurring."
Mr Galligan said no senior officer wanted to admit Senior Management that there were any difficulties in the District or Divisions that they were in charge of due to cutbacks and budget constraints. 
"To do so would have meant that one would be sidelined for further promotion. The other difficulty in obtaining a candidate is the constant political interference and nasty comments being made whilst appearing before Government Committees. There is robust questioning and then there is snide and venomous remarks," he said.
"Who among politicians can say that they meet the threshold of accountability, openness and transparency.  We suffered years, and will suffer more years, of penury by politicians and banks that drove of us to Bankruptcy. This knock on had a ripple effect even within the Garda Force.  Who among them the politicos have the guts to retire or resign from their positions when they are found out or commit a wrong."
Posted: 11:58 am September 11, 2017
GARDAI in Letterkenny cannot confirm reports that two sex offenders from Northern Ireland have reportedly registered as staying...